Sean Patrick Hopwood is your typical CEO, involved in almost every aspect of his company and crazy busy. He's able to stay on top of his work due to a combination of smarts: his own and that of his new BlackBerry Leap.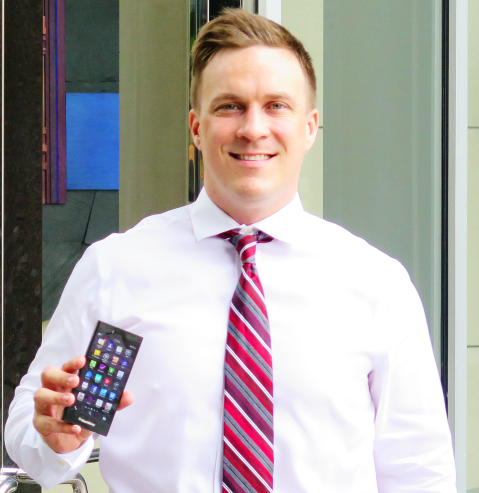 Hopwood is president and CEO of Day Translations, a professional translation and interpretation business that works mainly with IT customers. The firm does everything from translating court documents to helping develop applications and websites.
Hopwood started Day Translations as a one-man show and has grown it into a multi-million-dollar corporation with offices in London, Dubai, and the U.S. He continues to manage almost every part of the company including not only translation projects but marketing, web development, app development, accounting, and database management.
Hopwood's a smart guy, armed with an MBA and fluency in six languages—English, Spanish, French, Arabic, German and Hebrew. These skills enable him to tackle the business and translation demands of his work with relative ease. Still, how does he manage to carve out enough time in the day to indulge in hobbies, too? (When he's not translating or working on apps he plays soccer and teaches salsa dancing.) Hopwood credits his new BlackBerry Leap, the "most important communication tool of my business," for keeping him productive in and outside of the office.
(The BlackBerry Leap also serves as a virtual "personal assistant" for this pro wrestler-turned-CEO, and keeps this UK doctor professionally healthy. Also check out these Q&As with happy BlackBerry Classic users, including a commercial photographer, serial tech founder, financial TV guru and digital marketing agency CEO, and pleased BlackBerry Passport users, including celebrity chef Tyler Florence and this senior hospital executive, manufacturing executive, non-profit founder, and software engineer.)
Watts: What made you get the BlackBerry Leap?
Hopwood: I was initially using the Z30, but I wanted to have a phone with LTE capabilities that had a faster Internet connection so I could work faster.
I own an iPhone and a Google Nexus because my company develops apps for these operating systems, but they just don't cut it when I try to use either one as my daily device. Neither one has the battery life, emailing or multitasking capabilities that I need.
Also, I was curious about the OS on the latest BlackBerry and if it would run third-party Android apps better. Thus far, all the apps I use such as SoundNine, Whine, iGrann, the Snap store and apps from the Amazon Appstore have run smoothly, making the Leap an ideal phone for business and personal use.
Watts: What type of work do you do with the BlackBerry Leap?
Hopwood: I can do almost everything with the BlackBerry Leap without going to my computer.
The Leap lets me answer emails quickly and efficiently. The email client for BlackBerry is simply the best and with the push technology, I can get my emails as soon as they come in, which is important to my company because we get hundreds of quotes and calls a day. I have 26 employees and over 3,000 freelancers working at my company and I need to be able to send messages to assign them all work very quickly.
The predictive text makes writing emails a breeze! I often find myself needing to write in several languages, and the BlackBerry makes it easy to switch languages with predictive text because it learns the way you write and words that you use. The more you use the BlackBerry, the better it learns your writing style and the better your writing becomes. Also, with the BlackBerry Leap, it's easy to edit attachments from the phone with Documents To Go.
These little details liberate me from being in the office; I can travel for work or pleasure while still being able to have regular meetings with important clients.
Watts: Are there any other ways the BlackBerry Leap helps you run your business?
Hopwood: The BlackBerry Leap is the most important communication tool for my business. I travel a lot for work and use my BlackBerry as a hot spot instead of relying on hotels and cafe Internet connections. This is crucial to staying in contact with employees and freelancers in over 50 different countries via email or BBM.
A few months ago, I was hiring a new employee for a position in Costa Rica. I used BBM to communicate with her because my experience with voice calls is always choppy and they randomly drop. I also use BBM to conduct our online meetings with employees in Central America, South America, the United States, Asia, and the Middle East. I've used Skype before, but BBM is much clearer.
Watts: How has the BlackBerry Leap affected your productivity?
Hopwood: Productivity has increased, mainly because the Leap can carry the LTE signal in the United States, which lets me stay connected to my work no matter where I am. Plus, BlackBerry's email capabilities make a world of a difference. I have seven email accounts on my BlackBerry, and I'm able to track my own account, and monitor others used by different departments in our company.
I have tried to do this with different phones but they are not able to get work done the same way that the BlackBerry does.
Watts: How is the BlackBerry Leap useful in the global translation industry?
Hopwood: In general, BlackBerry is the top phone in the translation and interpreting industry. Translators need stability, a long battery life, flexibility, and organization. BlackBerry offers all of these things and more.
As a translator, you are often waiting on projects and the first person to see the email gets the project. BlackBerry's push email technology makes it easy to check your emails and open attachments.
At the beginning of a new interpreting project, we send the client a photo of the interpreter ahead of time so they know who they will be working with. The Leap has an 8MP camera that takes excellent photos. Translators also need to be able to edit and proofread documents on the fly while communicating quickly and efficiently, all of which can be done with the BlackBerry Leap. We also do translation and voice-overs for movies, and we send voice files to clients for them to evaluate which voice they will use for a project. The voice recording on the Leap is the clearest I've heard on any phone and has helped my company with multiple projects.
These features, in addition to the calendar, calculator, and BlackBerry Remember app on the Leap, are crucial tools for any translator.
Watts: How do you rate it?
Hopwood: Almost perfect. The BlackBerry Leap is the best phone I've owned and at an extremely affordable price. It has a beautiful design and feels extremely comfortable in the hand. You can tell that the executives at BlackBerry really took ergonomics into account when designing the phone to make everything you do with it feel natural.
Availability and Pricing
Ready to take the BlackBerry Leap to better on-the-go productivity? It's available at ShopBlackBerry.com:
BlackBerry Leap White, $275
BlackBerry Leap Black, $275
You can buy a Leap in "shadow grey" at Amazon.com, and it's also available from carriers in the U.S., France, Germany, the U.K. and Canada. For the latest Leap availability check our one-stop blog.