If you're on LinkedIn, happily sharing what you're doing in your current job, chances are that eventually you will be contacted by a recruiter like Daphne Gorman.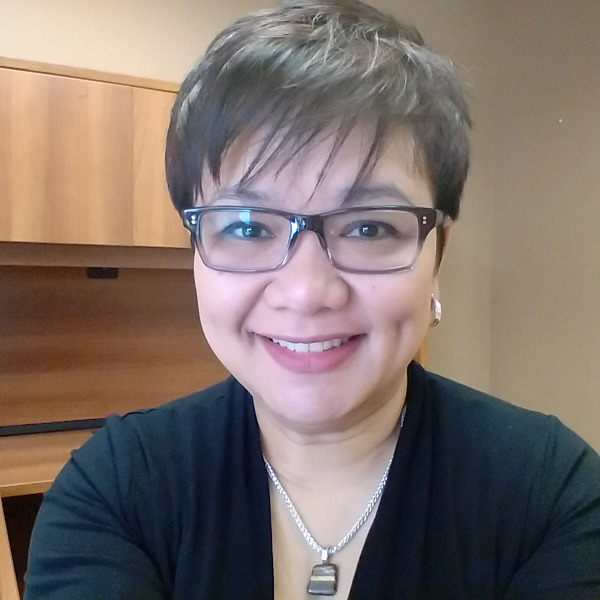 Gorman is a recruitment professional in the IT, engineering and pharmaceuticals industry who doesn't mind being called a headhunter. Although she was born and raised in the Philippines, she met her Canadian husband while working an internship in Atlanta and they moved to the Kitchener-Waterloo area after getting married. Like many a Canadian, Gorman considers herself an unofficial BlackBerry brand ambassador; she has used BlackBerry devices throughout her career.
She's currently using the BlackBerry Blend app with the BlackBerry Passport to scour the globe for talent, in addition to keeping up with two boys, two fishes and a dog.
(Also read about this happy Passport+Blend user, a Swiss technology firm CEO, and these satisfied Passport users, including celebrity chef Tyler Florence, this senior hospital executive, manufacturing executive, non-profit founder, software engineer, legal administrator, pharmaceutical CEO, software manager, insurance salesman, and these workers from multiple industries.)
Watts: What made you tweet that BlackBerry Blend is life changing?
Gorman: Blackberry Blend has changed the way I communicate. Headhunting isn't a traditional 9-to-5 job. Most of the time the candidates I am contacting for recruitment are unable to speak during the day. I have to maintain a flexible schedule that includes working odd hours. I'm in constant communication with candidates.
If I'm on my laptop working, BlackBerry Blend allows me to still get emails, texts, and social media notifications all in one place, which is critical to keeping up with my recruits. The unified calendar system allows me to avoid overbooking my schedule with candidate interviews because I can see all the appointments I make, regardless of whether I scheduled the meeting using my Passport or another application. Outlook has been clunky with calendar integration so I rely on the personal and work calendars on my Passport. If I'm not on my laptop, I can still access all of this same information on my mobile device.
Recruiting involves tons of communication, in addition to sending resumes, job descriptions and other documents back and forth. Using Blend to attach documents from my computer, BlackBerry Passport, cloud or anywhere else they are stored is the game changer.
For instance, I recruited a candidate in early May, and my colleague submitted her profile to the client that same day. Within one week she had three interviews that we had to coordinate between the candidate, the client, my colleague and me. Our client would make requests outside of work hours, so we had to keep the lines open all the time. My colleague and I coordinated extensively via email and BBM, while my candidate preferred to text and email. Needless to say, we didn't waste any time or documents while communicating, receiving information and providing feedback to all parties concerned across different mediums. In less than three weeks an offer was placed on the table, and our client and candidate were both happy with how easily the whole process unfolded.
Recruitment is generally a complicated process, but Blackberry makes it look easy and seamless with tools like the BlackBerry Passport and BlackBerry Blend. I believe the combination of these technologies make it possible for us to step up our game.

Watts: Why did you choose the BlackBerry Passport?
Gorman: We had two choices for work phones, the BlackBerry Classic or the Blackberry Passport, and I went with the Passport because of the bigger screen size.
My Blackberry Passport makes it possible for me to work while mobile, and Blackberry Blend provides a seamless transition of important information from the device to my desktop when I need to be stationary. None of the competition has this option so I couldn't imagine using any other device.
Watts: How has using a BlackBerry Passport with BlackBerry Blend on your desktop affected your productivity?
Gorman: I have fewer distractions and it's a lot simpler to stay organized. Those might seem like minor details, but being focused and on top of everything is imperative to my professional and personal life.
Watts: How would you rate the BlackBerry Passport and BlackBerry Blend combo?
Gorman: A definite 12!
Watts: Why do you consider yourself a BlackBerry brand ambassador?
Gorman: When I find a product I believe in, I advocate for it, whether it's donuts or technology. I'm a geek at heart who likes to imagine I could have been a tech reviewer. I like to learn about various features that maximize my user experience and that's what drew me to the BlackBerry Passport.
The Passport is a natural attention grabber, by the way, and it often requires me to talk to people about the device. People can't help but ask about it when they see it, and I can readily provide a list of what to love depending on what they need. I basically get to practice my recruitment skills when I'm answering questions about the same device that keeps my recruiting job flawless and organized.
In the office I've made it my mission to spread the word about Blend. I'm not the only one whose communication style has changed with this technology. The combination of BlackBerry Blend and BlackBerry Passport is really an all-around win.
Pricing and Availability
BlackBerry Blend comes preinstalled on BlackBerry smartphones running BlackBerry 10 OS version 10.3 or later. You can download Blend for each desktop, tablet or other device that you want to communicate with your smartphone.
Get a factory-unlocked BlackBerry Passport from ShopBlackBerry.com:
It's also at Amazon, and at AT&T for $669.99 unsubsidized or $199.99 with a 2-year contract. Rogers and Telus carry the BlackBerry Passport in Canada.
If you live outside of North America, get your BlackBerry Passport directly from us at our global shopping portal. (Check with your local carrier for device compatibility).