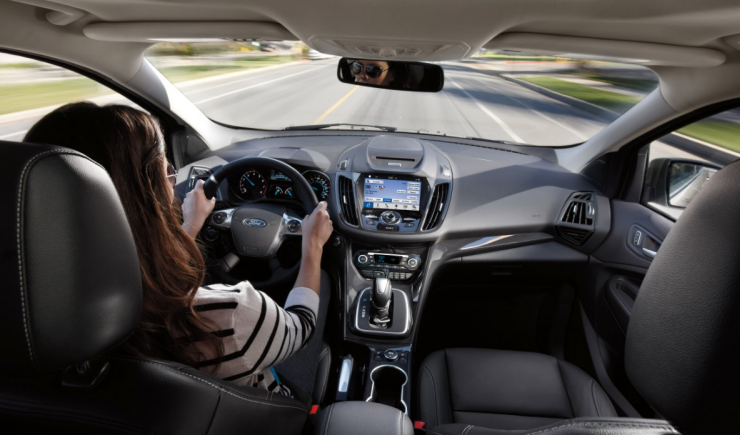 Fast Company and Forbes magazines are two of the most reputable sources of consumer reviews. So when both publications acclaimed Ford's new SYNC 3 infotainment system powered by the QNX Neutrino OS in separate reviews, it seemed only natural to trust their judgment. Ford updated its in-car system to be streamlined and feature packed. It's evident from both reviews that it has succeeded.
Forbes contributing writer Doug Newcomb hailed the SYNC 3 as "the cutting edge of in-car infotainment." Fast Company's technology editor Harry McCracken praised the new system as "much better than the one it replaces, in all the ways that matter most." The new features center on an updated touchscreen that harnesses the speed and flexibility of the QNX-powered software. Big on-screen buttons let users easily control their music, apps and climate. According to the Fast Company review, the screen's smartphone-like features set SYNC 3 apart because it lets users swipe and pinch to navigate. "But the best part," McCracken wrote, "is that I never had to jab repeatedly at it to get it to work," still a problem with some older systems.
The Forbes review acknowledged the advances in the screen technology as well, saying: "SYNC 3 upgraded to a capacitive touchscreen to replace the resistive touchscreen of the MyFord Touch system and is much more responsive. The system also reacts quicker to inputs, in part due to a switch from Windows to QNX."
QNX Software Systems owns more than half of the automotive infotainment market and its technology is now installed in over 60 million vehicles. That number will rise, predicts Egil Juliussen, an automotive technology analyst with IHS Technology who forecasts that QNX-based in-car system sales will grow from 13 million units in 2013 to 56 million in 2020. Juliussen calls QNX Software Systems "the clear leader in automotive software, specifically for infotainment."
On the freeway traveling at high speeds, you need a screen that is both responsive and crisp – the QNX-based system delivers. Here's how Forbes' Newcomb described SYNC 3's highway performance:
During my brief test, the best opportunity to show off the screen's clear graphics and quick response and refresh came on a tricky freeway interchange. While lane guidance is nothing new for most navigation systems, the rendering and response by the SYNC 3 system left no doubt which lane I needed to take while traveling at highway speeds.
Another advantage of the SYNC 3 platform is its support for natural speech recognition engines. Fast Company's McCracken said the SYNC 3 "swiftly and accurately interpreted my speech." The system's autofill capability helps out when you're less than specific. For instance, to get GPS directions to Specialty's Café & Bakery, all McCracken had to say was, "Specialty's."
Newcomb praised the autofill feature as well, writing, "When I searched for a point of interest, I didn't have to type in a full name, address or even select a POI category. I simply started typing and the system auto-filled what I was looking for after just a few letters."
Touchscreen gestures are not the only way in which SYNC 3 delivers the comfortable familiarity of a smartphone. Users are able to receive smartphone-like notifications in real time while driving. SYNC 3 also supports Ford's AppLink system, which means users have access to services such as Spotify, Pandora and Glympse.
QNX Software Systems develops software used across many platforms, from CT scanners and guitar pedals, to robot vacuums, building automation systems and credit cards – it's nearly impossible to go about your daily routine without stumbling across something based on QNX.
In the future, when Ford adds features to the SYNC 3 system, the QNX-based architecture will allow users to upgrade it wirelessly — or via USB cable if they prefer to do it the old-fashioned way. But easy, regular wireless updates in an app-intensive world means a better user experience in the long run. Users will have car software that keeps pace with technology and doesn't become stale.
Want more on how BlackBerry is pushing the boundaries in car computing? Check out this QNX Auto blog post. Also read how QNX delivered at CES 2015.