Mark Twain said never to do it, but isn't it funny how sometimes the truth still gets in the way of a good story?
Here at BlackBerry we are used to seeing headline-grabbing stories based on few facts, which we responded to recently.  So we were surprised to see yet another bold and sweeping headline, this time in Australia, claiming that Australian politicians are ditching BlackBerry.
Again? OK, let us set the world to right by giving you the bigger picture.
Along with all other G7 governments around the world, Australian Federal, State and Local Governments continue to trust BlackBerry, and for good reason. The Australian Federal Police recently told the ABC that more than 3,500 cyber-attacks on Australia from foreign countries and criminals were reported in April 2015, and the threat is only going to increase.
Australian politicians spotted wielding BlackBerry devices include the New South Wales State Premier, Mike Baird, Federal Minister for Industry and Science, Ian McFarlane as well the Australian Prime Minister, Tony Abbott – all secured by the gold standard in security, BlackBerry Enterprise Service (BES).
However, what this story does not fully acknowledge is that BlackBerry today is an enterprise mobility company that manages any device. We are making this transition in the government sector with a number of key Federal and State Government departments which continue to use BES as a management platform for both BlackBerry and other mobile operating systems.
Some Federal Government organizations that have deployed BES12 to manage BlackBerry 10 and multi-OS platforms, such as iOS and Android, include:
The Australian National Audit Office (ANAO) which carries out financial statement audits of every government body that receives Commonwealth funding, has a mobile team that works in various locations and handles extremely sensitive information
The Australian Transport Safety Bureau, (ATSB) is responsible for improving national public safety in aviation, marine and rail travel.  The ATSB conducts investigations into ship collisions, plane crashes and rail disasters – sharing information from often extremely remote or environmentally hostile areas.
At the State level, the New South Wales Government named BES its Mobile Device Management (MDM) solution of choice in 2014, over other vendors. However, beyond the MDM debate, BlackBerry offers services specifically designed for regulated industry to maintain the highest levels of security; without inhibiting productivity. This includes DRM-protected document management, secure archiving and auditing and encrypted voice.
Further, BlackBerry is in a unique position to help governments and organisations future-proof their strategy to prepare for the next wave of mobility, the Internet of Things.
Australian Enterprises of All Sizes Embracing BlackBerry
Analyst firm Telsyte reports the demand for enterprise mobility is on the rise Down Under with a growing number of government departments and businesses selecting BlackBerry to get their organizations mobile, productive – and secure.
Outside of government, BlackBerry continues to win Australian customers for its security, productivity and collaboration. Managing Director for BlackBerry in Australia and New Zealand, Matthew Ball, shared an update with The Australian this week; and today, BlackBerry announced it is enjoying strong momentum in Australia due to its cross-platform strategy, including: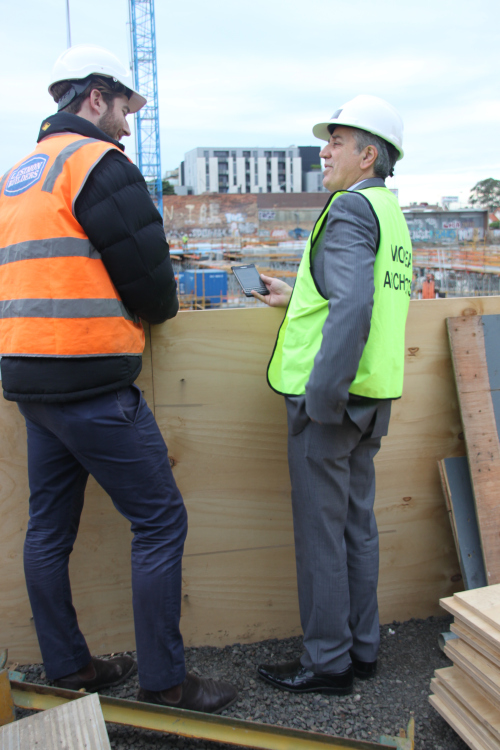 AEG Ogden is responsible for the management of Australia's most iconic venues, including Allphones Arena, Sydney Exhibition Centre, the Brisbane Entertainment Centre and Suncorp Stadium. Dirk Hoffman, AEG's CIO for the Middle East, Asia and Pacific says, "As Airwatch could not meet our security requirements, we have rolled-out BES12 as our enterprise mobility platform. We have also deployed BlackBerry Passport and BlackBerry Classic devices, and now in the process of making BES12 our one-stop solution to manage all other mobile devices in our APAC network, including those running iOS and Android."
BMD Group is one of Australia's largest privately-owned construction companies with more than 1,700 employees. John Mulder, Group Information Technology Manager says, "BMD Group migrated from BES10 to BES12 knowing that we had the flexibility and scalability to add and deploy any smartphone or tablet we wanted to – all managed through a single console."
Morea Architects – small business enjoys big benefits 
With BES®12 Cloud now available in both Australia and New Zealand, small and large businesses are tapping into the multi-platform benefits of BlackBerry's enterprise mobile management offering.
Morea Architects is an innovative and fast-growing Melbourne-based architecture firm with a mobile fleet that includes BlackBerry Passports and BlackBerry Classics, as well as iPads and Android devices – all of which are managed by BES12 Cloud.
Driven by a need for employees to access architectural tools while out and about, Morea required an affordable mobility solution that was flexible, reliable and secure.  As a business without an IT team, it also needed something that was easy to manage.
[youtube https://www.youtube.com/watch?v=R6wSQTVIkv4]
Constantine Dionysios Moschoyiannis, Director at Morea Architects says: "With BES12 Cloud, we take advantage of BlackBerry's security architecture, and can manage any device our staff members choose to use, without the need for dedicated in-house technical support, saving thousands of dollars in IT costs. We also save valuable time and money with BBM Meetings, which lets our small team conduct meetings from anywhere, show the building site, share plans with the office and the client, make changes and get client approval – securely, in real time."
Of course we acknowledge that smartphone preferences have changed and many people use alternative handsets. That's ok. We secure them too. There is still nothing more secure than a BlackBerry device on BES. However BlackBerry today is a different company – truly cross-platform, bringing those security benefits to iOS, Android, Microsoft Windows Phone 8, Samsung KNOX-enabled devices and Android for Work, too.
The moral of the story:  Mark Twain was a great bloke, but a skilled fabricator. In our book, which has many more chapters to tell, the truth always wins.