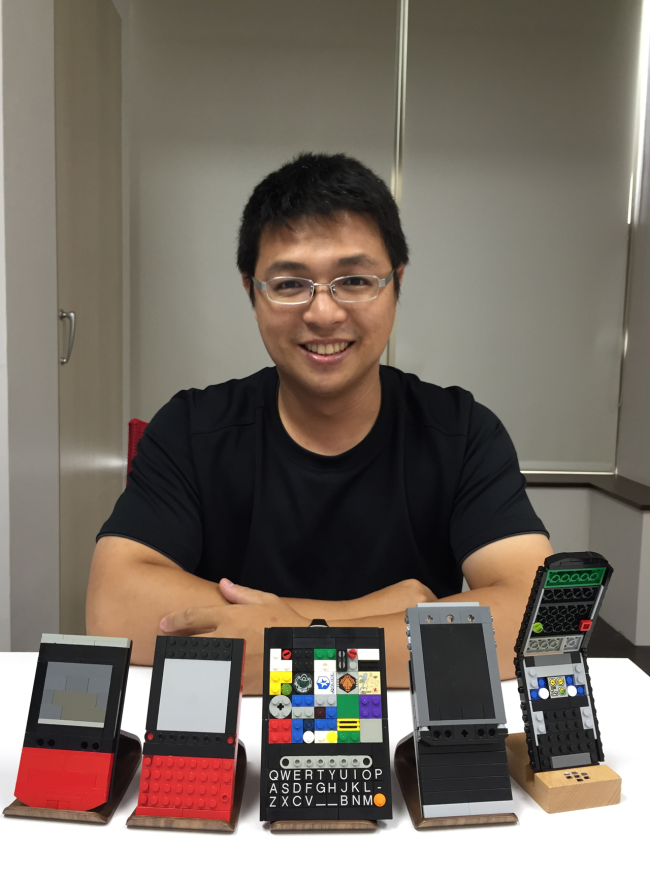 I can't even recall how many hours I whiled away playing with Lego as a kid. Armed with a box of bricks, I could build literally anything my imagination could dream up, and I remember every creation fondly. I'm certain many of you can relate.
I'm certain many of you can also relate to the fact that, as I grew up, I set aside my brightly-colored blocks. After all, Lego's for kids, isn't it? It's not something any self-respecting adult would dabble in, right?
Wrong.
Mobile software manager Simon Hsu (above) is one of the many fantastic artists who've turned to Lego as a creative medium. A long-time fan of BlackBerry, Simon enjoys hiking and playing badminton in his spare time.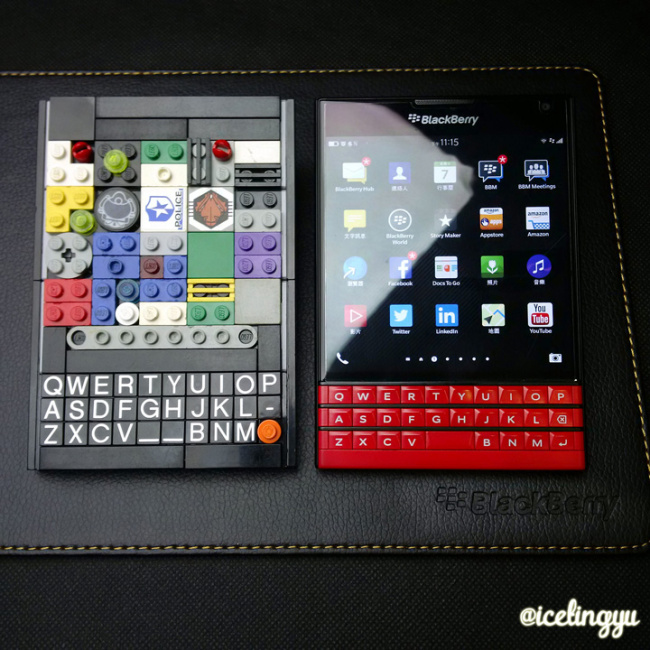 Over the past few months, he's also acquired a new hobby: building elaborate Lego replicas of some of BlackBerry's most popular phones, such as the BlackBerry Passport (left). Most recently, he put together a rendition of the Porsche Design P'9981.
I had the opportunity to chat with Simon about the phone, and his overarching passion for both Lego and BlackBerry – neither of which is going to fade any time soon.
Greene: What inspired you to design your first Lego phone?
Hsu:  It was one of my friends, actually. They sent me a Lego name-card set. I loved the English alphabet bricks a ton, and soon realized that their width was the same as my BlackBerry Passport's keyboard! I decided then that it might be fun to build a Lego version; to try to match the physical size and appearance with bricks.
Greene: Why did you choose Lego as a medium?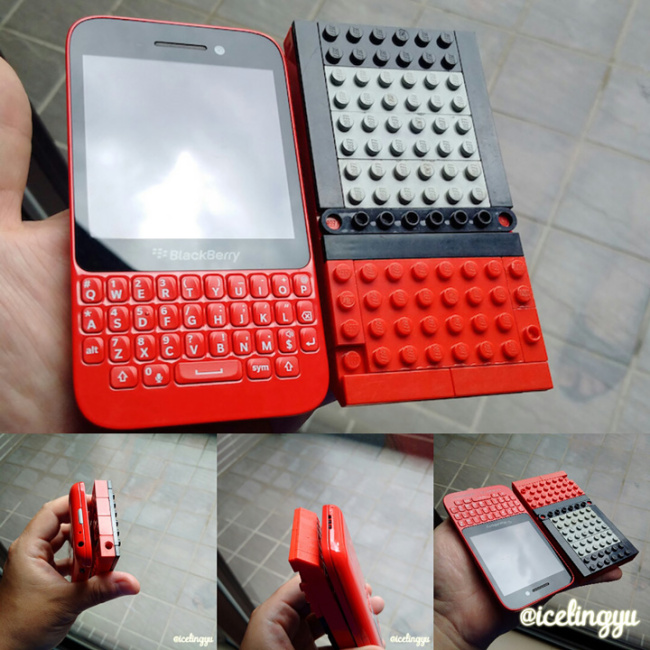 Hsu:  Thanks to the variety of different bricks available and the fact that everything fits together,
Lego's great for building models of almost any type. From the classic components to Lego Technic, I can find nearly every combination I need, no matter what phone I'm building.  I'm also lucky enough that my Lego collection includes enough sets that I can realize my ideas – like the Q5 to the right.
Greene: Speaking of your Lego collection, it must be pretty impressive – any favorites?  
Hsu:  I don't have that much Lego, believe it or not. My favorite sets, though; that'd have to be a tie between the Technic Series and the Creator Series. I've also spent a ton of time on the Lego NXT Series, as it lets me program the stuff I build. Since I'm a software engineer who loves both Lego and BlackBerry, I naturally wrote a BB10 application.
Greene: What was the first Lego set you ever received? How long have you been building?
Hsu: The oldest set I remember is the Lego 6915 model "Warp Wing Fighter"; it was a birthday gift. That was about eighteen years ago, and I've been building on and off ever since. Of course, like many others, I had a bit of a 'dark age' after High School where I was too 'cool' to play with bricks.
Greene: You've already designed quite a few models – what's your favorite?
Hsu:  Right now, it's my most recent – the Lego Porsche. The size, weight, and super-smooth surface are just perfect; I think it's my best yet.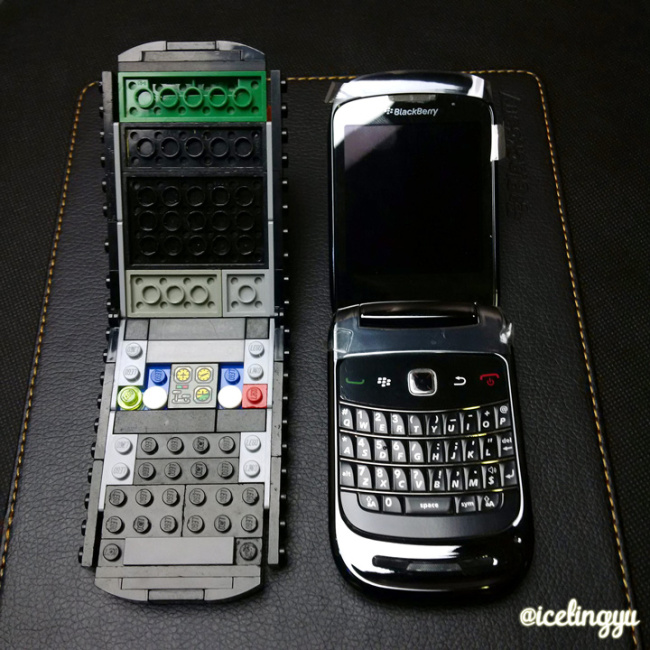 Greene: Walk us through the process involved in building a Lego phone. Where do you start? What steps do you need to take from start to finish?
Hsu:  First, I check the size of the real phone, then check if there are any special designs I need to work in – for example, the earphone holes or the slider mechanism of the 98XX Series. Third, I check my supplies to make sure I've got enough color bricks to build the phone.
Generally, I spend the most time on unique components; currently, BlackBerry phones feature two. First, there's the flip series, found on the BlackBerry 9670 Bold (left) and 8220 Pearl. Those are pretty easy to build, and there are three or four designs I can turn to in order to make the flip mechanism work.
Sliders are the real challenge. I've tried a bunch of different designs, even using magnets. Unfortunately, I still haven't really figured out how to make them work – for now, the Lego version of the 98XX Slider series is still a bit thicker than the real phone.
Greene: What went into building the Porsche Design P'9981 specifically? What blocks did you use?

Hsu:  After I built the Passport, Red Q5, and 9670, one of my friends asked me to build a P'9981. It was the first phone I built with an entirely flat surface. For blocks, I used Curved 2×1 and Sloped for the bottom, and then a combination of classic bricks and plates for the rest of the case.
Greene: Are the plans for your Lego phones available for download anywhere?
Hsu: Not at the moment, but I'm trying to make that happen using Lego's Digital Designer. I really want to share the construction details of my models with other fans.
Greene: What BlackBerry products have you used in the past?
Hsu:  I have almost every BlackBerry device, ranging from Inter@ctive Pager 950 to the BlackBerry Classic. The only phones I don't currently own are the Inter@ctive Pager 900, the Z3, the Leap, and the Porsche Design Series.
Greene: What phone do you currently use?
Hsu:  At the moment, I use a BlackBerry Passport, with a Classic as my backup.
Greene: You mentioned you're a huge fan of BlackBerry. What is it that you love about the company and its products?
Hsu:  Productivity. BlackBerry's unbeatable in that regard; their phones are what you use if you want to get things done. Their security's also incredible, and I always feel safe because of that.
Greene: Do you have anything else to add before we wrap things up?
Hsu: I've been hoping to get a Porsche Design P'9981 (Ed. Why not the latest P'9983?) for a very long time, but it's still too expensive for me. For now, I guess the Lego phone's going to have to do.
Want to see more of Simon's creations? You can follow him on Instagram at @Icetyingyu.