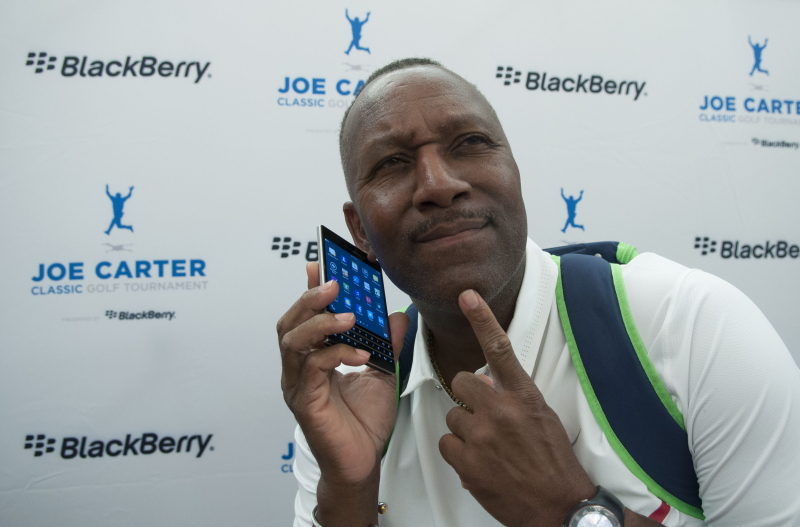 For baseball fans, especially those like me who cheered the early '90s Toronto Blue Jays, the name Joe Carter is synonymous with drive, passion and humility.
We've met with him yearly at his annual charity golf tournament to discuss all things BlackBerry and get an update on what keeps him productive.
The Carter Classic Golf tournament is an opportunity for him to give back to the community and keep a presence in the Toronto area, where he won two World Series Championship titles.
This year, with a BlackBerry Passport in hand and a new leadership role with the Major League Baseball team, the Arizona Diamondbacks, under his belt, Carter sat down with me to share what productivity means to him and how he stays productive on-the-go.
Halliwell: First question, you're a baseball legend, businessman and charity man. How do you keep productive?
Carter: You keep your name out there. You keep having your face out there in the public. I've always been a people person. I don't like being a private person, but you go out in public. They go, "Wow, is that Joe Carter walking around there?" I go, "Yeah, I'm out here all the time." I know it's very important if you have a brand, if you have a name, you go out there and you do a few things to give back to the community. I'm all about doing that.
Halliwell: We're years into the tournament now. What do you think has made it so successful?
Carter: You know what? Everything. One, the sponsors. BlackBerry, TD Bank, Canada Goose, Nike, my great committee with Dean Baxendale, Melinda, Rahul Mehta. These people, they come together and they've done a great job. The biggest thing is that you get the celebrities to come back, because we can raise a lot of money for a great cause. When they come down to it, it's all about the great cause, and that's the Children's Foundation.
Halliwell: You've been using your BlackBerry Passport for a while now.
Carter: Yes.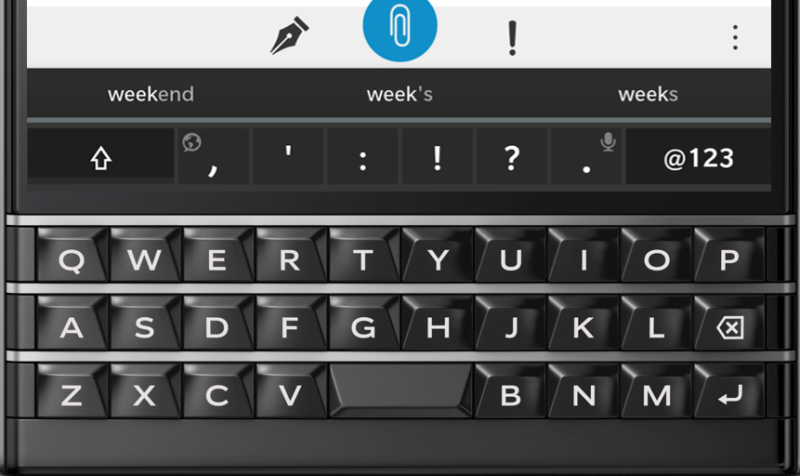 Halliwell: What are your favorite features?
Carter: The thing I like about the Passport is the size of it. Before when I had the Bold, it was always hard to punch the numbers and the letters. When I saw the size of the keyboard I was like, "Ah, man, are you kidding me?"
Now it's bigger and, oh man is it awesome now. I got one for Dave Stewart, General Manager with the Arizona Diamondbacks. He's got two BlackBerry devices. Yeah, so he's got I think the Z10 and then he's got the Passport. He's sitting there going, "Nah, I don't want no other phone but the Passport." It's been tremendous. This is a good one that BlackBerry has made.
Halliwell: Fantastic. Do you use any apps like BBM?
Carter: You know what? I do use some BBM, for close contacts like my wife. But I mostly just need to use it for the phone – which sounds amazing – and email. Oh I use Twitter, too.
Halliwell: Yeah, it's really about staying busy.
Carter: That's it.
Halliwell: Productive and keeping it where you need it, right?
Carter: Exactly.
Halliwell: In Arizona, you've transitioned from a legendary player to the managerial side. What are your favorite aspects, such as the day-to-day running the team?
Carter: Oh, yes. I just like being around the guys, because a lot of these guys, they like to pick your brain. They like to talk about baseball, and in Arizona with Tony La Russa there, the guy is hands-on, so he's the chief baseball officer. Man, they have that game. They have a lot of meetings. They talk about a lot of baseball, and I really missed that aspect (being out of it for a few years). This is really the first time I've been back in the game since 2002, and being on the managerial side, it's totally different. I know the player's side. Now I know the managerial side. I like them both, but right now the transition there has been going smoothly for me. I like it.
Halliwell: That's great, Joe. What advice do you have for young players that want to get noticed or even young business guys or girls trying to get a leg up?
Carter: The one thing is confidence in yourself. You've got to believe in yourself, because if you don't believe in yourself, no one else will. Have fun at what you do. There's only, what, two or three percent of people in the country that do what they love to do, so whatever you love to do, find your passion, go ahead and go for it.
Sure, it's not always about making the most money, but I tell people … I'm 55 years old. I've never worked a day in my life, because everything I've done has been fun, and that's what everyone should really look at. That's how you should do things, like go out there and have fun. Do your passion. Look at what you do when you're by yourself. Look at what you do to occupy yourself when you have free time. A lot of times that's going to be your passion. Find something in that field, and I guarantee you that when you wake up every day, you'll go, "Wow, it's fun going to work." It will never feel like work.
Halliwell: What's next for you?
Carter: It's a good question. Right now I'm the special assistant to the GM in Arizona with Dave Stewart. I don't know what's going to be next, but so far I like what I'm doing. I like the idea that I can still be involved in baseball and the aspect I'm involved in, this was the first year. I got a chance to get on the field in spring training. I got a chance to go out and do some scouting, see some of the amateur guys, high school and college, and it really brought back memories, because it reminded me when I was in high school, trying to see if I could get drafted and have a dream come true and play Major League Baseball. I think in the next few years I'll still be doing that. I'll still be having the tournament. I'll still be coming to Toronto and enjoying life, because life is precious. Life is good.
Halliwell: All right. Thanks, Joe.
Carter: All right.