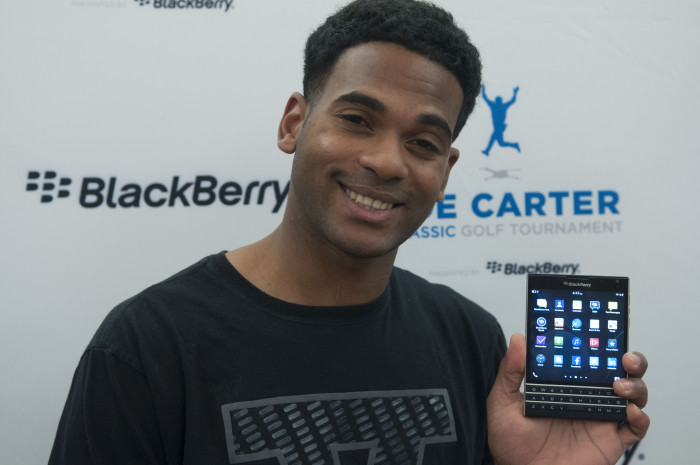 Christopher Samdeo was just 14 when he immigrated to Toronto from Trinidad with his family. But the teen didn't let the strangeness of a new country derail his dream of making it big in business. He soon had his first retail job and at the age of 19 started his first company, a staffing agency. One of his first business purchases was a BlackBerry Pearl, in 2006. That decision was life changing, says Samdeo, who believes it helped put him on equal footing with other entrepreneurs by giving him the speed and confidence to cut deals even without a physical office to call his own.
In 2010 Samdeo branched out into philanthropy, cofounding the annual Joe Carter Classic celebrity golf tournament with his mentor, former professional baseball star Joe Carter, to benefit Canada's Children's Aid Foundation. The event has raised $1.2 million so far. On the business side, Samdeo is now president and CEO of Port of Spain Holdings Inc., a private investment company based in Brampton, Ontario, and he recently invested in a speakers' bureau.
Except for a brief fling with an iPhone, Samdeo, now 29, has stuck with BlackBerry smartphones, most recently upgrading to a BlackBerry Passport.
(Read about other happy Passport users, including celebrity chef Tyler Florence, this senior hospital executive, tech startup founder, manufacturing executive, non-profit founder, software engineer, legal administrator, pharmaceutical CEO, software manager, insurance salesman, and these workers from multiple industries.)
Donny Halliwell: To what do you attribute your success at such an early age?
Christopher Samdeo: To be honest with you, I needed to be 10 times faster than everyone else. Everything was pretty much handed to my peers. Having a phone was a big deal to me. I always attribute my success to the tools that I had, and one of my most important tools was a BlackBerry. It was the foundation for getting me to another level because I couldn't afford an office. When I first started out, I needed to move around and meet clients and I needed to be able to follow up quickly. My BlackBerry got me to that point.
Halliwell: What drives you?
Samdeo: I want to revolutionize the way business is done, do things differently. I recently became one-third owner of The Power Within, a speaker's bureau that will host Elon Musk (founder of Tesla) on Sept. 16. I look at him as an example of doing things completely outside of the box. One of my favorite philosophers is Sun Tzu. He said when everyone is going in one direction, go in the opposite one. That's the foundation of my new company.
Halliwell: How else have BlackBerry devices helped your career?
Samdeo: I think BlackBerry revolutionized the way business was done. When the first BlackBerry came out, it allowed me to have email and text messaging (BBM) in addition to voice. I could even conference my calls in.
Halliwell: What is your favorite Passport feature?
Samdeo: I know this sounds basic, but the calendar. With the iPhone I was always missing meetings because it didn't notify me in a way that I found effective. And I love the Passport keyboard. You can't get that combination with any other phone. But what continues to be a favorite with me is the three-way conference call.
Halliwell: What advice do you have for young people getting started?
Samdeo: I don't think I'm at the point that I can give advice, but I would say to just work hard and focus on doing things differently. Also, if you have an idea, you have to know that five other people probably have the same idea. You've got to learn how to execute and execute fast because someone else is thinking of the exact same thing. It's all about speed. Efficiency.
Halliwell: What do you see ahead for BlackBerry?
Samdeo: I think about BlackBerry in terms of sports. Sometimes your team does well; sometimes they don't do so well. That doesn't mean you give up on them. If you're a true fan, you become a believer in your team and you have to stick it out. I think BlackBerry is more than capable of getting back to the top and I'm always tuning in to see what's new. BlackBerry fans, we've had ups, downs. But ride it out, because I think BlackBerry's definitely on to some new exciting things.
Pricing and Availability
Get a factory-unlocked BlackBerry Passport from ShopBlackBerry.com:
and the all-new Silver Edition, on sale now for $549 with a $130 bundle of accessories!
It's also at Amazon, and at AT&T for $669.99 unsubsidized or $199.99 with a 2-year contract. Rogers and Telus carry the BlackBerry Passport in Canada.
If you live outside of North America, get your BlackBerry Passport directly from us at our global shopping portal. (Check with your local carrier for device compatibility).