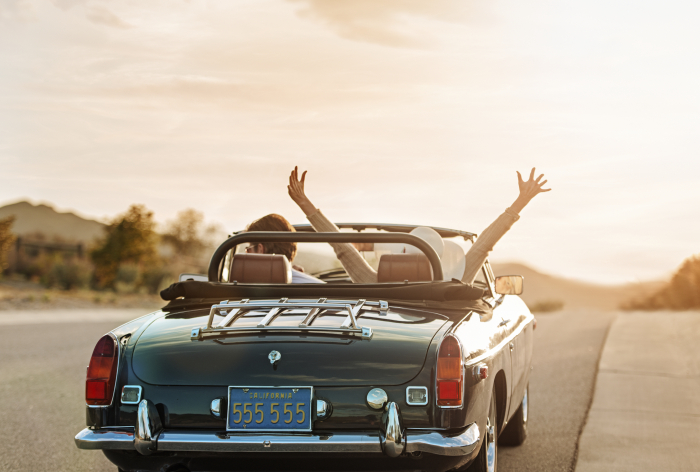 Summertime means vacation time and that usually means at least one or two great road trips. Whether it's to the shore, the family cabin, the mountains, across country or across an ocean, the season is packed with memorable journeys. And when trips turn from business to pleasure, what is still right there by your side? Your smartphone, of course! It can help you plan your trip and have more fun because let's face it, smartphones make great personal assistants when it's time to hit the road.
Take mobile travel services: they're better than ever at helping nail down flights and accommodations. My personal favorite is BlackBerry Travel, which notifies me of flight delays, helps me find deals on hotels and car rentals, and serves as a hub for all my trip details. I love BlackBerry Maps for keeping me informed of traffic conditions and letting me instantly share my location via BBM or text message. The My Places option shows me the way to my favorite locations.
Are you heading out this summer? There's still time to make sure your smartphone is packed right. Check out these BlackBerry 10 and Android apps that will help you get around.
BlackBerry
Foursquare, Free
Foursquare is still a good app for discovering what's around you, from restaurants to landmarks, and checking in – notifying your Foursquare followers – when you arrive. Sharing your check-ins through BBM, Twitter and Facebook is effortless. For the full social networking experience of sharing your location, though, you'll want to install the Foursquare companion app, Swarm, which adds messaging and emoticons and all sorts of other frills to your check-in. (You can easily jump back and forth between the two apps with a single tap.)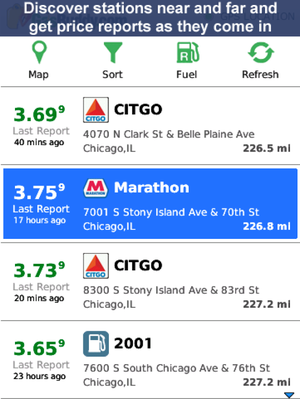 Foursquare integrates beautifully with BlackBerry 10, pushing its "Go" action to BlackBerry Maps so you can find your way to the next desired location. The service learns what your tastes are and caters to them by providing appropriate information.
GasBuddy, Free

Take the stress out of gassing up with GasBuddy, which helps you find stations in unfamiliar cities with the cheapest gas. It gets that information by encouraging users to share the gas prices they see in their travels. Each time you submit a gas price, GasBuddy gives you points that that can be used to enter a daily drawing for $100 of free gas.
Navita Translator, Free
Avoid becoming the inspiration for the next Vacation movie complete with embarrassing misunderstandings involving language barriers.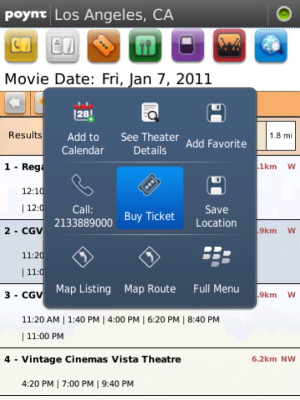 With Navita Translator, you can either type or speak words or phrases and the app will translate them into the language of your choice. What's really helpful is being able to listen to the translation, too.
For years, I've relied on Poynt to help me search for gas stations, restaurants, movies or even shopping. I could be quoted as saying "Let me 'Poynt' that out for you" time and time again.
While this is technically an Android port, I still consider this a BlackBerry app as we've been together for so long. Poynt is an extremely robust app; not only can you search for restaurants, you can get directions, make reservations or view the website. This app has way too much content to be ignored.
Android
The Expedia mobile app lets you seamlessly book flights and car rentals and enjoy mobile-exclusive hotel deals. On top of this, you can explore cities from around the globe, view your itinerary, check out package deals and discover what you can do while visiting your destination. Of course, you can also earn three times the Expedia+ points for every purchase you make.
LoungeBuddy, Free
Think all airport lounges are private or exclusive to first-class flyers? Not so. Many are available for a one-time fee and LoungeBuddy can help you find them the next time you're stuck in the airport on a long layover or flight delay.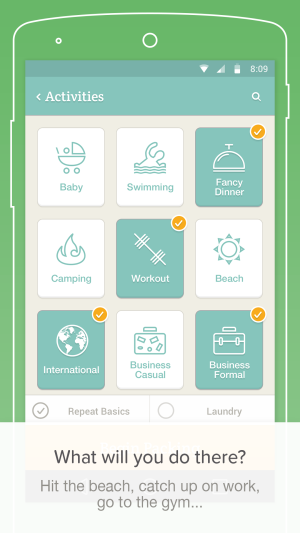 Just enter your itinerary and other information and LoungeBuddy lists a nearby oasis where you can relax, catch up on work or have a meal while you wait.
PackPoint, Free
With PackPoint you'll never forget to pack your swim trunks again. PackPoint uses facts that you provide about your trip, including the destination city, number of nights and planned activities, to present a list of essentials. It even takes the weather and laundry into consideration. The $2.99 version of this app works with Evernote and TripIt.
XE Currency, Free
XE Currency is a straightforward currency converter that is perfect for accurate rates on the go. You can see at a glance what the rates are in every part of the world, searching by popularity, code or country. There's even a currency profile screen that offers additional information such as the currency nickname, symbol and frequently used coins and banknotes. This app is a travel must – you can use it without an Internet connection or set it to update the exchange rate as often as every 60 seconds.
Mobile Means Business, Too
Smartphones are essential for getting tasks done and staying in touch with the office on our "work-cations" and strictly business trips, too, of course. In fact, more than half of corporate travel managers believe it's important to involve mobile technology in their procedures, according to a survey by the CWT Travel Management Institute.
BlackBerry World and the Amazon Appstore are full of other great applications to help make sure your trip is a successful one. Care to share your travel experiences? Capture your trip in a BBM Channel; consider it a journal of your adventure.
Which apps do you depend on when you travel? Let us know!