Some of us rely on coffee to get us through the day, and some of us rely on BlackBerry. Joe Hadsall, features editor for The Joplin Globe, depends on both.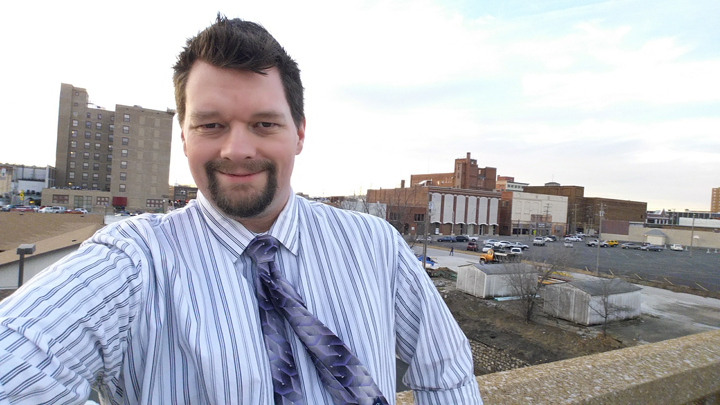 The Joplin Globe is the media heart and soul of Joplin, Missouri, victim of one of the deadliest tornados in U.S. history, an EF-5 that killed more than 150 people when it struck the small city in 2011. Joplin relied heavily on the media during the tornado to stay connected and informed, and Hadsall in turn relied on BlackBerry.
In addition to managing the feature, weekend entertainment, and Sunday people sections of The Joplin Globe, Hadsall directs the paper's web and digital media presence. He feels a great responsibility toward his work and the service the paper provides to the community of 50,000 people.
"BlackBerry is my tool for covering Joplin," he says. "I take so much pride in my work, and I couldn't do that work without my BlackBerry Classic."
(Read about other happy Classic users, from this pro golfer, this entrepreneur and activist, this commercial photographer this financial TV guru and this digital marketing agency CEO, to this Toronto Maple Leafs executive, this high-tech CTO, this retailer/app developer, this club DJ and this fine arts photographer.)
Watts: You've been a BlackBerry user for a while now. Did a BlackBerry smartphone help you during the tornado?
Hadsall: When the tornado hit, I was using the BlackBerry Curve and it helped me out tremendously. All of the phone lines were down but I was able to get texts, and let family and friends know that our house was destroyed but we were OK. I was also able to check in with the newsroom and provide them updates. We lost a lot during the tornado, but I still had my BlackBerry with all of my critical information and contacts.
As for today, I can't tell you how valuable the built-in FM radio on my Classic is when tornado warnings sound.
Watts: How else does the BlackBerry Classic help you do your job?
Hadsall: The Joplin Globe is a digital-first newspaper, meaning we publish stories online first, before printing. My BlackBerry is my lifeline to making sure this is accomplished in multiple ways:
Staying in contact: Cellphone numbers are premium currency for reporters, because sources can be hard to get a hold of. People don't always check their voicemails, but they will always reply to a text which is gold when writing any news story. It's a plus when the phone detects that I know the contact through a social network, and connects all of this information together.
Staying organized: The BlackBerry Hub keeps everything organized –personal social networks, professional emails, and everything in between. With OS 10.3 and the Hub, I use different LED colors and sounds for all the accounts I monitor. With one glance at my phone I'll know if it's an important email or a Facebook chat, which is crucial for me and my multitasking personality.
News reporting: My job doesn't end when I walk out of the newsroom because news doesn't take a break. Facebook and Twitter are critical to connecting with readers, and my BlackBerry Classic keeps me tied to them with no problems. I love that unlike with Android and iOS, I don't need separate apps to post to the Globe's Facebook page or Twitter; my BlackBerry apps have this functionality built in.
In addition to writing posts and professionally engaging with our audience on social media, I use the BlackBerry Classic to capture notes, ideas, pictures, and recordings for my stories..
File management: I test this on every phone I review for the Globe, and the BlackBerry OS 10 is hands down the best OS for managing files, media cards, clouds or other drives.
Apple's iPhones are picky about file types—if an MP3 isn't bought through iTunes, the iPhone's native music player won't have anything to do with it. Android is easier to work with, but its file-management system is not nearly as flexible. With BlackBerry I'm able to open any files for stories that my sources send me, and in return I can also send my contacts documents and spreadsheets in a format that anyone can work with.
Watts: Were you expecting all of these advantages when you considered buying the BlackBerry Classic?
Hadsall: Yes and no. I'd been a BlackBerry fan since my Curve helped me stay in touch with loved ones, work, and find a new house after the tornado hit. But it wasn't until I had an opportunity to review the BlackBerry Classic that I realized I wanted an upgrade–despite reviewing the Samsung Galaxy Note Edge, Nokia Lumia 1520, iPhone 6 Plus, HTC One M9 and Samsung Galaxy S6.
The feature that convinced me was BlackBerry Blend. Once I had the chance to experience that, I was sold.
Watts: What do you like about the BlackBerry Classic and Blend combination?
Hadsall: How easy it is to track down sources and information for stories and then communicate with them. This has helped me cut down on business-card and paper-scrap clutter. I love that by using Blend, I can send a file from my computer directly to my phone, which is such a timesaver. It led to the tweet that got your attention!
Blend is a standard, must-have piece of software for me. It's a game changer that has altered the way I work for the better.
Watts: What's your most recent work win using BlackBerry Classic and Blend?
Hadsall: Having easy access to a person's phone number, social profiles, notes and more is gold. Recently we reported a local story that received a bit of national attention. While other reporters in the newsroom struggled to get in touch with the student or his family, I went to Facebook and was able to find a family connection to the student's place of employment. I sent a text with my BlackBerry Classic and a few minutes later I was chatting on Facebook with the student's mother, getting quotes we used for the story.
Watts: How could the BlackBerry Classic be useful to other journalists?
Hadsall: BlackBerry is hands-down the winner for keeping up with news, contacts, and social networks. The built-in functionality between the calendar and contacts is valuable in setting up interviews.
And everyone in journalism cares about grammar, which is where the BlackBerry keyboard takes the cake for quick and easy proper capitalization and punctuation.
Watts: How would you rate the BlackBerry Classic?
Hadsall: This is my favorite phone ever. I heart this thing.
Pricing and Availability
Ready to see how a BlackBerry Classic with Blend can make your job easier? In the U.S., you can own an unlocked Classic for just $344.99. You can also get the Classic via T-Mobile for zero down and $18.33 a month for 24 months. Verizon and AT&T offer similar deals. In Canada, look to carriers such as Bell, Telus, Rogers, and others for good deals.
U.S. and Canadian consumers also may buy unlocked Classics directly from ShopBlackBerry. I also recommend regularly checking here for availability in your region. (Note that pricing differs per market.)