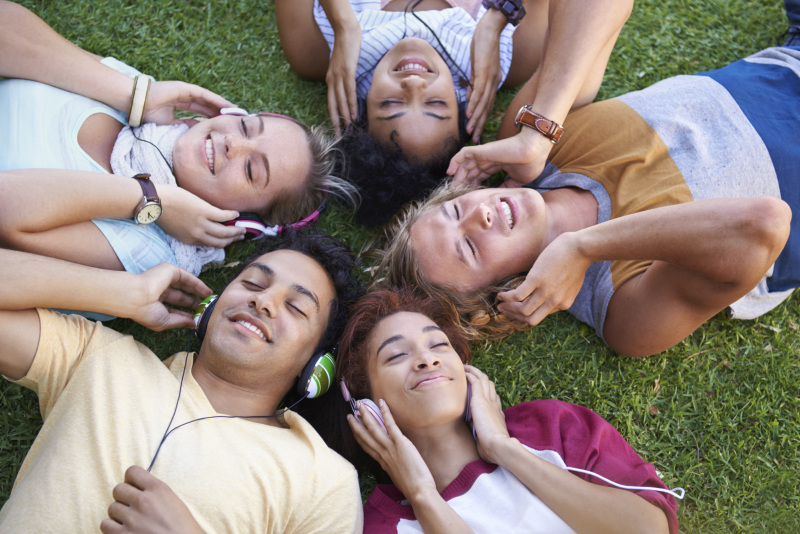 Why do BlackBerry smartphones have such awesome battery life? To listen to music, of course! (Wait … what? I've just been told that streaming music is not the main reason for BlackBerry devices coming with great battery life. Apparently, the battery has something to do with getting more work done, not your weekend soundtrack. Okay. Whatever!)
Plugging in some headphones and listening to music on our smartphones can help relax, inspire or focus us. In fact, 64% of adults 18 to 29 use their smartphones to listen to music or podcasts. (Older age brackets listen less, but even a respectable 21% of people 50 or older like to rock out with their smartphones.)
Personally, I sometimes use my BlackBerry for "brainwave entertainment" — pulsing isochronic tones that help me focus on tasks such as writing this blog. But most of the time I listen to streaming radio stations or music services, probably the most popular option nowadays (versus downloading tracks, which is so 2010).
The Music app that comes with the latest BlackBerry phones has a multitude of options including playlist creation and listening to local FM radio stations. There's no built-in streaming capability, but you can fix that in about two minutes with a third-party app.
The popular Pandora app is also available for free download on Amazon Appstore for BlackBerry users. But there are lots of other great add-on music apps out there just waiting to help you discover new artists or enjoy forgotten favorites. Following are some of my top choices. Get your headphones ready (and your phone fully charged) because you're about to plug into some sweet sounds.
Jango Radio, Free
Jango Radio positions itself as a service like Pandora but with more variety and fewer ads. The Jango app is fairly simple to navigate and provides a setting to increase or decrease the audio quality (reducing the amount of bandwidth needed – important if you're roaming on 3G or 4G).
Jango lets you browse for stations by genre or artists' names. If you search by the name of an artist, the service will generate custom "station" that plays music from that artist and similar ones. Who knows? You might find a modern artist with a sound very similar to one you loved from the 80s or 90s.
Nobex, Free
I'm a long-time user of this BlackBerry World app. Nobex puts more than 16,000 radio stations from around the world at my fingertips. One of its newest features is podcast support. If you like a podcast you're listening to, you can tap on Subscribe and Nobex will notify you whenever a new episode is available. Nobox even integrates with BBM so you can share what you're listening to and invite others to download it. If you like listening to music before falling asleep, you can set a timer.
Rdio, Free
With over 35 million songs available from the four major record labels as well as other sources, Rdio proves to be a strong competitor on the streaming radio battleground. The application focuses on getting you to answer "What do you want to listen to?" Below this, Rdio suggests some of the most popular music collections to try. It also gives recommendations, shows you new releases and what's popular with other Rdio users. The free version gives you access to endless stations, whereas the paid Select version grants ad-free access as well as no limit to how many songs you can skip. It also provides higher-quality audio and download up to 25 songs for offline listening. The paid Unlimited option gives users on-demand access to any song and unlimited downloads.
SoundCloud, FreeM
Used by more than 175 million users per month, SoundCloud is not just about discovering and listening to music, it's also about creating and sharing your own content. There's no limit as to how many hours of audio you listen to; 180 minutes is the limit each user has to use for their own uploads. You can add your found audio files into playlists which, again, can also be shared. Through the SoundCloud app, I can easily search and share. As I listen to files, the onscreen controls allow me to switch files, drag to skip forward or back, like, and to playlist, share, repost to even add comments at time intervals of your choosing.
Spotify, Free and Premium
Spotify provides access to stream commercial music as well as podcasts and video. This content is made available from media and record companies and is DRM-restricted. The Spotify app provides various ways to search for content: users can search through feature playlists, chart hits, new releases or genres and moods. You can share, and follow your discoveries, shuffle lists, set songs on repeats or listen to radio based on specific artists. Looking to get in shape? The Spotify app lets you pick music for running based on your tempo. (I wonder if they'll ever introduce a 'lumbering' option.) The Premium subscription removes ads and improves the audio quality.
Lots More Where These Came From
There are way more music and radio streaming apps in BlackBerry App World and the Amazon Appstore than I had time to try, so at some point look for another list of great music apps that you can tune into.
Which of the apps here do you use? Do you have another favorite not listed here? Let us know in Comments.