Did you hear the one about the surgeon who liked being on the cutting edge? Seriously, Dr. Pavan Kumar is a triple threat: Not only is he a world-renowned heart doctor, he's a telemedicine expert and a part-time BlackBerry mobile app developer. His smartphone of choice? The cutting-edge BlackBerry Passport, of course.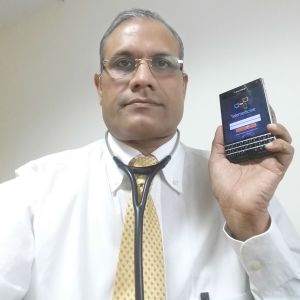 Kumar, who has practiced telemedicine for 15 years, has worked tirelessly to encourage its use in India, where people in rural areas often have trouble getting basic healthcare. He has successfully launched multiple telemedicine programs for rural and urban areas from a master center at Nanavati Hospital in Mumbai, India, where he is a heart surgeon and head of the Department of Cardiovascular Surgery. He also heads telemedicine centers at Dr. L H Hiranandani Hospital and SevenHills Hospital in Mumbai, and has set up one of the largest telemedicine networks in the world, connecting more than 70 hospitals in India and Africa. With this network, healthcare professionals can remotely access patient records and consult with each other.
Last year, Kumar helped develop a BlackBerry telemedicine app that lets patients see doctors for appointments using just their mobile devices. Patients use the app to register, describe their illnesses and upload any existing medical records. Following a live video consultation with a doctor, they receive a treatment plan and prescriptions, all without having to travel to a faraway city. The app was part of a larger deployment that helped Hiranandani Hospital cut its IT costs by 80%.
Kumar loves both of his professions, heart surgery and telemedicine consulting, and considers his Passport an indispensable tool for helping him give patients the attention they deserve.
(Read about these other happy Passport users: a young entrepreneur, an upscale homebuilder's CEO, a tech headhunter, a geologist and pilot, celebrity chef Tyler Florence, a tech startup founder, a sales director, a senior hospital executive, a manufacturing executive, a non-profit founder, a software engineer, a legal administrator, a pharmaceutical CEO, a software manager, an insurance salesman, and these workers from multiple industries.)
Watts: What drew you to the BlackBerry Passport?
Kumar: I've been a BlackBerry user for the last seven years and have enjoyed various models. When the BlackBerry Passport came out last October, getting one was a no-brainer for me. The Passport offers the best combination of hardware and software in a smartphone for professional work. That keyboard is magical and highly addictive.
Watts: How do you use the BlackBerry Passport at work?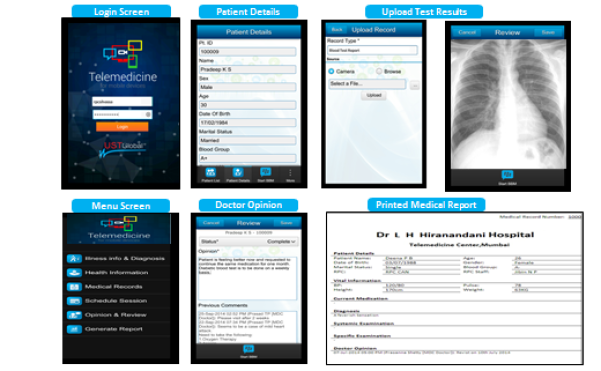 Kumar: I use it mainly to run my Telemedicine for mobile devices app, which I created with the help of UST Global. This app was exclusively developed for the BlackBerry Passport and was showcased at the 2015 Mobile World Congress. It received a positive response and now works on a variety of BlackBerry devices.
We've used the app in my telemedicine center and at connected satellite locations with great success. My team and I have completed over 200 teleconsultations between network hospitals and specialists.
The enterprise version of the app is available in BlackBerry World and the consumer version will be ready to download soon. I'm very pleased with this application, which is my second healthcare accomplishment with BlackBerry. In 2012, I developed ECG, a first-of-its-kind app that is now widely used in India and other countries. This app allows a healthcare worker to use a mobile device to access a patient's ECG records, send them to a doctor, and get back a diagnosis.
Telemedicine is very important in India as we have fewer specialists and they are concentrated in metropolitan areas. Our telemedicine apps have allowed patients that live far away from hospitals to receive treatment through teleconsultations. We're also using the Telemedicine app to present lectures to medical staffs in other countries.
Watts: You send a lot of sensitive information over mobile devices. How do you handle security?
Kumar: Mobile security is very important in healthcare and it's why we are going to install BES12 in our hospitals. I've experimented with it on my own and enjoy the shift to cloud and universal integration. Once BES12 is fully integrated, I plan to use the Telemedicine app for mass mailings, general broadcasts to managers, and integration with [health information management systems] and labs. Our specialists will use BBM Meetings to collaborate.
Pricing and Availability
Ready to change your world for the better with a BlackBerry Passport? Get a factory-unlocked BlackBerry Passport from our global shopping portal, ShopBlackBerry.com (check with your local carrier for device compatibility):
It's also at Amazon, and at AT&T for $669.99 unsubsidized or $99.99 with a 2-year contract. Rogers and Telus carry the BlackBerry Passport in Canada