BlackBerry continued its transformation into a cross-platform enterprise software and services provider built upon its security heritage, as key stats from our Q2 earnings release showed.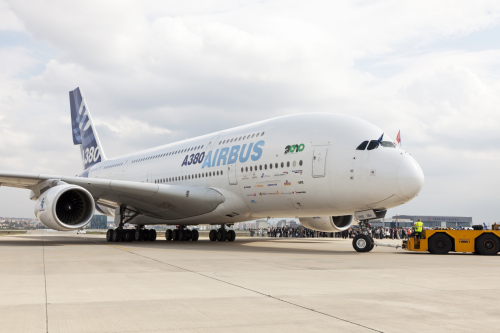 Software and services revenue of $74 million (non-GAAP) grew 19% year-over-year, the 4th-consecutive quarter of double-digit growth. BlackBerry booked 2,400 software customer wins in the quarter including big names such as Airbus (right), Berenberg Bank, TD Bank, PSA Peugeot Citroën, Horizon BlueCross BlueShield, Herbalife, Nippon Express, Siemens, Visteon and LG Electronics.
All told, software licensing revenue was up 33% in the quarter. More than 60% of licensing deals involve managing and securing multiple mobile platforms, such as iOS, Android, Windows Phone, and/or BlackBerry 10. More than half of BlackBerry's employees are now aligned towards creating and selling software and services, said Chen.
(Read onward to learn more about our many cross-platform enterprise customer wins in the last 3 quarters. To learn more about our new privacy-enhanced Android smartphone, PRIV, read Chen's blog, cross-published at CNBC, too.)
The Q2 results excluded two recent major BlackBerry acquisitions: market-leading crisis communications provider, AtHoc, which closed on September 22nd, and the pending acquisition of mobile device management provider, Good Technology.
AtHoc just won the U.S. federal agency the TSA, which operates at more than 200 major airports, noted Chen. AtHoc's technology will be integrated with key BlackBerry platforms, including document security software, WatchDox by BlackBerry, the rest of our enterprise software portfolio, and our global network.
When finalized, Good will bring more than 6,000 MDM customers, of whom 64% of their employees run iPhone or iPads, and $160 million in revenue per year, said Chen. "Combined, we will have the broadest and deepest" EMM platform, he said, with little overlap in customers.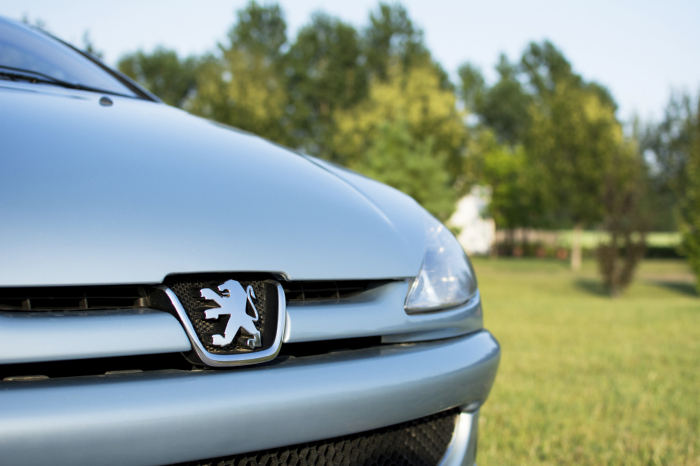 French carmaker PSA Peugeot Citroën was another BlackBerry customer in Q2.
Cross-Platform EMM Need is Huge
BlackBerry will continue investing in its existing EMM solution, BES12, with recently-bolstered cross-platform capabilities. The November release of BES12 added Windows Phone to the existing support for BlackBerry, iOS and Android. V12.1 released in the spring delivered support for the Samsung KNOX Standard flavor of Android and took BES12 into the cloud. Meanwhile, V12.2 released in July brought support for Samsung KNOX Workspace as well as Google's Android for Work.
Partly as a result, 72% of enterprises using BES as their primary EMM solution today intend to increase or maintain their investment in BES in the future, according to recent research by Strategy Analytics commissioned by BlackBerry. 46% of IT decision-makers actively shopping for EMM solutions in the next 12 months plan to evaluate BES, more than other leading vendors, according to Strategy Analytics.
The percentage of IT decision-makers evaluating BES has actually grown by 11 percentage points in the last 2 years, even while some other vendors have seen their popularity in EMM bakeoffs fall or remain flat. Consideration for BES is particularly growing in industries such as professional services and healthcare, according to Strategy Analytics.

Customer Wins over the Past Nine Months
John R. Dixon, director of corporate infrastructure at Home Hardware Stores Limited, a mixed-device company, likes the central software console BES12 offers: "The dashboard is great; it allows pretty quick insight … you can easily tell what devices are running and what they're running on."
Emmanuelle Clave, group director of IT at Rocco Forte Hotels, appreciates how easy BES12 makes it to control its apps, ranging from reservation systems for the restaurants to point-of-sales apps, on employees' mobile devices. "Anything we want to add or remove, we just deploy, push it, and every device gets that application delivered; it's an exciting time," says Clave.
Home Hardware's Dixon rates the app catalog as one of BES12's best features. "It's better than a lot of other solutions; it really gives us control on the individual app level for which apps we want to authorize, which we don't; we can push to an individual device or we can allow self-service."
Supporting BYOD, COPE and COBO
It's not just multiple OSes that companies must support, but multiple deployment models.
Some customers, such as leading Indian multinational conglomerate Essar Group, are choosing BES12 to enable BYOD along with their pre-existing COBO environment. "We're seeing a tremendous number of users bringing Android or iOS devices into the environment, along with our BlackBerry 10 smartphone deployment," says Jayantha Prabhu, Essar CTO. "With BES12, we don't have to worry about the security of the data on the devices our employees choose. We can provide our users with the mobile device experience that best suits their needs and simplify our EMM, with the peace of mind that our corporate data remains secure."
Mergers & acquisitions can also drive multiple support models, as logistics technology provider Descartes Systems Group Inc., discovered.
"Prior to BES12 we had to go through three different interfaces to manage our devices. BES12 brings it all together for us," says Calvin Fujita, Team Lead for Implementations and Maintenance Services at Descartes, which is using BYOD and COPE models. "BES12 meets my team's requirements on security, management and ease of use for IT. The migration to BES12 was incredibly painless, and the user interface is far more user-friendly."
Beating EMM Rivals
Some companies are leaving old EMM solutions behind for BES12. Ocean Capital Investments swapped MobileIron for BES12 Cloud to manage BlackBerry 10 and iOS devices.
"Our priority is to give our employees the right tools to get the job done, and our BlackBerry solution will allow us to do that," said John K.F. Irving, President of Ocean Capital, who calls BES12 the "most-secure end-to-end mobile solution."
UK insurance giant Aviva also switched to BES from MobileIron, though under more extenuating circumstances: its employees' iPhones and iPads had been hacked and deleted, causing a reported millions in damages, necessitating a secure alternative. BES became just that.
BES is also winning in open competitions versus other vendors. Volker Stevin chose BES10 over MobileIron and AirWatch, because it was "a clear winner in terms of being more user-friendly and cost-effective," according to Mike Philip, Wireless Program Manager for the Canadian construction conglomerate. Volker Stevin has since upgraded to BES12.
BES12 Down Under
Much like President Obama, Australian government officials are known to love BlackBerry, including former Prime Minister Tony Abbott. We recently featured BES12 customers from Down Under, including some government agencies that are using BES12's cross-platform capabilities to satisfy BYOD employees while meeting mobile regulations.
For instance, the Australian National Audit Office recently migrated from BES10 to BES12 to manage its mobile fleet, which is composed of corporate-owned BlackBerry 10 phones and employee-owned Android and iOS devices. In addition to BES12 back-end software, the financial agency makes use of BlackBerry's containerization software – Balance on BlackBerry devices and Work Space on the third-party phones — to keep employees' work data locked down, secure and separate from possibly risky personal apps and activities.
The Australian Transport Safety Bureau also recently upgraded from BES10 to BES12 to handle its COPE/BYOD environment. This long-time BlackBerry customer relies on smartphones and BES to provide a secure way to record and share images from crash sites in remote areas.
Health Organizations Who Depend on BES12
Healthcare mobile management and BES12 go together like cavities and ice cream. Revera Home Health uses BlackBerry 10 smartphones and Android tablets, equipped with MobilityPlus by GoldCare, and managed by BES12 to schedule and document its workers in the field. The changes have "resulted in significant enhancements that are having a lasting impact on our business," says national director Joanne Stone-Burke. Meanwhile, Ontario-based CarePartners uses BES12 to manage BlackBerry 10 smartphones used by 4,000 workers while adhering to HIPAA and PIPEDA regulations for patient privacy and data.
Mackenzie Health (above) faces a huge EMM challenge: a mix of device types used by 3,000 staffers at a hospital and six community satellite sites. BES12 again comes to the rescue, this time to oversee smartphones using five different mobile OSes: BlackBerry OS, BlackBerry 10, Android, iOS and Windows Phone.
Down in Colombia, healthcare organization Caprecom uses BES12 to manage the BlackBerry 10, iOS and Android devices used by its 800 workers who sometimes must travel to remote areas to see patients. BES12 gives the field workers fast, secure access to patient information on company servers, which enables them to make faster, better healthcare decisions on the spot.
BES12: The Cloud Version
Tight on budget and time? You can save time and money on software, hardware and licensing by opting for BES Cloud instead of the standard on-premises version. Annual subscriptions cost the same, and you can rapidly grow your mobile fleet without having to spend heavily on servers and other infrastructure.
Companies that have taken advantage of this cost savings include the aforementioned Ocean Capital Investments, Morea Architects, a cross-platform family-owned business in Australia, and Guenther Homes, Inc. in Canada. Both love the ease and efficiency of managing all their employee devices from a Web-based BES12 console.
Morea principal director Constantine Dionysios Moschoyiannis marvels at how easy the BES12 Cloud dashboard is to use, even for non-technical people like himself. "I can go into any store and buy a new mobile device and connect it to our BES server, and I'm not an IT person – this is amazing," he says in this YouTube interview. Even Essar Group, which is deploying BES12 on-premises, is trialing BES12 Cloud for even greater scalability and flexibility.
Industry watchers and industry associations agree with our customers that BES Cloud is one of the best EMM solutions (if not the best) in the cloud – it's a finalist in the CTIA Super Mobility 2015 Awards to be awarded in September.
Platform Play
BES12 isn't a standalone solution. It's the centerpiece of the BlackBerry Enterprise Portfolio, as well as the foundation for 3rd-party add-ons that make BES12 even better. These include monitoring solutions that help enterprises maximize their mobile uptime, such as ISEC7 or GSX Monitor and Analyzer. NovaLink, Inergex and Arrow Communications are some of the BES12 customers that use GSX.
"The ability to manage BlackBerry smartphones, iPhones and Androids is a business requirement for most of our clients," says Zekeria Oezdemir, Head of Technology at NovaLink. "With BES12, we are able to meet those needs, bringing out the best in each mobile operating system…With the use of GSX Monitor and Analyzer, we can manage the infrastructure of the whole chain, the mail server and the database."
'BlackBerry Really Listens'
Home Hardware's Dixon speaks for a lot of companies who have found BlackBerry is providing just the type of EMM tools they need: ones that make it easy to deal with the complexity of multiple mobile OSes while protecting the entire enterprise with BlackBerry's gold standard security.
"We found BlackBerry really listens to their customers," he told us. "There's nothing else on the market that beats the BlackBerry for security, but the new systems [BES12] allow us to broaden that, allow us to introduce other devices into our environment, extend our BlackBerry security platform."