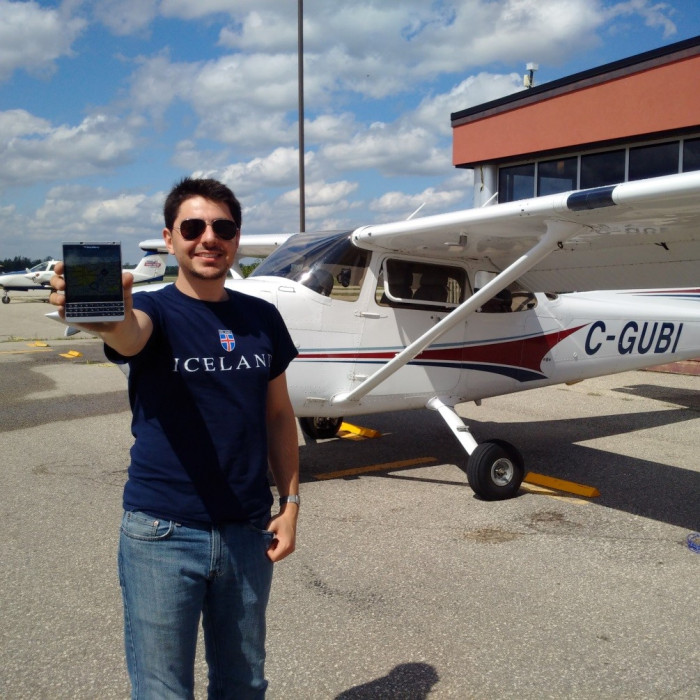 Earlier this year, we met a pilot who just can't live without either of his passports. As a geophysicist who scouts out precious metal deposits from the air, Max Salman always packs his BlackBerry Passport first, and who can blame him?
In that first Q&A, Max named a few of his paramount features. To catch you up with the highlights:
the Passport's 30-hour battery life for those long flights,
the 1440X1440 display enabling clear viewing of the Passport maps when in flight,
the keyboard for swift typing,
and the general 'wow' factor he receives when he shows his device off to everyone he encounters in his travels.
Max recently updated to the new BlackBerry Passport Silver Edition, and I thought this would be as good a time as any to meet up with him and see it in action – in the air!
Max isn't the only one who relies on his BlackBerry Passport to get the job done. Check out what other satisfied Passport users had to say: This commercial manager, young entrepreneur, upscale homebuilder's CEO, tech headhunter, celebrity chef Tyler Florence, tech startup founder, sales director, senior hospital executive, manufacturing executive, non-profit founder, software engineer, legal administrator, pharmaceutical CEO, software manager, insurance salesman, and these workers from multiple industries.)
Pricing and Availability
Get a factory-unlocked BlackBerry Passport from ShopBlackBerry.com:
the all-new Silver Edition: $549
It's also at Amazon, and at AT&T for $669.99 unsubsidized or $199.99 with a 2-year contract. Rogers and Telus carry the BlackBerry Passport in Canada.
If you live outside of North America, get your BlackBerry Passport directly from us at our global shopping portal. (Check with your local carrier for device compatibility).