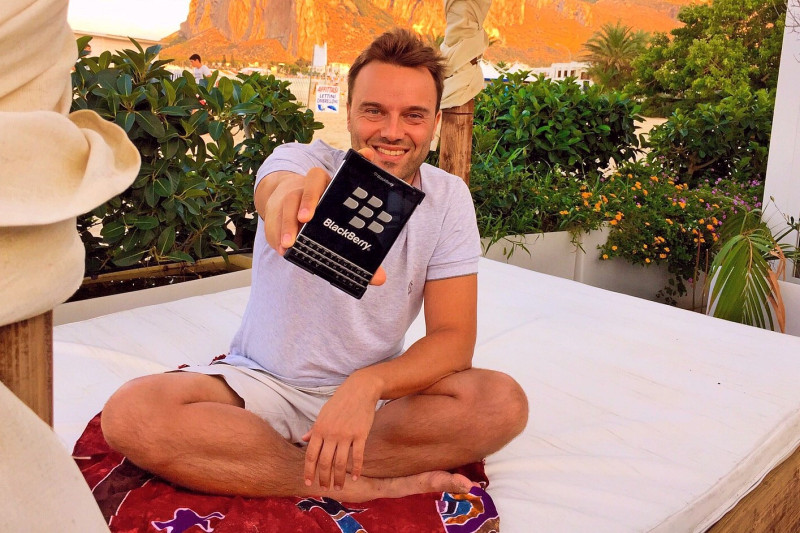 Whether fashion, fine dining, travel, or technology, some of us choose the finer things in life. Emanuele Guidetti, corporate finance manager for internationally-renowned fashion designer Brunello Cucinelli, is no exception. Given that his employer exemplifies luxury, it's only natural that Guidetti should follow suit, both in how he lives and the smartphone he uses.
The 32-year-old Italian has a penchant for fine food, Italian wine, and Cuban cigars. When he isn't working for the $500-million-a-year-luxury-goods maker, Guidetti enjoys spending time with his wife and newborn son, organizing barbeques, swimming, boxing, and cooking.
To call Guidetti's life hectic would be putting it lightly, but he wouldn't change it for the world. And he's managed so far to keep himself together quite well, with a little help from his smartphone. For Guidetti, his BlackBerry Passport has become an integral part of his day-to-day.
With it, he's able to work both smarter and harder. Better yet, he looks good doing so.
(Have a look at our other profiles of BlackBerry Passport users, including this sugar manager, young entrepreneur, upscale homebuilder's CEO, tech headhunter, geologist and pilot, celebrity chef Tyler Florence, tech startup founder, sales director, senior hospital executive, manufacturing executive, non-profit founder, software engineer, legal administrator, pharmaceutical CEO, software manager, insurance salesman, and these workers from multiple industries.)
Watts: What made you get the BlackBerry Passport?  
Guidetti: I wanted to be different from others, to use a unique device that's both fashionable and functional. The keyboard and touchscreen combo was a huge selling point for me, as was the large, high-quality display. Not only do they make the phone look great, they let me work more effectively, as well.
I'd also heard a lot of great things about the device's battery life too, and that's something that's quite important to me. There are few things worse than having your phone die in the middle of an important conference, or trying to speed through remote work on a low battery. With the Passport, it's a lot less likely that either will ever happen.
Watts: Walk us through your average workday. What does it involve?
Guidetti: I spend around 20 minutes each morning deciding what to wear during the day, but it's never a classic business suit and tie. I always go with something that represents my company's style and collection. Once I'm dressed, I jump in my car, hook up my BlackBerry and listen to my favorite music on my way to the office.
By the time I arrive at the office around 8 AM, I've already checked almost all the emails I received during my off hours – I know exactly what needs to be done, and can start being productive right away.
I usually begin by meeting with the executive directors for updates, checking the stock market, and assigning each team member their "to dos." Around 8:30, I start on my own work. I've an average of two meetings a day with managers from different departments to discuss market conditions – how the market looks, what the consumers want, what our sellers need, and what makes our brand unique.
I generally spend the latter part of my day budgeting and planning.
All of this stuff requires a bit more than just being interested in fashion – I need tech like my BlackBerry to handle everything. I usually manage an average of 80 emails a day and make and receive 30 calls from all over the world.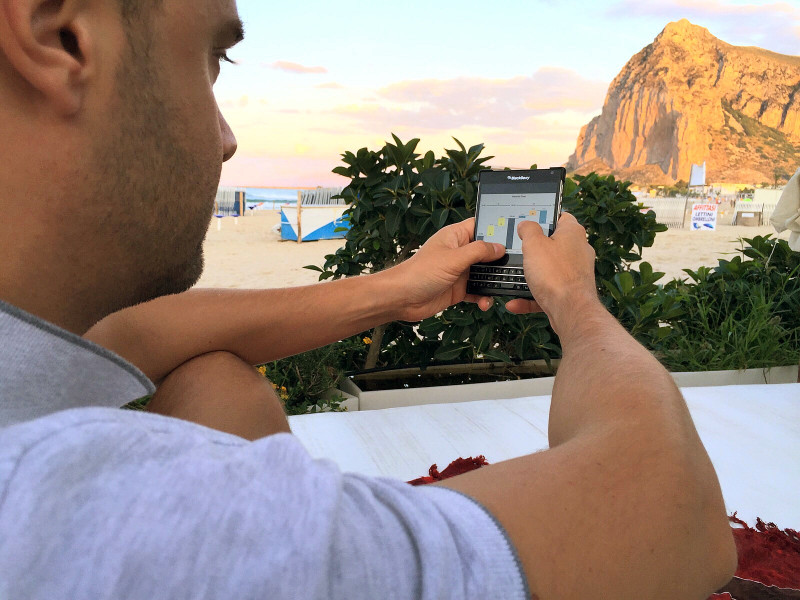 Watts: What type of work do you do with the BlackBerry Passport?
Guidetti: I mainly use it to organize appointments and conduct conference calls, but I also use it during meetings. It's incredibly useful to have all of the data I need at my fingertips whenever I need to wirelessly showcase information to my colleagues. The most important work I use it for, though, is resolving issues outside the office.
For example, one of my staff was unable to finish a project because he didn't know how to explain and represent a financial trend. He called me on my BlackBerry while I was out, but I couldn't help him find a solution without seeing the numbers on screen. I asked him to send me the analysis, then put the call on speaker.
It only took a few seconds to receive the Excel file, then I was able to see all the numbers and graphics right there on my Passport. I walked him through the project from start to finish. The only other device that's allowed me to do remote work so effectively is a laptop.
Watts: What are your favorite features?
Guidetti: For starters, there's the typing experience. The beauty of the physical keyboard. It makes working and communication so much easier, since I don't have to wrestle with on-screen input.
Receiving an email minutes in advance of everyone else is priceless, too, as is easily reading Excel files and PowerPoint presentations on the large screen. The fact that I'm able to access all of the information I need whenever I need it is just tops.
I also love Blackberry Blend. It's perfect to use your mobile phone from your computer without having to connect your cables, and it works both ways. It means that no matter where I've saved a file, I can access it in short order, making it a lot easier to get my work done.
Watts: Does the type of work you do require mobile security?
Guidetti: Definitely. Mobile security is extremely important to me. Because of the type of information I work with, I can't use any device that doesn't have a secure network. BlackBerry does, and even better, their devices are great for IT. My IT department was very impressed with the Passport, especially how easy it was for them to connect it to the company network. The setup process can take as long as several hours on other devices, but only required five minutes for my BlackBerry.
Watts: Overall, how would you rate your Passport?
Guidetti: I'm a tough grader, so I'd say eight out of ten. I've had a few bugs to work out, but that's been the case with every device I've used. All in all, though? The BlackBerry Passport is simply amazing.
Watts: Thanks, Emanuele. It was fantastic to talk with you, and we hope the Passport continues to serve your needs to a T.
Pricing and Availability
Ready to change your world for the better with a BlackBerry Passport? Get a factory-unlocked BlackBerry Passport from our global shopping portal, ShopBlackBerry.com (check with your local carrier for device compatibility):
It's also at Amazon, and at AT&T for $669.99 unsubsidized or $99.99 with a 2-year contract. Rogers and Telus carry the BlackBerry Passport in Canada