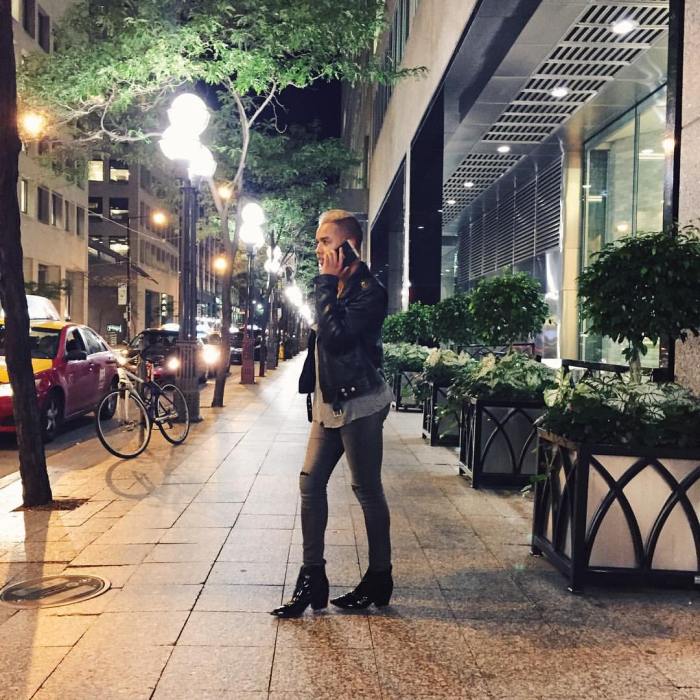 A few months ago, we met fashion blogger Jay Strut. His love for design and fashion led him to take the BlackBerry Passport Silver Edition for a test drive during the Toronto International Film Festival (TIFF) this year.
Here's what he had to say:
MM: You mentioned in your Instagram post that the Passport was an accessory you took to TIFF. What other must-haves did you bring along?
JS: The other must-have that was a necessity this year for TIFF, like every other, is definitely your strut and swagger! These are A-list parties and if you are not bringing it alongside your phone to make sure you know someone inside or at the door you are not getting in lol!! Aside from that, I didn't really need anything, I didn't have to bring a portable charger or anything because the battery life was so darn good on my BlackBerry Passport… Didn't have to bring a wallet or anything. All I needed was my Passport and I was good to go!
MM: You called out the camera and battery in your blog post as features you loved. What features did you use most throughout TIFF?
JS: When it comes to TIFF, I am always on the scene at the events, parties, movie premieres, etc. The fact that the battery life never came into question… I can honestly say, I don't think I once looked down at my phone and said, "OMG my phone is dying, I need a charger," worrying that I would have to miss capturing content at some events. Another feature that I definitely used the most was the keyboard. I was on the go coordinating, getting people into events, making sure the guest list staff knew how many people were coming, responding to invites, etc. It definitely helped with the productivity of my film festival experience!
MM: What sort of reactions did you receive from fellow TIFF goers when they saw your Passport? Any key themes?
JS: If I had a dollar for every time someone complimented the overall aesthetic and design of my BlackBerry Passport at TIFF this year, I would be able to buy a lot of people their own BlackBerry Passport Silver Edition phones. It was great! I had such positive feedback on the device and even made some new friends with BBM! There was some surprise at first, at the size of the device and the fact that there was a keyboard but no trackpad… But once I showed them around, they were all "oohing" & "aaahing" lol!
MM: If you had to pick just one, which feature of the Passport Silver Edition would you say was the most important to you – at TIFF or in day-to-day?
JS: I cannot stress enough how genius the keyboard as trackpad feature is of the BlackBerry Passport Silver Edition. It's literally my obsession and such a genius idea! The scrolling is precise, smooth and functions throughout the entire keyboard.
MM: What surprised you the most with the device coming from the BlackBerry Classic?
JS: Going from the Classic to the Passport, obviously I was initially intimidated by the size. I thought to myself "OH MY LORD WHERE AM I GOING TO FIT THIS!?" But when I actually got my hands on it, I quickly integrated it into my style, my routine and most importantly personality. I also found a few pockets for it to fit in. Easier done than said I guess right!?
MM: Verdict? Will you stay with the Passport, or move back to your Classic?
JS: All in all, I think I will stick with the Passport for its design, aesthetic and features. I also love how professional and down to business it feels and looks when I am holding it. When I am on my BlackBerry you know I am here to #WORK.
***
So there you have it – yet another fan of the BlackBerry Passport. Interested in seeing how others stay connected and productive?
Check out other BlackBerry Passport success stories, like this heart surgeon, a global software exec, this engineering prof, a Vegas music promoter, this fashion executive, this pilot, and this sugar manager.
Or have you read enough, made up your mind, and can't wait another second to get your hands on your very own BlackBerry Passport? Visit ShopBlackBerry.com for a carrier-unlocked device, or hit up BlackBerry.com/BuyPassport for a list of local carriers and retailers in your area.