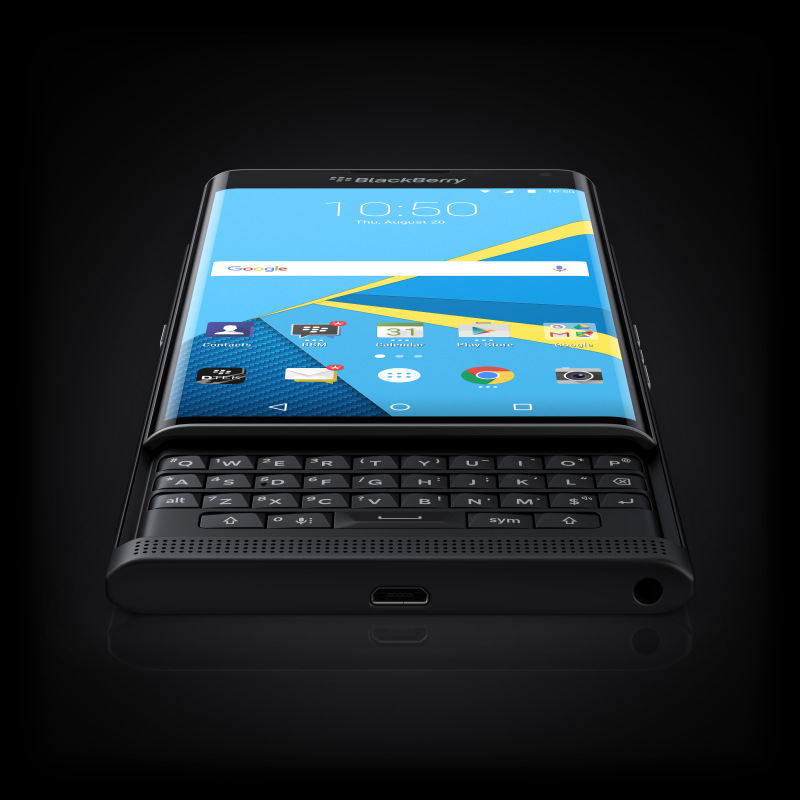 (Updated 12/01/2015)
It's been three weeks since the PRIV became available for purchase, and people are still talking about it. Those who've purchased one of their own are absolutely loving it, and – as you can see below – there are still scores of prospective buyers who can't wait to get their hands on one. Have a read, and see for yourself why BlackBerry's first Android phone's got everyone so stoked (and be sure to check out  what buyers are saying on social media as well as what reviewers love about the phone).
"Yes, I have pre-ordered my PRIV… can't wait! :-)" (Source)
"BlackBerry, BlackBerry is the business!" (Source)
"I pre-ordered one. Will be neat rocking a BlackBerry again, been a while!" (Source)
"I'm actually considering trading in my Note5 for the Priv. I used to be a hardcore Blackberry fan. I had the Storm and Tour and I absolutely loved the Tour. I miss it.
I may do this, depending on finances." (Source)
"This is the only phone that would make me turn my note 5 in." (Source)
"This is a phone you can hang on to for the next 4 years without the constant need to change I.e. if you're not a phone junkie. Its a solidly built Canadian monster and I think the added features warrant the price. It is in many ways the perfect phone because it has everything a phone should have without making any compromises. It is just perfect!" (Source)
"Super excited to get this phone, but sure going to hate to leave my BlackBerry Z10!" (Source)
"This is BlackBerry's breakthrough device!" (Source)
"The Priv is no ordinary Android phone. If you know what's good for you, get the Priv; great job, BlackBerry!" (Source)
"Too many of the OEMs are putting out similar phones with slight variations. Nothing unique, nothing different, just the same old build. Sony hasn't changed much, HTC's trying to look like Apple, Samsung's taking away important features. Instead of hating on BlackBerry people should appreciate the added choice we have as consumers." (Source)
"So when it was on BB10 people said it lacked apps and the OS sucked without trying it. Now it's on Android people are saying its overpriced for a BlackBerry (even though it's in line with other flagships with similar specs and has its own special selling points: keyboard, software, speakers, microSD, Curve screen, BlackBerry Hardware build). Obviously people just want to see BlackBerry disappear rather than root for it.
Please show me how many tech sites tried to cover the great Priv features the YouTube video they showed instead of the B/W one people think is creepy? (hint: the answer is zero), but they sure all showed the bad marketing and bad press. When they do something good there is almost zero coverage." (Source)
"I want it. Farewell, Note 4." (Source)
"November 6 can't come soon enough." (Source)
"The game changer will be the BlackBerry Hub and the keyboards, physical and virtual. Android fans should jump on this to benefit from the BlackBerry innovations." (Source)
"Android fan here, and I have been banking on BlackBerry releasing a phone like this for a couple of years now." (Source)
"Well done. I love it. I will buy it, that's for sure." (Source)
"I'm hooked. I want this phone!" (Source)
"Can't wait, this device has better specs than iPhone and Samsung and a cheaper price tag. Comes with BlackBerry's legendary security." (Source)
"Apple's worst nightmare…BlackBerry woke up." (Source)
"Great work BlackBerry!
I believe that the PRIV will be a success, it's an awesome smartphone!"(Source)
"Fair price considering the hardware and specs in the Priv, plus security and the BlackBerry HUB etc." (Source)
"The note 5 is 850?! And people are complaining about the PRIV price? Oh boy. Plus every year these phones are the same slab anyways. Note 6, iPhone 7, Samsung S7…Smaller batteries and the same crap with no true innovation." (Source)
"The PRIV will be my next BlackBerry. It's an awesome smartphone." (Source)
"I want it NOW! Got it ordered early today." (Source)
"Price isn't an issue." (Source)
"I'm sorry, but I'm tired of the budget Nexus mentality. BlackBerry doesn't need a budget phone, it needs a flagship. If you can't afford this phone, with goes hand-in-hand with a Note 5 or iPhone 6 Plus, you clearly have one hundred other options. People who want a premium Android phone, Merry Christmas." (Source)
"On the price: it is priced as other high end flagships, so no surprises here. I fail to see why BlackBerry should price lower than other well-selling flagships, given that it brings unique features to the market with no compromise in terms of Android experience. However, I do think that the price of all those flagships is just too high." (Source)
"Please, release this wonderful device in South Korea!" (Source)
"All in all, this just may be the device of the year. I wish BlackBerry all the best." (Source)
"Funny, today I was reading about the new iPhone and was thinking BlackBerry will be out with something much better very shortly. Can't wait until February when my two year contract is up on my Z30 so I can upgrade to this device!" (Source)
"Counting down the days till it's in my hand!" (Source)
"Take my money and send me one now!" (Source)
"This may well be the first BlackBerry phone I own. I have been longing for a physical keyboard on a good Android device, and this looks like it'll fit the bill so far!" (Source)
"This is exactly what I've been praying for, seriously! Thank you Blackberry! God knows how much I've been suffering from touchscreen "keyboards" and having no other option!" (Source)
"The epitome of privacy, privilege, and class." (Source)
"Great article, and what a beautiful device!"  (Source)
"A giant step forward for the company. Even though I'm not a fan of Android, it's a needed step. So now the question is, will Verizon carry it?"  (Source)
"This is exciting. I've always been a BlackBerry loyal and will be. But as a consumer this device will suit my needs really nicely." (Source)
"Please, please, please market this phone as much as it possibly can be! You need to let the whole world know how amazing this is!!! Hopefully there are more BlackBerry/Android phones to come in the near future!!!!!!!!!" (Source)
"Great concept for the product. May not be the best name, but the name doesn't make the product. I was gonna get it when it was the Venice and will get it still." (Source)
"I think this is a smart and nice move, there is a large market for a secure/private Android devices that none of the other manufacturers could produce until now. The BB productivity suite is an awesome addition to the stock Android OS. I am keeping my BB10 device but I reckon the asset of having extended their software basis to Android market! I just hope that the Android runtime on BB10 devices will keep getting better and better." (Source)
"BlackBerry security, keyboard and quality hardware build, coupled with Android…..Best of both worlds." (Source)
"Can't wait for real keys!!!! Yay!!!"  (Source)
"That is an amazing looking device. If the Android experience isn't so heavily skinned (ala Samsung) it could be a ground-breaker." (Source)
"This looks like a far more well-designed slider keyboard than the earlier Storms — the keys actually look more tactile, and it looks like edges of thumbs won't collide with obtrusions trying to press the keys at the corners.  Based on looking at the design they chose, I would not be surprised if this is one of the best ever "keyboard feel" for a portrait slider keyboard on the market. Looking forward to it!" (Source)
"I thought the Xbox 360 was lame when it was first announced. Ended up getting used to it. The same will happen here." (Source)
"I gives a 4k. I like PRIV. That Venice name was just lame. I'm getting it." (Source)
"[PRIV is] a name, short for 'privacy' and just like iPhone and the Wii, everyone will make the jokes and then move on. In the meantime people have fun, Blackberry gets publicity and people remembering them because they had a good laugh." (Source)
"I've always loved their hardware!" (Source)
Social Media
https://twitter.com/kmcooley/tatus/670350712723922945
As you can see, the PRIV is making some pretty big waves in the smartphone space, and they're mostly positive ones. Everyone who remembers what it was like to type on a physical keyboard – everyone who finds soft keyboards frustrating and difficult to use – wants one. What about you?