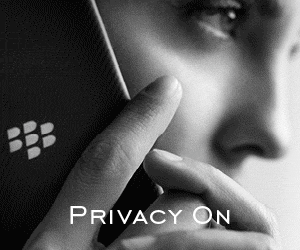 If you use an Android device today, chances are that it's not protecting your privacy. According to a study published earlier this week by Cambridge University researchers, nearly 9 out of 10 Android devices are exposed to a critical vulnerability that puts your communications and personal data at risk.
It's not a good situation. However, we at BlackBerry think we can do better. BlackBerry's new PRIV™ security-enhanced smartphone will bring BlackBerry mobile privacy, security and productivity to the Android world. With full access to Google Mobile Services, the Google Play app store, the latest hardware specs, and a revolutionary slide-out, touch-enabled keyboard, PRIV offers a no-compromise user experience to privacy-minded consumers and enterprises.
But what does privacy really mean for BlackBerry and the PRIV? The BlackBerry secure and private smartphone experience is built on the following principles (also read Alex Manea's deep dive into some of the technical underpinnings of PRIV's security):
1. Deliver a comprehensive, state-of-the-art technical security approach through all layers of the smartphone stack.
While the PRIV user interface is simple and beautiful, BlackBerry has performed extensive surgery under the hood to augment Android's privacy and security capabilities. BlackBerry also brings its patented picture-login to Android, representing the best combination of security strength and ease of use for any smartphone authentication scheme available on any mobile device today.

2. Ensure users have a rich choice of private communication and collaboration applications.
Starting with BBM, which has served billions of private messages and offers security and productivity features evolving from many years of user feedback, PRIV also supports innumerable third-party options from Google Play as well as a wide range of BlackBerry-authored communication and collaboration applications aimed at business users, including WatchDox private file sharing, BBM Meetings private conferences, and SecuSUITE private voice calls. BlackBerry's communications suites have no back doors and use certified cryptography from BlackBerry Certicom.
3. Give users maximum visibility and control over their privacy-related posture and configuration.
BlackBerry has built privacy monitoring hooks deep within Android that provide users with powerful feedback and control over how applications make use of security-critical device resources. This includes the exclusive DTEK™ by BlackBerry warning system app, as well as other features. Privacy health is communicated in a simple and elegant manner, resulting in confidence instead of complexity.
4. Commit to user privacy beyond the hardware and software.
Android privacy and security is about much more than just the device. And it's about more than the end-to-end infrastructure for reliable communication and over-the-air updates. BlackBerry's world-renowned security incident response and research teams offer nation-state level sophisticated vulnerability assessment that helps us find and fix problems before they impact users. Android is a complex, rapidly changing, massively popular, open-source product, which makes it an attractive and fertile target for attackers. Such an environment demands world-class security incident response, and BlackBerry has a long history delivering that to customers with the highest value resources under their (and hence our) protection. BlackBerry's vulnerability patch program is second to none in the industry.
As we get closer to launch, the PRIV security and privacy blog series from myself and Alex Manea will dive deeper on these topics and more. Also visit our Android Security site to keep up-to-date about Android vulnerabilities, hacks, breaches, management tips and more.