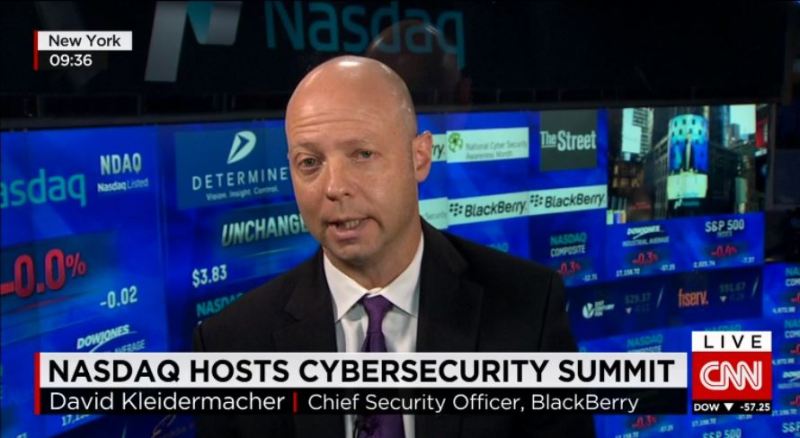 The importance of cybersecurity in the emerging Internet of Things was in the spotlight on Monday at the National Cyber Security Alliance's day-long summit hosted at the NASDAQ in New York City.
Over time, many of the devices we now see as single-purpose, static and standalone will increasingly become multi-purpose, dynamic and networked. Billions of 'things' – from cars and containers to ovens and hospital beds – will absorb, generate and share data. Making sure there's a way for consumers to have confidence that they are protected against security threats in this new world is critical.
Dave Kleidermacher, BlackBerry's Chief Security Officer, participated in the summit as part of National Cyber Security Alliance Month. He joined senior executives from AT&T, Cisco, Ellis & Associates, Intel, PKWARE, PricewaterhouseCoopers LLP, RSA, the security division of EMC and Symantec to discuss "Securing the Internet of Things" and its effects on cybersecurity and digital privacy.
Dave described BlackBerry's IoT capabilities in an appearance on CNN. "If you think we have a problem now with a few billion devices connected to the Internet, imagine how the problem scales as we go from tens of billions to hundreds of billions of devices," he told the news network.
Given that there will be billions more end points to send and receive data, including very confidential data regarding finances and health, BlackBerry is well-positioned to be a key player in keeping it all secure.
BlackBerry has securely managed and controlled 100 million globally distributed mobile devices. Securing the Internet of Things is an end-to-end proposition, which fits seamlessly with our product line and experience – from the QNX division to our Certicom division for cryptography and our back-end management suite.
The NCSA's summit at NASDAQ helped put focus on the discussion of how we can come together as an industry to raise the bar on cybersecurity – that's a discussion that we at BlackBerry are delighted to be a part of.