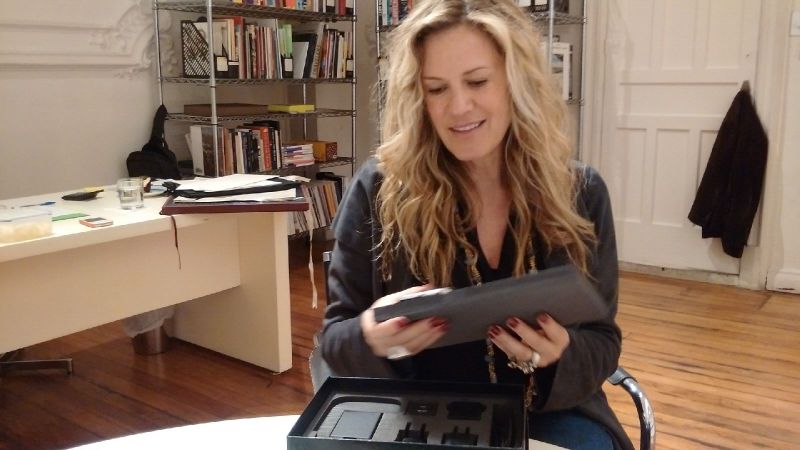 If you follow Latino entertainment and celebrity news, you definitely know TV host Rebecca De Alba. Rebecca currently hosts the popular TV show Estilo DF, which airs every Wednesday night out of Mexico City on Sony Entertainment TV. Her show spotlights the hottest fashion, health and entertainment news, as well as can't-miss celebrity interviews and information.
She's been fortunate to have a long and positive career in entertainment media, starting right after she graduated college with a journalism degree from Colorado. De Alba came in second place in the Miss Mexico pageant, worked as a model and spokesperson for brands including Avon, Crest and Bulgari, and in 1993 she started and starred in her own talk show, Un Nuevo Día.
Aside from her work in television, Rebecca is also respected for her support against cancer. Rebecca founded her Fundación de Rebecca De Alba in 2008 to fight cancer in children and youth, and she has expanded the organization's efforts to include preventing and detecting all forms of cancer.
What you may not know, though, is that Rebecca is a tremendous BlackBerry fan.
She recently spoke with us to talk about her longtime love affair with BlackBerry. She's never owned another brand of smartphone and never plans to, she says, because she can always count on it to help her do whatever she needs it to do.
Currently she's using a BlackBerry Classic, and says she likes everything about it, including being able to switch between its physical and touch keyboards, its size and weight, its long-lasting battery, and its ever-present signal. Her friends can't always count on the latter two features with their devices, she says. "Everyone complains that they don't have signal or that they run out of battery. I always have a great signal with my BlackBerry, and the battery lasts all that I need it to last," she told us. "You have signal anywhere, even in a basement. It is amazing how BlackBerry always has signal."
Like many media stars today, Rebecca is a big social media user, "constantly communicating," she says, with her more than 460,000 followers on Twitter @rebecadealba. Everyone likes to see what it's like to be on the inside of the glamorous entertainment world, and Rebecca's BlackBerry Classic makes it really easy for her to share news and information with her fans. When she's on the set of Estilo DF, she hands her BlackBerry to someone and has them take pictures while she's working. Then she can quickly share that "insider's view" through social media, helping to build her personal connection with fans.
Last year's celebrity phone hacking scandal showed her another reason to embrace her BlackBerry: security. As a popular media personality, she has to fiercely protect her reputation against paparazzi and other curious observers, and privacy is essential to her. BlackBerry, with its deep focus on security, is the perfect device to keep her contacts, photos and other data private.
"I have the feeling that no one ever will be able to break into my BlackBerry system and steal pictures, e-mails, nor any information from it. I have heard of so many horror stories – I mean horror stories, in which information has been stolen from other, non-BlackBerry devices," Rebecca told us. "It gives me great peace of mind knowing that no one can compromise my device, no one can break into my BlackBerry, and no one can pull any information out of it."
Check out our video interview with Rebecca, where she talks more about why she loves her BlackBerry Classic and why BlackBerry is the only brand of smartphone she'll ever have.