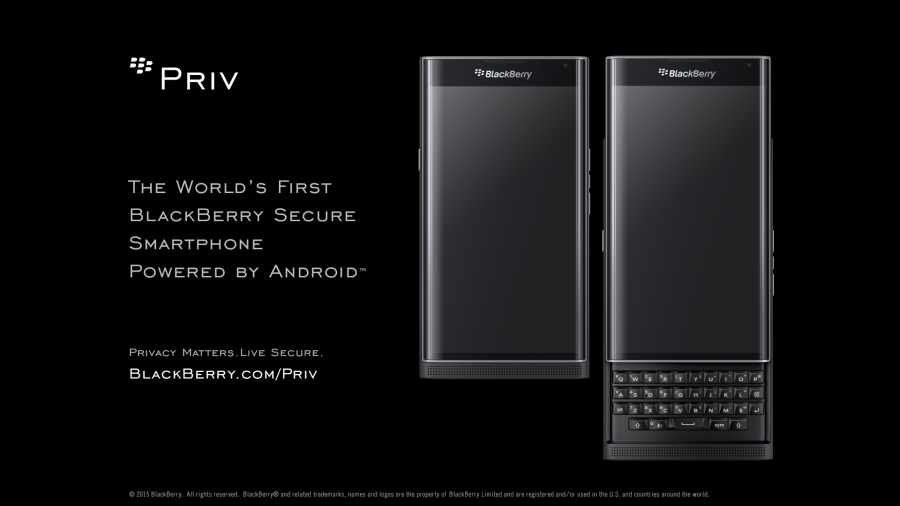 We are just as excited as you are that PRIV – BlackBerry's latest smartphone – is now available in 34 countries! Our first Secure android Smartphone, PRIV brings the best of BlackBerry security, privacy and productivity, plus a long list of amazing specs, to the Android ecosystem.
(Updated April 15 with Mexico availability)
Below, you'll find a list of countries, carriers and retailers where you can order the PRIV, powered by Android.
CANADA
Bell ($299.99 CDN On 2-Year Term)
Rogers
SaskTel
ShopBlackBerry Canada ($899 CDN)
TELUS
WIND
ShopAndroid.ca
CrackBerry.ca
NCIX.com
blueshop.ca
GERMANY
Amazon Germany
Media Markt
Saturn
StoreShip
Vodafone Germany
HONG KONG
China Mobile
csl
1010
SmarTone
3 Hong Kong
Fortress
Hong Kong Suning
Broadway Photo Supply
Chung Yuen Electrical Co
Nuance-Watson Ltd.
Wilson Communications
MALAYSIA
11street
Blue Cube Outlets
Brightstar
Celcom
Maxis Enterprise
Tune Talk
NETHERLANDS
StudentMobiel
GSMwijzer
ShopBlackBerry
Wehkamp
Bol.com
ITALY
ShopBlackBerry
Euronics.it
Redcoon.it
Eprice.it
WIND Italy
Amazon Italy
SPAIN
ShopBlackBerry
fnac.es
Vozelia
Crystal Media
PHILIPPINES
MemoXpress
UNITED KINGDOM
Carphone Warehouse
EE
ShopBlackBerry UK (£559 Incl. VAT)
Vodafone UK(Personal)
Vodafone UK (Small Business)
Mobile Phones Direct
Unlocked Mobiles
Clove Technology
UNITED STATES
ShopBlackBerry US ($699 USD)
AT&T ($249 on 2-year contract, plus Next plans starting at $24.67/month)
Amazon.com (be careful to differentiate between Amazon itself and 3rd-party resellers)
Walmart.com
Bestbuy.com
B&H Photo & Video
Newegg.com
Verizon (online and in-store)
T-Mobile
VIETNAM
Media Mart
Hoang Ha Mobile
Dauden
Techone
Nhat Cuong Mobile
Pico
365 Mobile
Di động thông minh
FPT Shop
FRANCE
Sosh
Orange Boutique
ShopBlackBerry
fnac.com
SFR
UNITED ARAB EMIRATES
Axiom
SAUDI ARABIA
Extra Stores
Axiom Telecom
INDIA
Amazon.in
AUSTRALIA
Optus
SOUTH AFRICA
MTN
Vodacom
Cell C
NIGERIA
SLOT
ISRAEL
Accel Telecom Ltd. and Partner
GREECE
Vodafone Greece
JAPAN
Bic Camera
Amazon Japan
U-NEXT
U-Mobile
Caseplay
BELGIUM
Bol.com
Centralpoint
Mobistar
FNAC
AUSTRIA
A1
SWITZERLAND
Galaxus
MediaMarkt
MEXICO
Amazon Mexico
Best Buy Mexico
For PRIV fans not in these countries, don't worry!
We'll continue to update you in real time on your local availability. Be sure to register for updates at BlackBerry.com/PrivacyOn, and stay tuned to our official social media channels for the news as it hits.
While you wait, check out all you need to know about PRIV:
Read our CEO John Chen's original announcement, check out the first official PRIV images, sign up to receive the latest PRIV details, and read about PRIV's privacy advantage (and an overview of how we accomplish it). Also, don't miss our guide to Getting Started with PRIV to set it up, transfer your old data and become a power user fast.
Finally, check out these profiles of PRIV-using professionals, including this pastor and best-selling author, these twin fashion moguls, this consulting firm CEO, this TV Chef and this insurance manager.