There's no doubt that apps have revolutionized the way we use mobile devices, but it often comes at the expense of our personal privacy. Google Play comes with built-in malware detection and Android is adding fine-grained dynamic access permissions for apps. But how do we really know how, when, and what kinds of private data our applications access? Privacy policies are a great start, but many apps have been found to neglect privacy policies and collect user data. There has to be a better way.
The Key is Detection
Every PRIV smartphone comes pre-loaded with the brand new DTEK by BlackBerry, designed to help you manage and protect your privacy with ease. Security might seem complicated, but securing your personal data doesn't get any easier than this. DTEK automatically monitors apps and processes in real time to provide an overall security rating for your device, with an interface that is easy to use and simple to understand. Using deep modifications to Android enabled by even deeper security expertise, DTEK protects your privacy in three easy steps.
Step 1: Monitor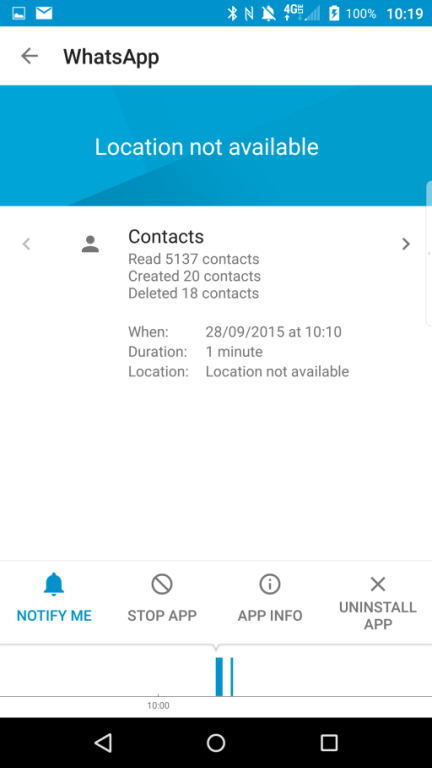 DTEK's intuitive visual interface lets you see your device's security at a glance. The app looks at things like screen lock, factory reset protection and remote device management to assign an overall rating: Excellent, Fair or Poor. DTEK also tracks your applications to see whether they:
Take pictures or videos without your knowledge
Turn your microphone on
Send a text message
Access your contacts
Access your location
DTEK's Advanced Tools track when your personal information is accessed, how often and for how long.
Step 2: Alert
Notifications are a great way to keep track of what apps are doing on your PRIV. Whenever an app accesses sensitive functionality, you'll see a notification pop up with info on what just happened. These notifications can keep you informed whenever apps access your personal data or things like your Camera or Microphone.
You can configure individual notifications for each app and each sensor. You can disable notifications for apps that you trust and enable them for others. Or you can configure DTEK to always notify you if there's a particular piece of functionality you're worried about (e.g. your Contacts or your Location).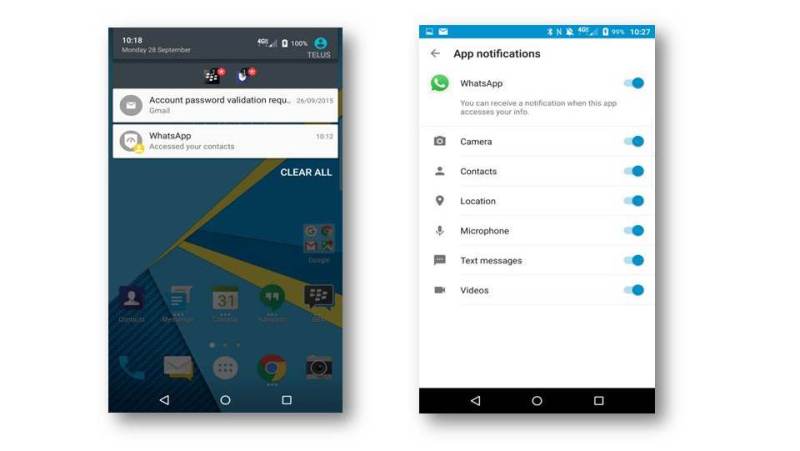 Step 3: Control
If your device's security rating shows up as Fair or Poor, DTEK will help you improve it. For example, you can:
Enable a screen lock: Protect your PRIV with a password, PIN, pattern or Picture Password. This is one of the easiest and most effective ways to protect yourself.
Improve your malware protection: Google Play is a great way to download apps since it automatically screens for malicious software and potential privacy concerns. You can scan for security threats on the device and you can choose to disable unknown sources so that your PRIV only downloads apps from the Google Play store.
Enable Factory Reset Protection: If your PRIV is ever stolen, one of the first things the thief will want to do is to reset it to Factory settings in order to remove the screen lock. Factory Reset Protection ensures that the thief cannot reset the device without your Google account information. This is both an effective theft deterrent and a great way to make sure that your data isn't accidentally wiped by someone using your device.
The Power is in Your Hands
DTEK gives you the power to control your mobile privacy in a simple and intuitive way. It helps you understand the security of your PRIV and take the necessary steps to improve it. By tracking when apps access your personal information, you get full visibility into what's happening and can make better decisions on which apps to use and when to use them.
DTEK is just one example of how PRIV sets the bar for Android privacy. The BlackBerry Hardware Root of Trust is another. Over the next few weeks, we'll examine other neat features like Password Keeper and Picture Password. Be sure to leave your feedback in the comments below, to our Twitter channel or using the hashtag #BBSecurity.