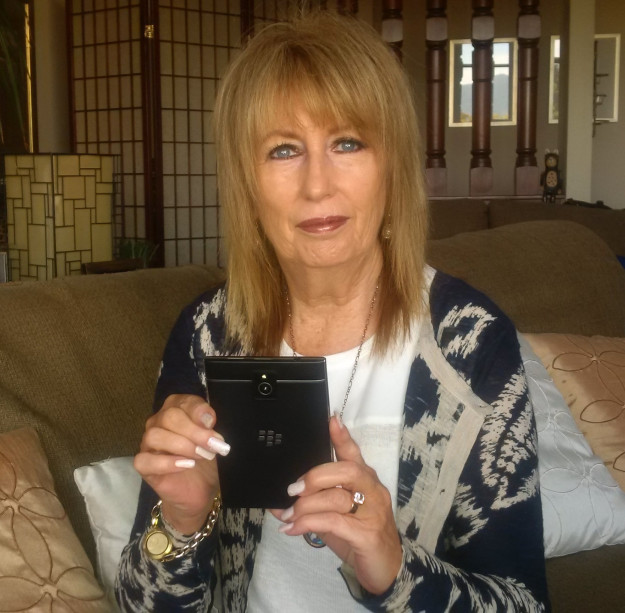 Give for the sake of giving; help for the sake of helping. It's what we all should do; the added bonus is the warm, fuzzy feelings that typically accompanies inspiring or helping others. Imagine being able to do so as part of your job. That's what Wendell Harlow (right), Manager of Outreach and Corporate Giving at EA (Electronic Arts), has been doing for years. The company's program engages EA employees to inspire youth by hosting STEM educational programs at high schools; participate in community events; and take advantage of EA's matching gift, Dollars for Doers, and Charitable Game Donations opportunities.
My family first met Wendell when EA's The Capture Lab and many others collaborated to help create my son Keian's Carnival Make-A-Wish. Wendell, who has been part of EA for nearly 20 years, and her husband, Ken, are both passionate BlackBerry smartphone users. They actively promote and defend their choice of smartphones as they find themselves at odds with what they call "iPhone snobs" on a daily basis. Wendell identifies her BlackBerry as something she simply cannot live without. Her BlackBerry Passport easily keeps with up with Wendell and her never-ending, always rewarding, career.
(Here are some other satisfied Passport users: this engineering professor, a top nightclub promoter, an Italian fashion executive, a young entrepreneur, an upscale homebuilder's CEO, a tech headhunter, a geologist and pilot, celebrity chef Tyler Florence, a tech startup founder, a sales director, a senior hospital executive, a manufacturing executive, a non-profit founder, a software engineer, a legal administrator, a pharmaceutical CEO, a software manager, an insurance salesman, these workers from multiple industries.)
Blundell: Which BlackBerry smartphone are you currently using?
Harlow: I'm currently using the BlackBerry Passport. When you work at EA, you get a work device that you can do your work on. BlackBerry was my choice. Many years ago, I started out with a Curve, then the Bold, and then I graduated up to the Passport.
Blundell: What made you realize that BlackBerry was for you?
Harlow: EA has a lot of employees worldwide that use the iPhone. I think there are only 30 of us Passport users in all of EA World. But [EA] recognizes that we will not give up our devices and we want them as part of our work. We can specify the phones that we want. I specify to BlackBerry. I did try using an iPhone back in 2006. I found that I could not use it; I couldn't hold it properly, the touch screen was too light. It just wasn't working for me; I felt that I wanted to try something different. Our IT manager suggested a BlackBerry; back then it had a trackball. I was able to hold it, it was much easier and more comfortable to use.
Blundell: How does your BlackBerry Passport help you at work?
Harlow: I use it 24/7. The job I'm in it doesn't end at 5 o'clock. As with the many of us who work at EA with BlackBerry smartphones, we obviously can't live without them. We're constantly checking emails and voice messages – being the Outreach Manager for EA Canada, which includes offices in Edmonton, Montreal, Kitchener and PEI, I work with a lot of studios and nonprofit programs in the community and help employees with their volunteerism. A lot of the programs we support are attached to diversity and inclusion, which align with our new pillars and vision. I also work at events on weekends, so my Passport is my life. This is a business device; that's what I want it for. I can open up spreadsheets and budgets, I can approve posters, artwork and other types of branding. The screen is so big, and the pictures are so clear, I don't need a conventional camera anymore to take photos at events. It is the best device I've ever had.
Blundell: How does its battery life keep up with you?
Harlow: The longer lasting battery is amazing. I've traveled a lot since I first started using a BlackBerry. I don't have to worry about it only lasting seven hours. If I'm traveling or in an airport, I do take my charger, but I don't have to use it. My life is busy, 24/7 on the go.
Blundell: Which apps do you use the most on your BlackBerry Passport?
Harlow: I use Facebook, Twitter and other social media platforms constantly. My Passport has taken the place of my digital camera. I use it for all of my event pictures, which are then used on our company's various blogs, press releases and more. The images are of such brilliant quality; they truly help us highlight what we do in Canada in terms of our Outreach projects.
Blundell: How would you rate the BlackBerry Passport?
Harlow: I would have to say 9 out of 10, only because it's a little bit on the heavy side. That's all, the only complaint. Love the shape, love everything else.
I have a soft spot for BlackBerry. When I know that my devices is so secure, I feel so confident, so comfortable with it, that's a good thing. When you look at the whole picture, I like the company, I love the Passport. I am tired of defending it, but take pleasure in doing so every chance I get!
Pricing and Availability
Ready to do good work with a BlackBerry Passport? Get a factory-unlocked BlackBerry Passport from our global shopping portal, ShopBlackBerry.com (check with your local carrier for device compatibility):
It's also at Amazon, and at AT&T for $669.99 unsubsidized or $99.99 with a 2-year contract. Rogers and Telus carry the BlackBerry Passport in Canada.