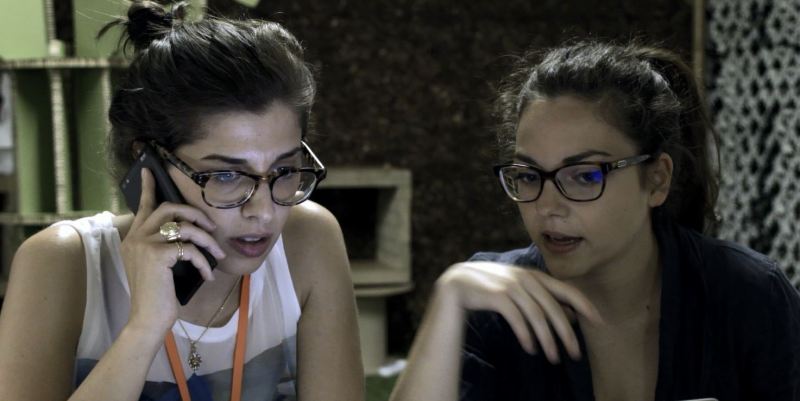 As we've mentioned in the past, over 80% of entrepreneurs use smartphones in the day-to-day management of their startups. That shouldn't come as any great surprise, really. For a startup to succeed, it requires the capacity to pivot on a dime, the ability to react instantaneously to changing market conditions or organizational roadblocks, and a team that's able to manage their business no matter where they are.
BlackBerry provides the perfect means by which startups can implement all three.
To prove this as fact, we selected three innovative businesses to test the BlackBerry Leap prior to its launch in Italy: Talent Garden, Europe's largest collaborative network of digital innovators and physical co-working spaces; CubeYou, a company that offers social market analysis, consumer profiling and audience measurement; and Checkbonus, a firm whose app allows physical retail outlets to connect with the digital world through iBeacon technology.
Today, we'll focus on Talent Garden, and how the Leap gave it a competitive edge over its peers. Watch the short 3-minute video we filmed with this innovative firm.
(The BlackBerry Leap also serves as a vital communications tool for this executive, a virtual "personal assistant" for this pro wrestler-turned-CEO, the mobile device of choice for this U.K. entrepreneur, and a platform to keep this U.K. doctor professionally healthy. Be sure to also check out these happy BlackBerry Classic users, including a commercial photographer, serial tech founder, financial TV guru and digital marketing agency CEO. You can also read about these satisfied BlackBerry Passport users, such as celebrity chef Tyler Florence and this senior hospital executive, manufacturing executive, non-profit founder and software engineer.)
Widespread Collaboration
Talent Garden is unique in that its business as an innovator lies in helping other organizations innovate. As Europe's largest network of digital innovators, Talent Garden provides physical co-working spaces all across Europe, with campuses in Milano, Bergamo, Brescia, Cosenza, Padova, Genova, Pisa, Torino, Pordenone, Rome, Barcelona, Kaunas and Tirana.

In addition to providing startups with space, the company also hosts regular workshops and seminars to help businesspeople develop their careers. Their goal above all else, says Co-founder & CEO Davide Dattoli, is to select the best innovators and entrepreneurs in each area.
For a business whose specialty is collaboration, Talent Garden needed to equip its team of 45 with a phone designed to enable it. According to Dattoli, the Leap was exactly that.
"We found in BlackBerry a platform that allows us to connect and work together even if we are separated by long distances," explains Dattoli. "Having a single place to aggregate messages and content, and to reply in a fast and simple way, has allowed me to consistently improve my everyday work, being more efficient when managing a large volume of communications."
Communication on the Go
Because the staff of Talent Garden travel and telecommute a lot, they frequently need to attend meetings and access important documents while on the go. Through a combination of Dropbox and BBM Meetings, they're able to collaborate with one another regardless of location.
"Just a few days ago, I was in Genoa and I organized a video meeting with Rasa, Damiano and Davide who were in Barcelona, Turin and Tirana," says Talent Garden's Alessia Anniballo. "We had our Monday meeting directly on our BlackBerrys."
As the company's communications manager, Anniballo uses social media extensively. For her, the BlackBerry Hub was another feature of the device she simply couldn't live without, along with the powerful high-res camera. And for everyone in the organization, the Leap's battery life was another incredible draw – and something Dattoli noted is "not so common in today's smartphones."
The BlackBerry Solution
Smartphones have become a vital component of success in the startup space. The agility, efficiency and potential for collaboration they provide is unbeatable. And BlackBerry is at the fore in that respect – especially if Talent Garden's story is any indication.
For them, the BlackBerry Leap was the perfect fit.
You can learn more about how Talent Garden is using the BlackBerry Leap here. And be sure to stay tuned for more videos about how the BlackBerry Leap is helping startups and entrepreneurs everywhere be better at their job.
Availability and Pricing
Ready to see what the BlackBerry Leap can do for your business? It's available at ShopBlackBerry.com:
BlackBerry Leap White, $275
BlackBerry Leap Black, $275
You can also buy a Leap in "shadow grey" at Amazon.com, or purchase from carriers in the U.S., France, Germany, the U.K. and Canada. In Italy BlackBerry Leap is available on ShopBlackBerry.com and through selected carriers and partners. For the latest Leap availability check our one-stop blog.