Back in August, I visited South Africa and spent some time with a number of BlackBerry's mobile operator partners, BBM's advertising and content partners and some payment providers we were considering for partnership opportunities. Having spent many years working with South African mobile operators and banks in past roles, I have always been amazed at the potential of the market there. But on this trip, I learned something new about the value of the BlackBerry and BBM brands both in South Africa in particular and across the entire continent in general. It's big. That's particularly exciting because of all the growth we've been seeing in this market in the last few years.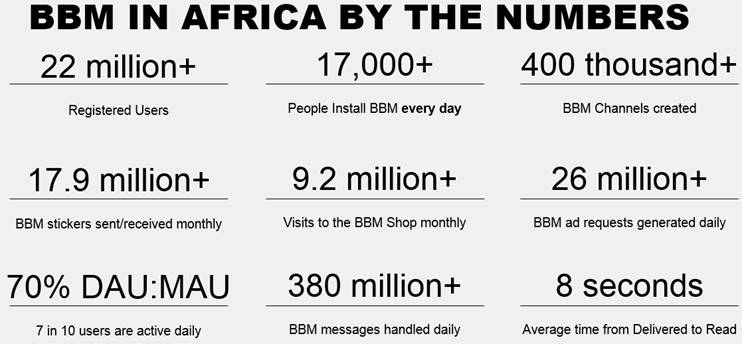 Leaps and Bounds
Africa is clearly a mobile-first market, with the majority of people accessing the internet from mobile rather than desktop devices. We're also seeing many people coming online for the first time in recent years, so BBM has seen quite a bit of growth.
Today, we have over 22 million registered customers in Africa, so it continues to be a strong market for us. Nigeria and South Africa are our two top markets in Africa (as I blogged about earlier this year here and here), and we continue to see strength in our user base across Android, iOS, BlackBerry 10 and BBOS. On iOS and Android, we see over half a million new users install BBM every single month. That growth rate continues to accelerate as network effects take root in several markets across the continent.
With close to 10 million visits to the BBM Shop per month, and now over 26 million ad requests per day, Africa is also now starting to become a key market for rolling out our monetization strategy. We have recently put our first ad sales representative on the ground, and I'm confident there will be more to follow.
Local Traffic in the BBM Shop
In Africa, the BBM Shop gets over 20 million views each month and has tallied 60 million total stickers sent and received. The Shop features more than 25 sticker packs tailored to the African market, like Naija Slang. This focus on local and relevant content helps drive the high numbers.
We're also very excited to have launched our first sponsored sticker pack in the region for the Orijin beverage brand.
BBM Payment Options in the Works
We're excited to announce we'll be expanding our mobile payment initiatives into Africa, commencing in Nigeria. BlackBerry has partnered with Interswitch Ltd, Nigeria's largest payment processor, to enable any Nigerian to transfer money or airtime within BBM, as simply as they transfer photos or files.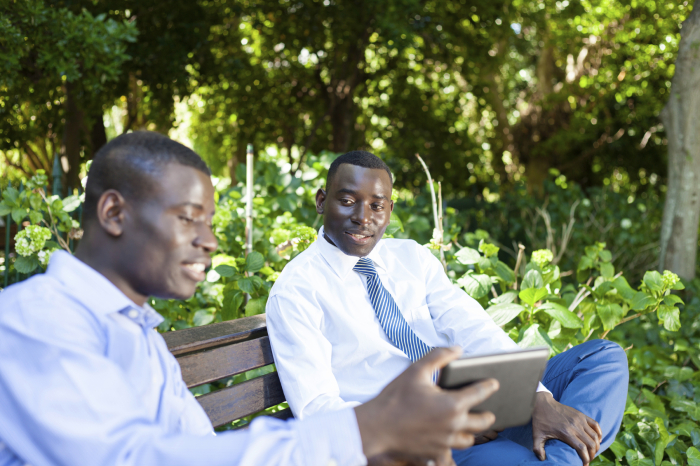 Separately, we are also expanding BBM Shop payment options. We'll soon include the Firstmonie mobile wallet, which is provided by Nigeria's largest bank, First Bank of Nigeria Limited. We're also teaming up with Mobile Media Info Tech (MMIT), a Nigerian company working to revolutionize mobile payments, to bring secure payments to the BBM Shop.
Over the coming weeks, we will also be announcing other exciting developments in South Africa. Coupled with our Indonesian BBM Money and PayPal initiatives, we're quickly establishing BBM as a leading messaging platform for mobile payments.
Great Ad Performance
The advertising markets in South Africa and Nigeria represent two of our biggest global opportunities. Both markets generate substantial daily ad requests, which is reflected in the pricing and performance of the ad units. Although both are seen as developing economies, they are some of our top revenue-generating markets. Additionally, our average click-through rates of 5% are among the highest we've seen anywhere in the world.
Big-name brands such as KFC, Levi's, Datsun, First National Bank and Lenovo move onto the platform each week. We currently onboard an average of 50 individual advertiser campaigns each month across this vibrant and exciting market.
In our two biggest African markets, BBM has the local content and value-added services like payments to keep consumers engaged and attract advertisers. It's quickly turning these ingredients into a thriving platform for communication and commerce.