Hundreds of BlackBerry employees are visiting retail stores in Canada, U.S. and the UK to help answer customer questions about our new PRIV smartphone.
These BlackBerry Ambassadors include senior executives and managers, such as CFO James Yersh and Sales VP Jaime Leverton, pictured here visiting a Rogers retail store in Toronto's Yorkdale Mall last weekend (they also talked to customers at TELUS and Bell in the same mall – see the links to Twitter pics).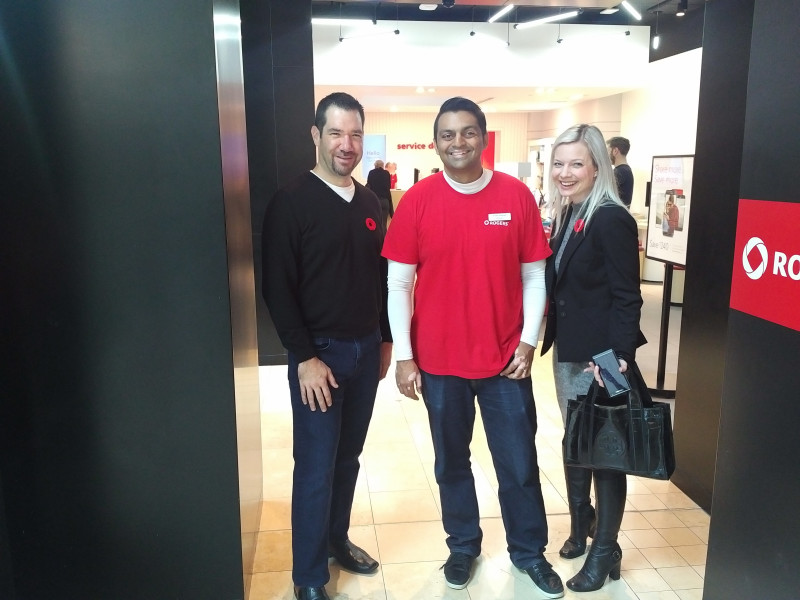 BlackBerry President of Devices Ron Louks – who recently answered 10 questions about PRIV with the reporters at Android Central – talked to customers while visiting 4 different AT&T stores in midtown Manhattan yesterday.
BlackBerry Head of Product and Field Marketing David Wiseman will be visiting AT&T stores in Washington D.C. today.
If you're in the D.C. area, you can meet Wiseman at the Chinatown (785 7th St. NW) and Dupont Circle (1518 Connecticut Ave. NW) AT&T stores this afternoon. Or follow him on Twitter and ask him questions there.
BlackBerry Ambassadors have supported many prior device launches, including last year's Classic and Passport launches. Besides Bell, TELUS and Rogers stores in Canada, and AT&T in the U.S., look for our ambassadors at Carphone Warehouse retail stores in the U.K.
Or read all of our blogs on PRIV, on both Inside BlackBerry and our Help blogs, especially this one rounding up all of the how-to and help resources to get started with our new device, as well as the SlideShares we've posted on PRIV.