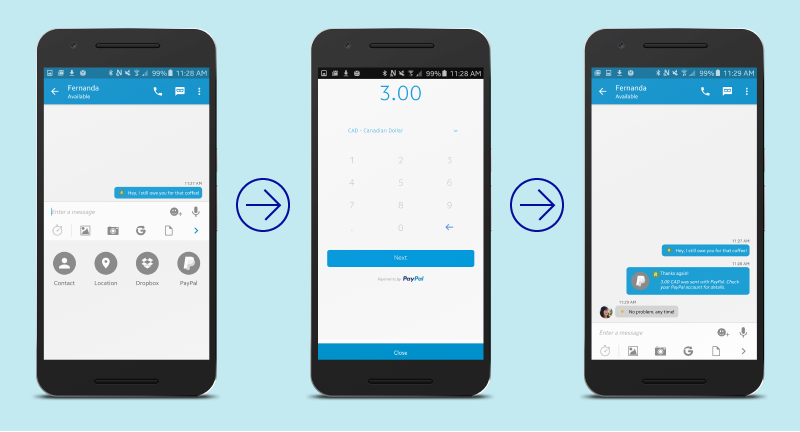 Thanks to BBM and PayPal teaming up, BBM is one of the best ways to simply and easily send and receive funds in supported regions1. Available on iOS, Android, and BlackBerry 10, this convenient new feature allows you to send and receive money from friends within a BBM conversation.
Check out the rest of this post for an overview of how it works.
Tip: Consider adding the PayPal website to your device home screen in case you need to send funds to a friend who doesn't use BBM. To do this, visit http://PayPal.com on your device and use the Add to Home Screen option in your device browser to add a dedicated PayPal icon to your home screen.
To send money to a BBM contact, open your conversation and click on the PayPal "Send Money" icon in the attachment menu.
If this is the first time you are using this feature, you will need to link your PayPal account with your BBM account. To do this, follow the on-screen instructions, and future PayPal transfers will not require authentication. If at any point you change your mind about allowing transfers via BBM, log into PayPal's website and change your security settings as needed.
If the contact you've selected to receive funds hasn't linked their PayPal account with their BBM account, BBM will send a prompt asking them to do so.
Once the contact you're chatting with has linked their PayPal account with BBM, you can enter the amount, review the details, add a message and hit send.
This recipient will get a confirmation with your message, the transfer amount, and a prompt to check their PayPal account for details.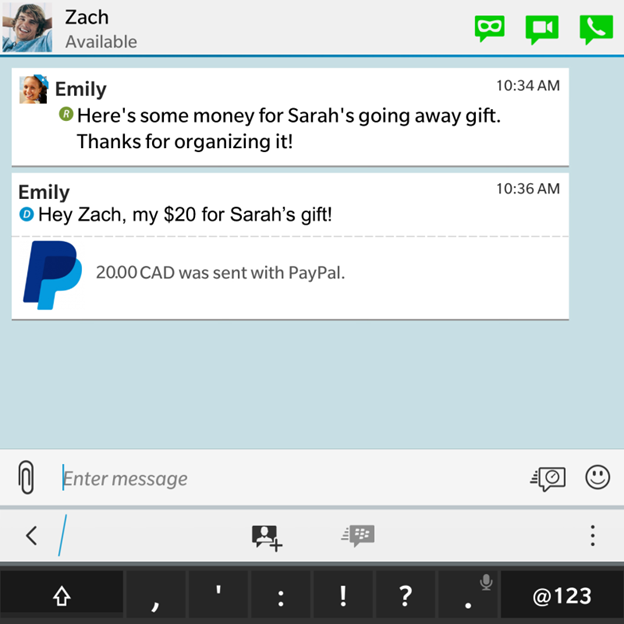 BBM has always been the best way to connect and share messages, photos and more with speed, control, and privacy. Now it's even better that users will have the ability to send and receive money to friends, family, and other contacts.
Like visuals? Watch the video to get started:
1 – Supported countries as of publishing in November 2015 include: Canada, United States, United Kingdom, France, Germany, Italy, Spain, and South Africa.
This was originally published on the BlackBerry Help blog.