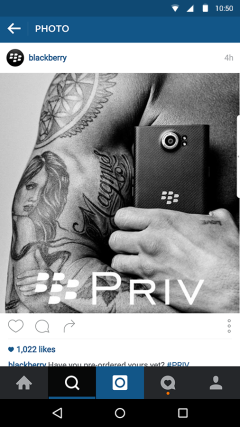 The display on BlackBerry's PRIV is your vantage point to the world around you. Through the 5.4-inch display, the PRIV lets you keep up with what's happening, especially with your social networks. It's important to see what the people you connect with are up to, what inspires them and how they inspire you. There are many apps in the Google Play Store that help give you a visual of the people who interest you, but no app does visuals better than the media-first Instagram.
Within half a decade, Instagram has quickly become the social network hub for image and video sharing. Its community is well over 400 million strong, comprised of people with a desire for visual storytelling available on demand. If, as the saying goes "a picture is worth 1,000 words," consider how much reading you would need to do to just scratch the surface on the vast library of multimedia within Instagram!
The Instagram app, which can be downloaded from the Google Play Store, is your all-access pass to updates from friends, companies, celebrities or even complete strangers. While you can access your Instagram account from your computer, you need to get the app first to sign up.
Not only does the Android app make it easy to find and follow other Instagram users, but it gives you the ability to share your voice, your vision and your masterpieces. The Home view is a scrolling view of the activity of the Instagram accounts you follow and enables you to view and post comments, tap to like a post and repost to your own Instagram account.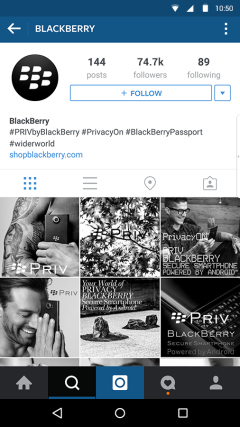 Not sure who to follow? The search option helps you to narrow the field by presenting a variety of search options, including popularity, people's names, tags or even specific places.
Since Instagram is one of the most popular social networks, you'll want to keep up to date on recent activity. The Activity page alerts you when someone you follow comments or likes a post. It will also inform you when someone likes or comments on one of your posts. Who doesn't love some attention? Of course, you'll want to share some tidbits about yourself so your potential followers will know the brains behind the operation.
The best part of the Instagram app is working with your photos. Without leaving the app, users can snap a photo or access an existing image in their gallery. A full array of in-app image-editing options, such as brightness, fade and linear tilt shift, are part of the final steps to make your post shine.
With Instagram, the posts are the images, not images that accompany posts. Some moments cannot be summed up with words alone. What better way to view and manage multimedia for Instagram than with the BlackBerry PRIV.
With nearly 2 million Android apps available in Google Play, it can take time to find the apps you want. Check out the following reviews of some of the top apps available for your PRIV:
FINANCE & SHOPPING
Amazon Shopping
Banking Apps
Suretap
MUSIC & ENTERTAINMENT
Apple Music
Gameloft
Spotify
PRODUCTIVITY & BUSINESS
Microsoft Office
Thompson Reuters
Salesforce
Slack
TRAVEL & TRANSPORTATION
Concur
Foursquare
Uber