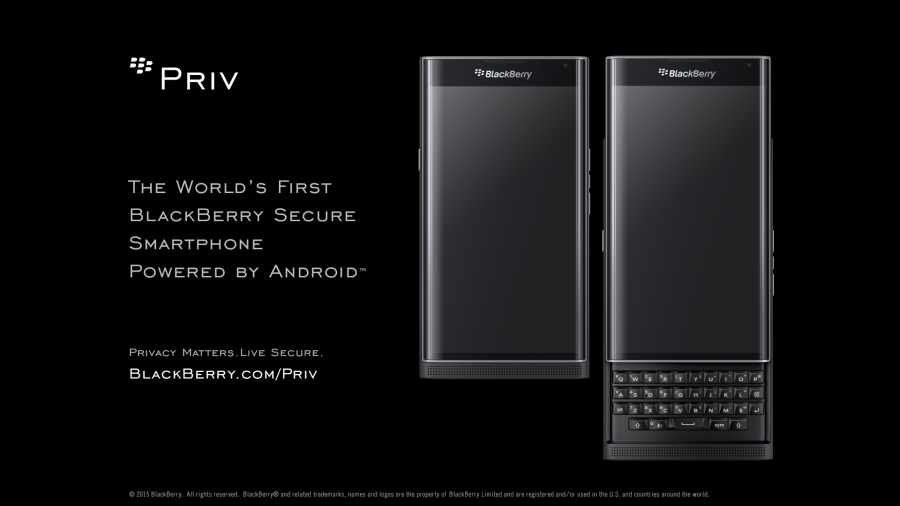 The wait is nearly over: AT&T announced Monday that the PRIV Secure Smartphone by BlackBerry will be available in its stores and on ATT.com on launch day, Friday, Nov. 6! AT&T is the first U.S. carrier to announce it will be selling the Android-powered, security-enhanced PRIV, and we couldn't be more excited to share the news!
You'll finally be able to check out the PRIV in person at any of AT&T's corporate retail stores, which are offering prices on the PRIV through AT&T's Next monthly pricing plan that will be tough to refuse: Pay no money down and have the choice of Next 24 at $24.67 a month for 30 months, Next 18 at $30.84 a month for 24 months, or Next 12 at $37 a month for 20 months. You can also purchase for $249.99 down on a two-year contract.
PRIV Secure Smartphone by BlackBerry brings the best of BlackBerry security, privacy and productivity to the Android ecosystem. When you visit AT&T's store, be sure to check out all of its amazing specs, including:
Legendary BlackBerry security combined with Android technology provides access to the full range of Google Play™ store apps.
Authentic BlackBerry SmartSlide keyboard integrated in a slim, elegant, ergonomic design, plus a touch keyboard accessible from the stunning 5.4″ dual-curved screen.
Exclusive DTEK™ by BlackBerry security system monitors your apps to provide you with the power of privacy.
The Schneider-Kreuznach® certified 18MP dual-flash camera engineered for performance.
The large 3410mAh battery that lasts up to 22.5 hours, plenty to power you through the busiest of days.
The BlackBerry Hub integrates your messages into one app, and BlackBerry Calendar provides the smartest out-of-the-box calendar available for Android.
Plenty of storage, with 32GB flash onboard with a hot-swappable MicroSD card slot for up to 2TB additional storage.
For more information about getting your PRIV from AT&T on launch day, visit att.com/priv! Outside of the U.S.? Check our availability post or visit shopblackberry.com to find out where to get a PRIV in your market.