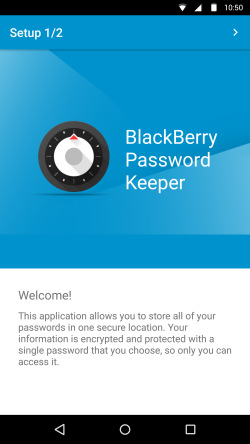 Passwords are a pain.
On one hand, we're always told to create strong passwords for each of our accounts. We're told that each account needs to have a different password, in case one of them gets hacked (like here, here, here, here and here). And we're expected to always remember our passwords, even when we don't use them for months or years at a time.
On the other hand, we're human beings. Our brains aren't wired to remember random strings of letters, numbers and symbols. Our memories are temporal, fallible and (unlike password cracking tools) don't follow Moore's Law.
So naturally, we compromise. We use words and phrases that we can easily remember, like names and birthdays. We use weaker passwords for less important accounts. We reuse the same passwords with slight variations for different accounts. When we're forced to include an upper-case letter, we capitalize the first letter. When we're forced to include a number or symbol, we append it to the end. These heuristics make our passwords much easier to remember, but also much easier to hack.
A Better Solution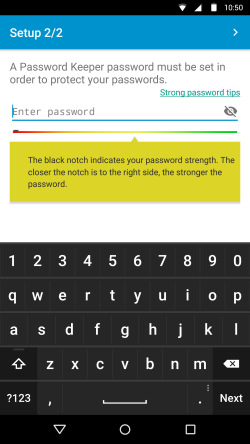 At BlackBerry, we know how hard it can be to remember your passwords. That's why we've brought our popular BlackBerry Password Keeper app to Android on the PRIV.
BlackBerry Password Keeper lets you store your most confidential information in a single safe location. The process is simple: start by creating a master password, then enter and save your login credentials for each site or app. If you have trouble creating random passwords, you can use the app to generate them with certain specified traits. For instance, you could choose to have numbers in your password but exclude symbols. Password Keeper also includes a password strength meter to help you see how well your passwords stand up to brute-force attacks.
If you've got lots of accounts and passwords to sort through, Password Keeper includes a search tool that filters your credentials by username, website/app or notes. You can also mark favorite/frequent password records or notes for easy access. And, if you've used Password Keeper on another BlackBerry 10 device, it's simple to import Password Keeper data to PRIV.
Let's Get Nerdy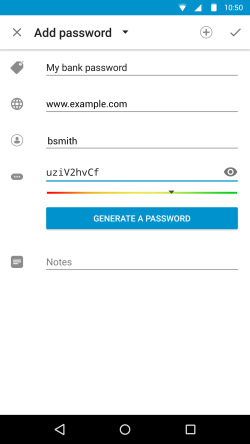 With military-grade AES-256 encryption, BlackBerry Password Keeper protects your information and can only be unlocked with a master password. After 10 incorrect attempts, Password Keeper automatically wipes all of the information. This not only prevents brute force attacks, but also makes short, simple passwords much safer.
Password Keeper generates a random key to verify the encrypted data's integrity and regularly makes sure that your data on the application is not corrupted. When the app is minimized or running in the background, the preview screen is disabled so that someone using your phone cannot see your passwords without logging in. When open, screenshots are disabled so that other apps cannot snoop on your passwords.
Less Thinking, More Doing
Along with DTEK privacy protection and the other ways that PRIV sets the bar for Android security, Password Keeper is yet another example of how the PRIV keeps you productive and secure. You can't avoid creating passwords for online services, but you can certainly avoid having to memorize them all. Let Password Keeper remember them so you can focus on the things that really matter.
As always, we'd love to hear what you think in the comments below or on Twitter using #BBSecurity.