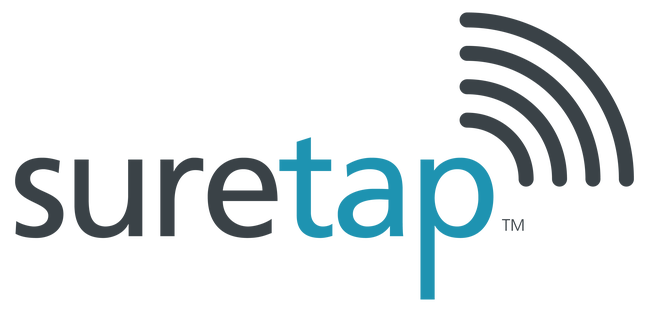 How thick is your wallet? Do you carry just what you use on a daily basis, or are you packing it so full that it's ready to burst like George Costanza's wallet on Seinfeld? George's reasoning was that he needed instant access to everything that it contained. It's a funny idea, but your wallet is serious business! PRIV easily replaces George's idea of "an organizer, a secretary and a friend" – especially if you take the convenient and secure suretap mobile wallet into consideration. PRIV is for Private. When dealing with something as crucial and potentially risky as a financial transaction, you have the understandable need to know your information is secured.
suretap™ has been adopted by many of Canada's large telecommunications companies including Rogers, Bell, TELUS, Virgin Mobile and Koodo. suretap today supports dozens of credit cards in partnership with two major Canadian financial institutions, with more partnerships and products being announced soon. It's a fierce, formidable player in the digital-wallet market, able to securely store credit cards, prepaid cards as well as gift cards.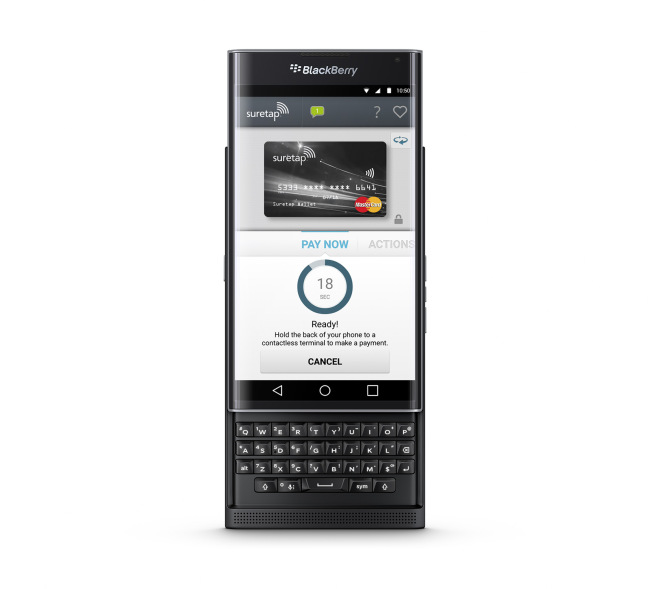 As mentioned, suretap holds both mobile payment convenience and security in high regard. Since you already have your PRIV out there, communicating like a pro, you can use it to easily make a payment by either quickly tapping it on a contactless payment terminal or having the retailer's associate scan a barcode from your screen. Did you forget to get a present for a friend or co-worker? The app gives users the freedom to send gift cards to others, even if they don't use suretap wallet.
With suretap, customers have peace of mind when it comes to protecting their sensitive financial details. You can set the PRIV to request a passcode at login or when accessing the application. On top of this, details are safely tucked away with an NFC SIM which totes CVC3 security and a 112-bit encryption; each transaction is conducted with specific privacy. Couple this with BlackBerry's legendary security model applied to the Android-powered PRIV, and you know your money will not fall into the wrong hands. This security includes BlackBerry DTEK and BlackBerry's Hardware Root of Trust.
The PRIV gives suretap users the ultimate secure mobile payment and management experience. Enter in card details with ease on the physical, slide-out QWERTY keyboard. The crisp, large display helps you easily browse through your cards, add funds to cards, and view transaction history. It's mobile payment privacy and functionality from suretap with the privacy and functionality of the PRIV.
With nearly 2 million Android apps available in Google Play, it can take time to find the apps you want. Check out the following reviews of some of the top apps available for your PRIV:
FINANCE & SHOPPING
Amazon Shopping
Banking Apps
MUSIC & ENTERTAINMENT
Apple Music
Gameloft
Instagram
Spotify
PRODUCTIVITY & BUSINESS
Microsoft Office
Thompson Reuters
Salesforce
Slack
TRAVEL & TRANSPORTATION
Concur
Foursquare
Uber