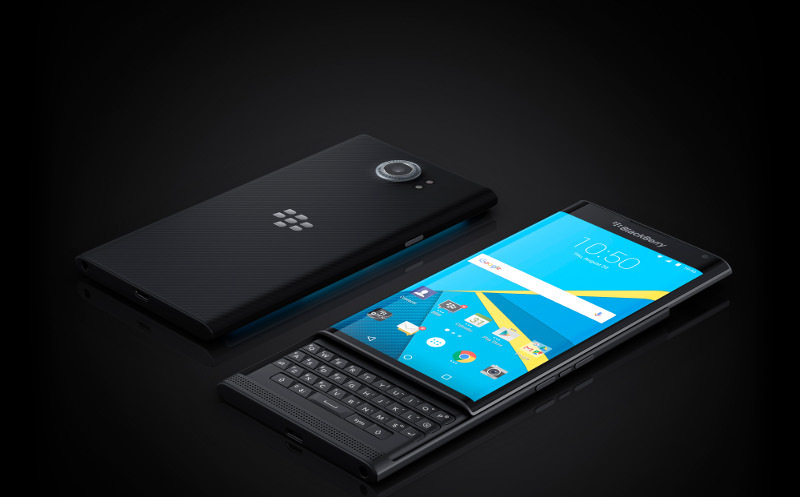 Physical keyboards have fallen out of the mainstream recently, replaced by on-screen keyboards. On some level, this makes sense – a touchscreen is pretty much perfect for surfing the web, playing games and sending short messages such as SMS texts and BBM chats. At the same time, when it comes to long-form stuff like writing up documents for the workplace, soft keyboards fall short.
"Increasingly, more activities can be completed by using a smartphone," Canalys Principal Analyst Chris Jones told Wired. "But for many it won't replace the larger device with physical keyboard for productivity tasks."
While touchscreens may offer a superior browsing experience, they simply cannot beat QWERTY keyboards in terms of typing accuracy and efficiency. They aren't designed to. Consider, for example, that in a study commissioned last year by BlackBerry, Passport users sported accuracy scores nearly four times higher than users on the BlackBerry 10's virtual keyboard.
"My standard comeback to anyone who questions why I have a BlackBerry is that I get paid to communicate, not crush candy," web project manager Dave Hong explained in a recent interview. "It usually stops them in their tracks…and they usually tell me how much they miss having a physical keyboard."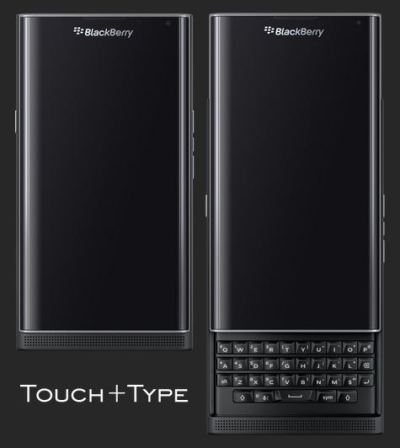 With all this in mind, it's not surprising that of all the PRIV's specs, so many people are stoked about the physical keyboard on BlackBerry's new Android phone, PRIV. I know I certainly am. Not only is it a great differentiator from all the other devices on the Android market, together with its 5.4-inch touchscreen it offers an experience that appeals to both regular consumers and mobile professionals. Just take a look at what the reviews are saying:
"Having a hardware keyboard again is superb. I can type faster than with a touchscreen (though there is some ramp up time, to be sure), I can once again type without looking at the keyboard, and it just feels great to use." (Emil Protalinski, Venture Beat)
"The portrait slider on the BlackBerry Priv is exceptional in every way, and using it every day quickly highlighted how differently many of us use our phones without a physical keyboard…A full third of this review was written on a BlackBerry Priv while doing things like waiting to pick kids up from school or standing in the checkout line, which is something that would never happen on Google's fantastic trace keyboard or SwiftKey's amazing suggestion keyboard." (Russell Holly, Android Central)
"The keyboard is as clicky and responsive as it's ever been and we had no problem awakening those subconscious BB keyboard skills. It's second nature to those of us who used BlackBerries through the glory days of the Bold and the Pearl models." (Chris Hall, Pocket Lint)
"My favourite thing is that the screen slides up to reveal this keyboard beneath. The phone moves. It transforms, and it's snappy! It reminds me of the only Motorola Razor V3 from the early 90s that you can snap shut." (Andrew Hoyle, CNet)
"The keyboard itself feels as though it's reaching back to the Torch series of devices and giving a wink and a nod in recognition. It's pretty much the same keyboard found here. The angled and sculpted keys are everything we've come to expect from a BlackBerry keyboard including the backlight that turns itself on as you slide open the device." (BLA1ZE, CrackBerry)
Here's why the PRIV's keyboard has everyone so excited – and why you should be, too:
Awesome form and function: Despite the PRIV's slim design, it includes a full physical QWERTY keyboard, with an aircraft-grade aluminum SmartSlide mechanism. Slide out the physical keyboard whenever you need it, and the touch keyboard disappears, letting you use all of your screen's real estate when it matters. You'll never have to lose a third (or more) of your display to the virtual keyboard, like you must with touchscreen-only devices.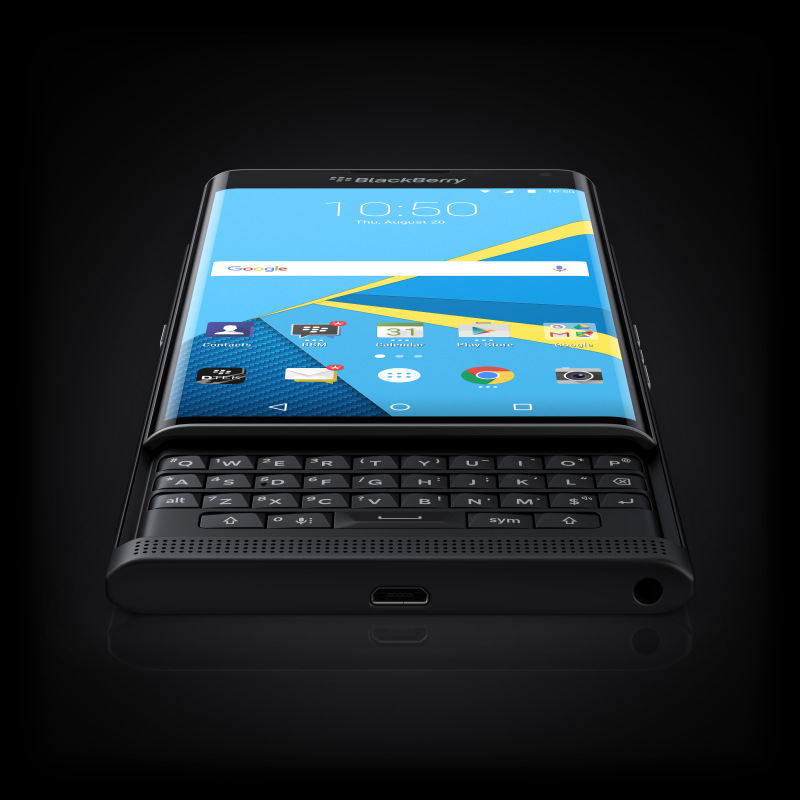 A superior typing experience: The PRIV's keyboard lets you exert unprecedented control over how your device functions. When the slider's open, the touch-sensitive keys function as a large track pad, allowing for fine-grained scrolling and cursor control. The sculpted keys let you know you've hit the right letter with the perfect amount of feedback, allowing you you to confidently type without having to look down at your phone. Blast out long emails with amazing accuracy and blazing speed, and then slide the keyboard easily away when you want to go on-screen.
Time-saving keyboard shortcuts: Execute common tasks more quickly with time-saving keyboard shortcuts. Give actions to specific keys like speed dial for a contact, use them to quickly launch your most-used apps, and take advantage of things like double-spacing to get a period, pressing and holding a key for a capital letter, or pressing T or B to get to the top or bottom of an email, document or webpage.
A top-grade touchscreen: The PRIV's stunning 5.4 inch OLED immersive dual-curve display is protected by Corning Gorilla Glass 4 and sports a resolution of 2560×1440 and a pixel density of 540PPI (four times that of a standard HDTV). It offers all the intuitive control BlackBerry users have come to love, with superior predictive text and touch gestures. It's almost enough that some of you might not even want to use the keyboard – almost, but not quite.
The PRIV offers plenty of features, including the potent battery, 18 MP camera and full access to the Google Play ecosystem, for users to look forward to, and the keyboard is definitely one of the things people are most excited about. More than anything, it's what allows the PRIV to move beyond simply being BlackBerry's first Android phone – it's what's going to make it an indispensable tool for business professionals and regular consumers alike.
Want to learn more? Watch this video to see the keyboard in action and take a look at some of the positive feedback the phone's receiving. And if you're looking to catch a glimpse of the device, you can also check out the official gallery or the feature review video.
Also, find out where you can buy or order your PRIV and, once you have it in hand, check out our Getting Started with PRIV guide to set it up, transfer your old data and become a power user fast.