Alex Manea,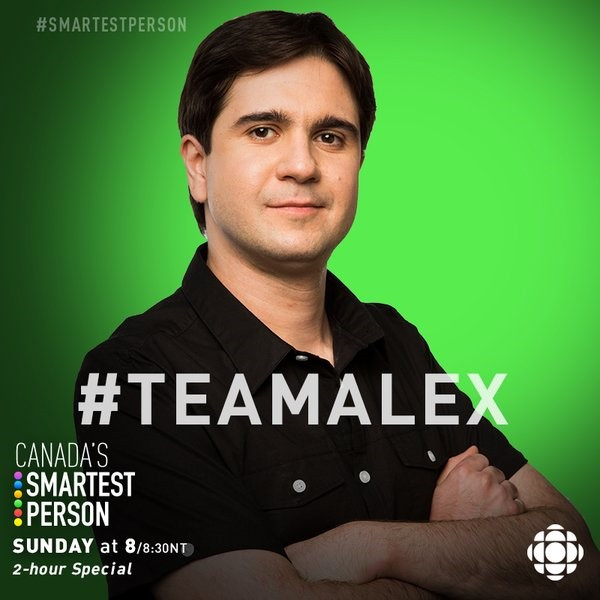 BlackBerry's director of security, may or may not win the title of the smartest person in Canada, but the Romanian-born one-time refugee has one of the more remarkable stories. Born during the rule of then-dictator Nicolae Ceausescu, Alex fled to France with his parents at an early age, living there for a few years before eventually immigrating to Canada. By the time he'd finished 7th grade, he'd attended seven schools in five cities and three countries and achieved fluency in three different languages.
Known to BlackBerry fans as one of the explainers-in-chief of the strong security and privacy features of our PRIV smartphone, Alex's presence in the finals of the CBC reality-competition show, Canada's Smartest Person, is a bit of a fluke. Alex watched the show's first season and then played the app version, racking up the best score across Canada. The producers invited him to try out for the show, which Alex wrote in a blog earlier this month, "kind of felt like applying to Harvard, but I'm pretty sure Harvard is easier to get into. The casting team had to choose only 28 contestants from thousands of brilliant applicants."
"What's neat about Canada's Smartest Person is that it actually tests multiple intelligences," Alex told me an interview last month. "So unlike a normal IQ test, which just focuses on math and puzzles, the show also examines things like public speaking, creative writing and musical talent. That makes it a lot tougher, since you have to be good at so many different things. But at the same time it's also a lot more fun to watch and a lot more relevant to the modern world."
Indeed, to win his episode, Alex had to defeat three other 'geniuses' in competitions ranging from painting a painting, building a Jenga-type tower on a wobbly table, and giving an instant presentation on a random topic (Alex was so energized and "in the zone" that he says he didn't even remember what he said until watching it on TV afterwards).
Jeopardy-style trivia, this is not. Although the thrill of victory was the same.
"Climbing to the top of the stage and hitting the button to win was absolutely surreal, and watching my whole family jump in unison was something I'll never forget," Alex wrote in the Canada's Smartest Person blog. "I slowly closed my eyes and opened them again to make sure I wasn't dreaming. The feeling of relief was unbelievable, knowing that it was all over and that I could finally relax."
"Going into the finale, I've got my work cut out for me yet again," he continued. "This time, I'm up against six of the best and brightest competitors from across the country. No matter what happens, I'll never forget this once-in-a-lifetime experience and all of the fantastic people involved with the show…I can tell you that whoever wins the finale will, without a shadow of a doubt, deserve to be called Canada's Smartest Person."
The finale airs this Sunday, November 22, at 8 PM on CBC. Tune in to cheer on a man who's proven himself time and again to be one of BlackBerry's best and brightest. We definitely plan to.
If you want to know more about Alex, check out my interview with him, have a look at his writing on Inside BlackBerry and the BlackBerry Business Blog, or look him up on LinkedIn. To learn more about Canada's Smartest Person, visit the official site, located here.