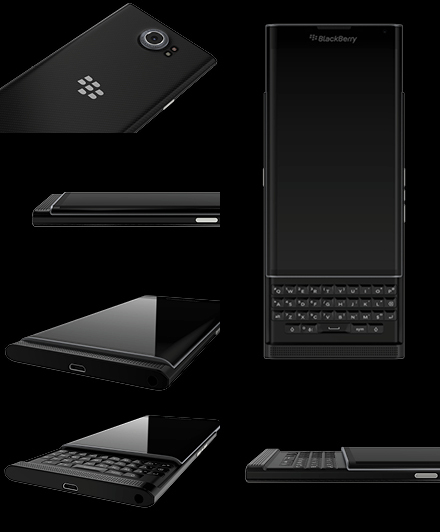 BlackBerry's PRIV security-enhanced Android smartphone has generated a ton of interest and excitement, and much of it has focused on device's novel form factor — a slider design that opens to reveal BlackBerry's iconic physical keyboard. This design has stimulated a lot of thinking about innovative accessories to take advantage of PRIV's fresh, contemporary design.
A next-generation device like PRIV deserves revolutionary design thinking, so this fall we partnered with some of the world's top industrial design schools on a PRIV Carrying Solution Design Competition. The competition gave participating industrial design students real-world product-design experience, the chance to boost their portfolio and the opportunity to win prizes.
"The Carrying Solution Design Competition was an opportunity for BlackBerry to preview how the next generation of designers would approach solutions for the PRIV. We wanted to see what inspired students about the PRIV design and how they translated that inspiration into unique solutions to offer a compelling experience for the user," says Cortez Corley, Senior Industrial Designer at BlackBerry, one of the judges for the competition.
The students' submissions were evaluated on four criteria: aesthetics, innovation, features and function. They also had to "leverage the unique form factor and functionality of the PRIV to create thoughtfully designed product solutions that offer clear benefits to the end user, plus, aesthetic appeal," said Corley.
And the winner is ….
Benjamin Miller of Carleton University in Ottawa, Canada, was our judges' clear winner for his "PRIV + RIDE" carrying case, which allows bicyclists to not only carry, but also safely use the PRIV while riding (click on the images below to see a larger version).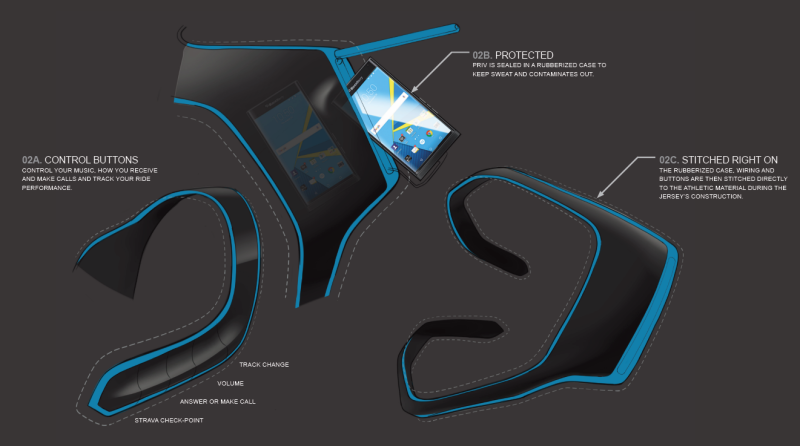 "Riding a bicycle and using a smartphone at the same time is tricky and dangerous, yet most avid cyclists do it because there is still a strong need to remain connected on a bicycle. PRIV + RIDE allows cyclists to still use the functionality of their phone without the need to look at it and also reduces the risk of dropping and damaging the PRIV itself," Miller wrote on his contest entry.
The PRIV + RIDE carrying case is attached to a jersey worn while bike riding. It securely seals the PRIV in a rubberized, waterproof pouch on the user's back, and enables the user to control the phone with volume, call and music playback buttons on the front of the jersey.
Reviewers praised the PRIV + RIDE for its "great and well-thought-out design and usability," said Travis Angle, Global Head of Companion Products.
"It was refreshing to see the PRIV used in an active setting. The PRIV + RIDE concept offered an intriguing look into how we could extend PRIV into the Wearable Communications category," Corley said.
Miller will receive $1,000 USD in spending money and a BlackBerry PRIV device for his winning design. If BlackBerry puts the design into production, all proceeds will be donated to Carleton University in Miller's name.
The second place winner, Koji Tokushige of North Carolina State University in Raleigh, N.C., U.S., will receive $500 and a PRIV for his PRIV Aluminum Bumper Case, which protects the smartphone without covering up its design. In third place, and winning a PRIV, was Ervin Yalung of Humber College in Toronto for his Koi camera lens case, which offers modular interchangeable lenses to enhance users' photographs.
All of the students who entered the competition can use their submission in their professional portfolios and highlight the experience on their resumes to give them a head start as they prepare to begin their professional careers. "Industrial design is a very competitive field, and having this opportunity for students to connect and get exposure early in their career is a wonderful thing," said Riley Croke, a Project Coordinator Student at BlackBerry.
For more on the innovative design behind the PRIV, don't miss our Q&A with the PRIV design team, as well as a look at the design thinking behind the PRIV accessories that are already available at ShopBlackBerry.
Images courtesy of Benjamin Miller.