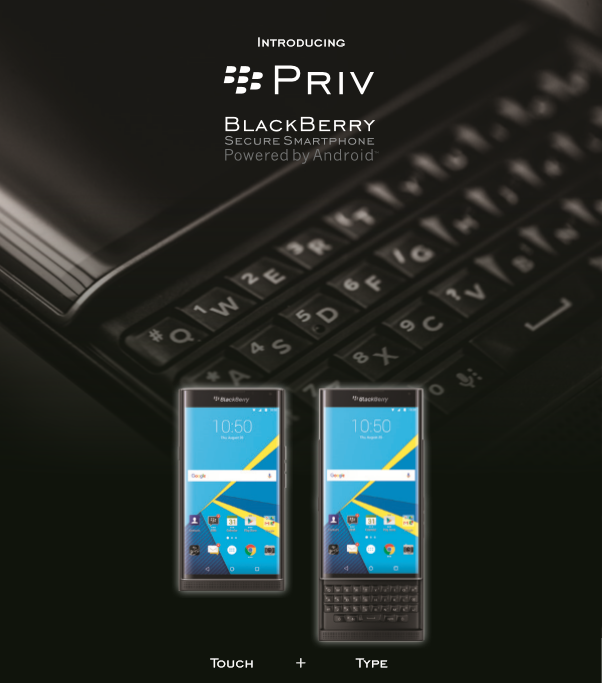 Strong reviews for PRIV have created strong demand for BlackBerry's first Android smartphone, and wireless carriers, online retailers (including ShopBlackBerry) and our manufacturing partners have been working hard to put a PRIV in the hands of everyone who wants to buy one.
PRIV carriers and retailers now have some new tools to help them show off the smartphone's specs and features, including some how-to materials to help new PRIV owners get started. These sales materials from BlackBerry's Brand Marketing, Product and Legal teams can be used at carrier and retail stores to train salespeople, and to help inform potential customers.
Customer/end user handouts:
Pre-purchase brochure: Highlights the core components of the PRIV and its key advantages.
Post-purchase brochure: Helps users make the most out of their PRIV by explaining in simple steps how they can get acquainted with its key features.
Content Transfer App: A simple three-step guide to using the BlackBerry Content Transfer app to transfer content from other devices onto the PRIV.
Sales materials:
Marketing/visual materials:
Lifestyle Posters: A variety of posters that capture the PRIV campaign's visual branding and creative identity with photography exclusively designed for PRIV.
Security Brochure: A 10-page informational guide that helps answer the question, "What makes the PRIV so secure?" It introduces the user to key security components of the PRIV and how they protect consumer privacy (there's also an in-depth 36-page PRIV security guide – learn more here).
For the latest news on PRIV, such as updates to the camera, keyboard, Hub and DTEK, why the PRIV is a great enterprise device and why it's best for security and privacy, stay tuned to Inside BlackBerry's ongoing PRIV coverage.