(This post is written by BlackBerry Executive Vice President for Enterprise Products and Value Added Solutions, Billy Ho).
Here at BlackBerry, we're always striving to improve our offerings to clients and customers. It's evident in everything we do, from our adoption of Android with the PRIV to our consistent updates to BES12 to our recent acquisition of Good Technology.
That's why we're proud to announce that BlackBerry was among the select companies that Forrester invited to participate in its 2015 Forrester Wavetm evaluation, The Forrester Wave™: Enterprise Mobile Management, Q4 2015. In this evaluation of 11 vendors, BlackBerry was cited as a Leader in Enterprise Mobile Management (click on the preceding link to see a graphic how Forrester placed the vendors overall in the EMM Wave)..

We believe our position as a leader is recognition of our dedication to providing our clients with a better mobile management solution – one which a recently-commissioned study found to improve business productivity, enhance network security, and reduce costs.
"Mobility is front and center for companies as they look to transform the way employees do their jobs by giving them tools that fit the context of the work they do," states the Forrester Wave report.[i] "And mobility is often a catalyst for broader workforce enablement initiatives – with good reason."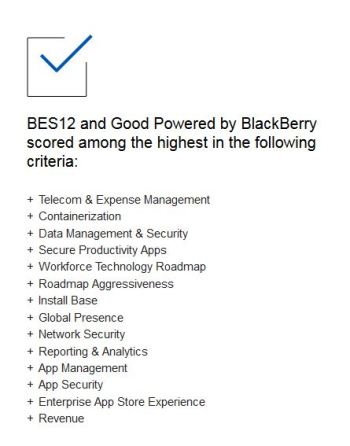 However, for EMM software to create this positive change, it must provide a unified, cross-platform solution for the secure management of all devices within an organization without adding more complexity to an already-complicated environment. In other words, says Forrester, EMM solutions gives I&O pros an approach for unified workforce enablement, which addresses: device management, application and content access, and threat management for all smartphones and tablets, whatever mobile OS they may run.
It was within this climate that BlackBerry was evaluated, and it was within this climate that we believe we thrived.
We achieved among the highest scores in eight criteria: Telecom Expense Management, Containerization, Data Management and Security, Secure Productivity Apps, Workforce Technology Vision, Road map aggressiveness, Install Base, and Global Presence.
Good Technology was also evaluated in the report, and was cited as a Strong Performer, with the top score possible in five separate categories. With this acquisition alongside several others, we're well-equipped to solidify our leadership in the EMM market. The report acknowledges as much, stating that:
"BlackBerry's strong network and data security paired with recently-acquired Good Technology's containerization for new devices and application services will enhance its offerings further and cement its leadership position."
"BlackBerry looks like a very different company today than it did a few years ago – and that's a good thing for customers," wrote Forrester. "BlackBerry Enterprise Server has become a truly cross-platform solution without leaving behind the commitment to security that entrenched it in the enterprise. The acquisitions of AtHoc, WatchDox, and, most recently, Good Technology show a clear commitment to helping customers with secure collaboration, communication, and application development."
Mobility has become central to success in the modern enterprise. With the Internet of Things lying just over the horizon, the need for a secure, cross-platform mobile management solution has never been more pressing. BlackBerry already provides exactly that. After integrating Good's capabilities, BlackBerry will become the unquestioned leader in EMM security.
Click here for more information on BES12, or read the full Forrester Wave report here.
————–
[i] Forrester Wave: Enterprise Mobile Management, Q4 2015, Forrester Research, Inc., December 2015