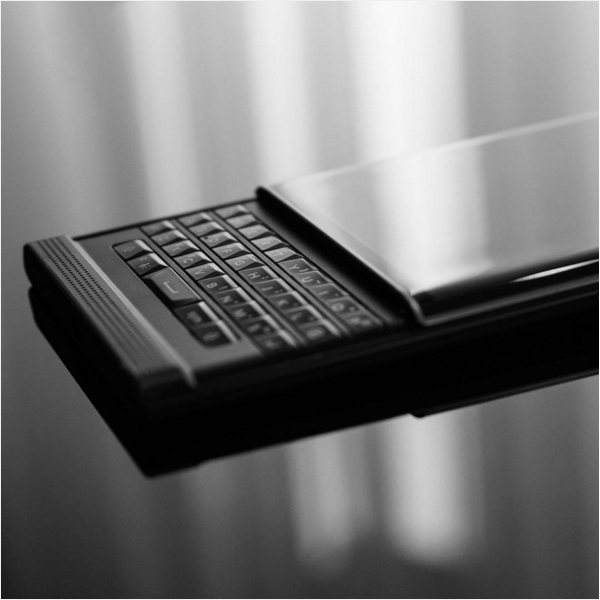 Lightsabers duels aside, the space battles are the best part of the Star Wars franchise – including The Force Awakens. On-screen vessels are always stylish, and ships bear the sort of lightweight design one might expect of spacefaring vehicles.
Believe it or not, the PRIV has a lot in common with those ships. Not only does it pack a ton of power under the hood – its hexa-core Qualcomm Snapdragon 808 processor, its long-lasting 3410 mAh battery, its 18-megapixel, Schneider-Kreuznach-certified camera – the PRIV remains remarkably thin and sleek.
That's due both to the PRIV's space-age materials and its cutting-edge design.
The concept of a slider phone that was uncompromising in both its states meant that in the closed position, it needed to perform just as well as any other full touch device on the market. Thinness and weight were both important criteria in the PRIV's design. In order to maintain a competitive edge and minimize the phone's weight, we had to get creative – we had to look to advanced materials unlike those used in most any other phone.
Here are five measures we took to inject a little bit of the future into our first Android phone:
1. The TensileKnit Back
The PRIV's TensileKnit back cover builds on our knowledge of formed glass fiber weave composites, a technology used by the aerospace industry, and one which is stronger than carbon fiber. We made tremendous advances in reducing the thickness, leading to a strong shell which is only 0.35mm thick, and finished with a soft feel coating to provide texture and utility grip.
This allows the phone to be both incredibly durable and yet also incredibly lightweight.
2. The Sliding Keyboard
The PRIV's slide-out keyboard with SmartSlide technology uses a slider comprised of 6061-aluminum, a powerful alloy most often used in aircraft construction. Like the TensileKnit back, the slider mechanism is both light and durable. No matter how much you use your keyboard, it will never lose the satisfying 'snap' you experience when opening it.
3. Anodized Camera Bezel
In order to fortify the camera ring's bezel, we constructed it of anodized aluminum. By creating a fine oxide film that coats the bezel, we make it highly resistant to corrosion. This is the same technique used by many airplane and spacecraft manufacturers to strengthen the exterior of their vessels.
4. The Gorilla Glass Screen
The PRIV's 5.4 inch formed glass display offers more than just beauty. It's protected by rigorously drop-tested Corning® Gorilla® Glass 4, which offers both solid protection and a crystal-clear viewing experience. Although highly durable, it still feels soft and smooth to the touch.
5. Precision-Built Design
On a space shuttle, each and every part of the vessel fits seamlessly together, and each component is created with a function in mind. We applied that same design principle to the PRIV, from the engineered resin on the frame to the formed glass of the screen to the aircraft-grade keyboard slider. For every material and part, we considered ergonomics, weight, durability, and function.
The end result is a high-quality, space-age device that you can be proud to own whether you're using it for business or pleasure. See below for a video that gives a closer look at all the stuff we've outlined here:
Like a space shuttle, the BlackBerry PRIV is built to withstand just about any punishment and to look good while doing it. And like any spacecraft, each and every component of the phone is painstakingly-designed, requiring an immense attention to detail, a high degree of skill, and incredible precision such that it can only be created by the most experienced engineers and manufacturing professionals. This attention to quality and durability is what defines not just the PRIV, but BlackBerry as a company.
Want to learn more? Check out the PRIV's official product page, or our how-to demo videos.