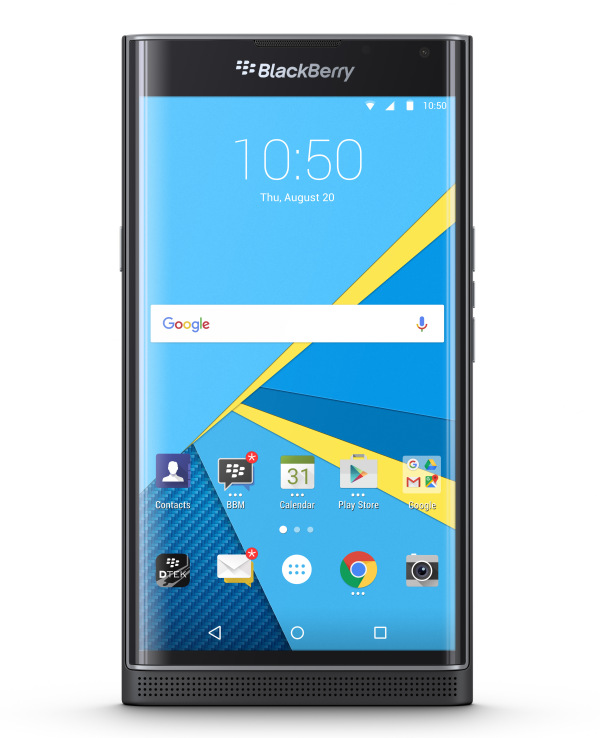 By now, you've gotten a pretty good look at the screen on BlackBerry's new PRIV smartphone. Protected by the rigorously drop-tested Corning® Gorilla® Glass 4, the PRIV's stunning, 5.4-inch immersive dual-curve display sports a resolution of 2560×1440, for 3.7 million pixels, or four times that of a standard 720p HDTV.
That creates an incredible pixel density of 540 ppi (pixels per inch). Better still, the OLED display delivers both richer colors and deeper black levels with less power consumption so you can revel in its beauty for even longer, yet one more function of the PRIV designed to conserve battery life.
The display's also tuned for sunlight readability, and the brightness auto-adjusts based on lighting conditions. Cranking up the default brightness of the PRIV's screen at any time requires only a simple, two-finger downward swipe to take you to the settings menu.
What really differentiates the PRIV's display from the competition, however, is its Productivity Tab. A simple swipe on either of the device's elegant, curved sides lets you view messages, notifications and much more. And while the device is charging, the Edge doubles as a progress bar, showing you how much power you need before your battery's full.
Reviewer and User Love
Plenty of people – reviewers and users alike – are pretty stoked about it.
"The PRIV is a gorgeous phone… The 5.4-inch, 540ppi display is awesome." (Emil Protalinski, Venture Beat)
"Design-wise, it's the slickest BlackBerry ever. There's a curved 5.4-inch OLED display and curved edges on the frame that make it feel like less of a block in the hand than it appears to be. Said screen is tack-sharp, too, with a QHD (2560×1440) resolution and a pixel density checking in at 540ppi." (Tim Moynihan, Wired)
"BlackBerry has equipped the PRIV with an excellent 5.4-inch Quad HD AMOLED display, and its sharpness goes well beyond what a human eye can perceive. Like all AMOLED units, the screen features excellent contrast and rich colors." (Stefan Vazharov, Best Products)
(Read on to see more positive reviews and social posts about the PRIV screen.)
Diving Deep Into Competitive Specs
But how does the PRIV stack up against the competition? When measured against its chief opponents in the device space, does the screen still look quite so glamorous?
The short answer is yes.
Consider how it compares to the iPhone 6s and iPhone 6s Plus. Each iPhone model has a native resolution lower than that of the PRIV: 1334×750 for the iPhone 6s, and 1920×1080 for the iPhone 6 Plus. The PRIV's screen outshines them in other areas, as well. Check out the comparison chart below for a closer look:
| | | | |
| --- | --- | --- | --- |
|   | PRIV by BlackBerry | iPhone 6s | iPhone 6s Plus |
| Resolution | 2560×1440 | 1334×750 | 1920×1080 |
| Size | 5.4 inches | 4.7 inches | 5.5 inches |
| # of Pixels | 3,686,400 | 1,000,500 | 2,073,600 |
| PPI | 540 | 326 | 401 |
In other words, the PRIV sports 270% more pixels than the iPhone 6s, and 78% more pixels than the iPhone 6s Plus. Its PPI is 66% finer and 35% sharper than the iPhone 6s and the iPhone 6s Plus respectively.
What about versus other flagship phone competitors? Have a look:
| | | | | | | |
| --- | --- | --- | --- | --- | --- | --- |
|   | PRIV by BlackBerry | Motorola Moto G | OnePlus 2 | Sony Z5 Compact | Nokia Lumia 930 | HTC One M9 |
| Resolution | 2560×1440 | 1280×720 | 1920×1080 | 1280×720 | 1920×1080 | 1920×1080 |
| Size | 5.4 inches | 4.5 inches | 5.5 inches | 4.6 inches | 5.0 inches | 5.0 inches |
| # of Pixels | 3,686,400 | 921,600 | 2,073,600 | 921,600 | 2,073,600 | 2,073,600 |
| PPI | 540 | 326 | 401 | 323 | 440 | 441 |
In other words, the PRIV has:
300% more pixels than the Motorola Moto G and the Sony Z5 Compact (and 66% higher pixel density)
78% more pixels than the OnePlus 2, Nokia Lumia 930 and HTC One M9 (and a 23% sharper screen than the HTC One M9 and Nokia Lumia 930, and 35% sharper screen than the OnePlus 2)
As you can see from the chart, the PRIV's screen ranks at the top of the Android market, and few devices come close to matching it in either picture quality or pixel density. Factor in the PRIV's other awesome features – the long-lasting battery, the physical slider keyboard, the incredible 18 MP camera and BlackBerry's suite of powerful privacy and productivity tools, and it quickly becomes clear why it's got so many other reviewers and users touting it versus our competitors: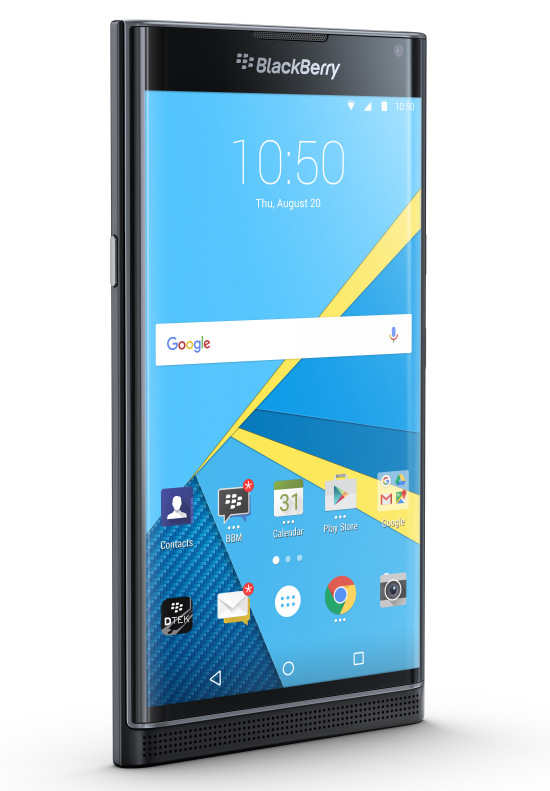 "We haven't really commented too much on the BlackBerry PRIV, partly because it has been a solid performer in every test. It has vivid colors without veering into over-saturation, there's no noticeable color tint and it's brighter on average than the competition for viewing outdoors. Therefore, we have crowned the PRIV as the winner in the display test." (Android Authority)
"The bright, crisp, 2560×1440-pixel OLED display competes with Samsung, Apple or LG's displays." (Joanna Stern, Wall Street Journal)
"BlackBerry's pulled no punches in the screen department, installing a 5.4-inch, 2560×1440 display coated in Gorilla Glass 4. With a pixel density of 540ppi, it's as sharp as you'd like, and the fact that it uses AMOLED technology means pictures look terrific."(Aatif Sulleyman, Gizmodo UK)
"In our review of the PRIV last month, we called BlackBerry's Android slider relatively high marks for a beautiful display and excellent keyboard, calling it 'the first reason to consider a BlackBerry in years.'" (Kyle Wiggers, Digital Trends)
"At 192g, the PRIV weighs the same as an iPhone 6S Plus, with roughly the same-sized screen (5.43 vs 5.5 inches). Gorilla Glass 4 protects the display from bumps and knocks. However, the PRIV's AMOLED screen resolution blows the socks off the iPhone's, at 2560×1440 WQHD resolution – 540 ppi – vs 1920×1080 and 401 ppi." (Lynn Greiner, Financial Post)
Want to learn more? Check out the PRIV's official product page, or our how-to demo videos.