In my time at BlackBerry, we've continually strived to enhance BBM wherever and whenever possible. As I've said in the past, we envision a future where BBM serves as the gateway to your friends, family, shopping, and much, much more. And with our just-released update of BBM, we've taken one more step towards making that future a reality.
Last week's release not only brings with it better privacy and security, but also a suite of much-requested user features including in-app search, likes, and better editing and retraction features.
Find What You're Looking for, And Like What You Find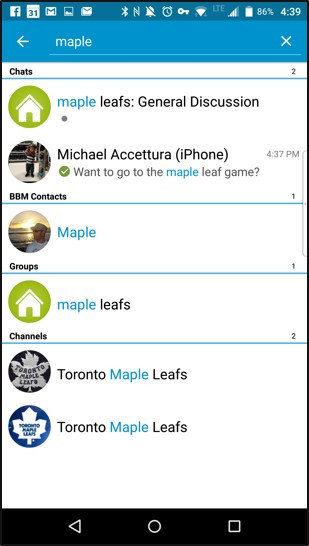 BBM isn't just a simple messaging app – it's a communications and social media tool. We asked around about the features our users most wanted to see, and three things came up more frequently than anything else: more control over messages, better visibility into information, and improved interactions with user feeds.
The latest update includes several features that match all three of these desires:
In-App Search and Likes
Need to find information about a meeting, or call to mind a past conversation? Now you can, with BBM's new search function.
Results are categorized by chats, contacts, groups, or channels, making it even easier to find what you're looking for.
To keep augmenting BBM Feeds' social media capabilities, Android and iOS Users now have the ability to "like" personal feeds posts, and a new notifications section lets them know when contacts have liked a post of theirs.
Better Retraction & Editing
Last year, we debuted message retraction, and while we received a ton of positive feedback, some users wished control over their messages was a little more extensive. That's why, with the latest release of BBM, users can now retract both pictures and entire chats in addition to individual messages.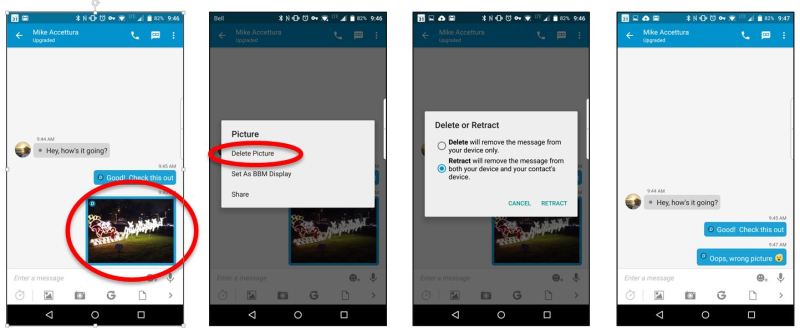 Retract and Edit are now available within multi-person chats with up to 200 people. iOS and Android users can also retract and edit messages in formal Group Chats, as well. In all cases, recipients will just see a "message retracted" note. For retract and edit, users must have a Privacy & Control subscription for BBM.
Users can also now locally delete messages from their chats, though this won't delete those messages for other senders and recipients. This is a free feature for Android and iOS users today.
Additional Features in This Release
Along with what I've described above, the latest release of BBM contains a number of additional privacy, security, and usability enhancements:
Glympse: Users can now request Glympse location information from their contacts for a specific period of time
Android Broadcasts: Users on Android can now send broadcast messages to different categories of their contacts (i.e. friends, co-workers, family, etc.), an already-existing feature on BB10 and iOS.
iOS 3D Touch: Users on iOS devices can use 3D Touch to quickly send messages, update their status, display a picture, search BBM, and more.
Building A Better BBM with Your Help
Our dedication to improving BBM based on your feedback has helped BBM keep winning mobile social media awards in Indonesia, grow strongly in the Middle East, and thrive in Nigeria and South Africa. You're what helps us keep BBM great – and with this latest release, there's nowhere to go but up.
To gain access to all the new features described here, install the latest BBM update in BlackBerry World, the Apple App store, or Google Play. Thanks for choosing BBM. Let's keep building a great future – together.