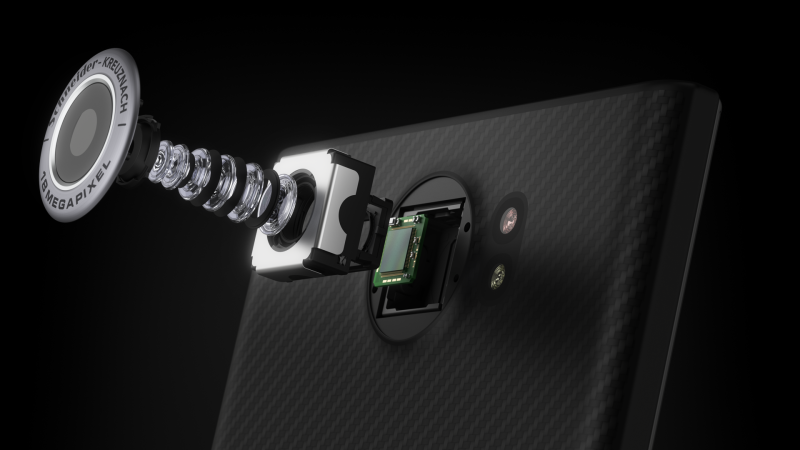 The BlackBerry PRIV is a beautiful phone – especially where pictures and video are concerned. It sports an impressive 18 MP dual-flash camera and uses other technologies typically found in professional DSLR cameras (more on that later). Capturing beautiful images is so simple that it will unleash your passion for creativity.
DxO is a leading French developer of image processing software that has also tested more than 9,000 digital cameras, lenses and smartphone cameras. Its DxOMark Mobile test – the benchmark test it applied to the PRIV – is considered one of the most authoritative means of measuring a camera's quality, and is referenced by top camera makers and journalists the world over.
The PRIV's camera made it through DxO's photo and video tests with flying colors, achieving an overall score of 82 on the DxOMark Mobile benchmark (click on the link to read the full DxO review and also see some sample pictures shot using the PRIV).
"Ranking inside the current top ten smartphones in our database of mobile phone image quality, the BlackBerry's PRIV now ranks alongside the best smartphone devices we've tested from Apple, Sony, and Samsung," wrote DxO. Indeed, the PRIV tallied the same score as the iPhone 6S and 6 Plus, and Sony Xperia Z3 Plus, ahead of the Google Nexus 6, Samsung Galaxy S5, and many others. It is firmly the best BlackBerry camera ever made.
For the PRIV's still camera, which captures 18 megapixel images, DxO praised its "very good exposure with a large dynamic [range]," "accurate and fast autofocus," "well-preserved" details "especially in bright light conditions," "pleasant" colors, and "good" overall flash performance.
The PRIV's video camera, which can capture 1080p high-def video at 60 frames per second (or even 2160p at 30 fps), received similar praise from DxO, lauded for its "very good noise reduction," "good detail preservation, particularly in bright light, and "accurate and smooth autofocus." DxO rated the PRIV's video camera an 81, higher than the iPhone 6/6S/6 Plus, Google Nexus 6 and 6P, LG G4, and others.
No Surprise
As mentioned earlier, the PRIV's camera is equipped with a range of pro-level settings, including live color filters and exposure control. Meanwhile, smart features like Phase Detect Auto Focus, and OIS allow photographers to capture blur-free, realistic photos, even in low light.
Also, the PRIV camera is certified by Schneider-Kreuznach. But what exactly does that mean?
With over 100 years of experience and over 14 million lenses sold, Schneider-Kreuznach is among the most respected names in photography. First founded by Joseph Schneider in 1913 and headquartered in Bad Kreuznach, Germany, the business manufactures some of the top-quality high-performance lenses in the industry as well as photographic filters, polarizing filters, and a diverse selection of professional accessories.
Besides holding multiple lens patents, Schneider-Kreuznach and its U.S. subsidiary Schneider Optics have also received multiple Technical Achievement Awards from the Academy of Motion Picture Arts and Sciences.
"We even go so far as to develop and produce our own measurement systems, as there are no such accurate devices on the market," reads an anniversary brochure published by the company. "Our specialist expertise is so much in demand that we also manufacture measuring instruments and optical components for other market participants."
In short, a certification by Schneider-Kreuznach carries weight – as does the PRIV's stellar DxOMark score. Together, they mean that the BlackBerry PRIV's camera is not only equipped with one of the best lenses in the world, but also stands out as one of the best mobile cameras. It means that, like every other component of the PRIV, it's built with excellence in mind.
Users: Even Better, Post-Update
And with the recent release of our first software update for the PRIV, the camera, according to one CrackBerry user, 'DroidBerryGuy', is taking "better-quality photos" than ever, rendering HDR photos at just "half a second." His conclusion: "Good job BB!"
"[The camera] is running beautifully now," wrote another user, nick.dollimount. "I'm very happy with it."
"Love the update," added another commentator on Android Authority. "They have taken all the reviews on the web seriously…[My] device is running better than ever."
***
Want to purchase your own PRIV? Do so here. You can also check out the PRIV's official product page, or our how-to demo videos.
To learn more about Schneider-Kreuznach, visit its official website.