December is the heart of the all-too-brief off-season for professional tennis players. But don't expect them to be working on their backhands or winter tans. Today's biggest stars spend this time taking care of business, from their endorsement deals to their celebrity appearances and everything involved in making those happen. And many of these big stars rely on BlackBerry devices to do so, thanks to our vaunted security and productivity.
Take Maria Sharapova. The holder of 5 Grand Slam titles and 35 titles overall, the world no. 4 (and former world no. 1) is one of the most recognizable athletes on the planet. A renowned businesswoman, she's testified to the media and her tens of millions of social media followers about her love of BlackBerry devices, most recently telling the Wall Street Journal earlier this year: "I'm a BlackBerry person. It's direct, secure & the keyboard is better than anything else."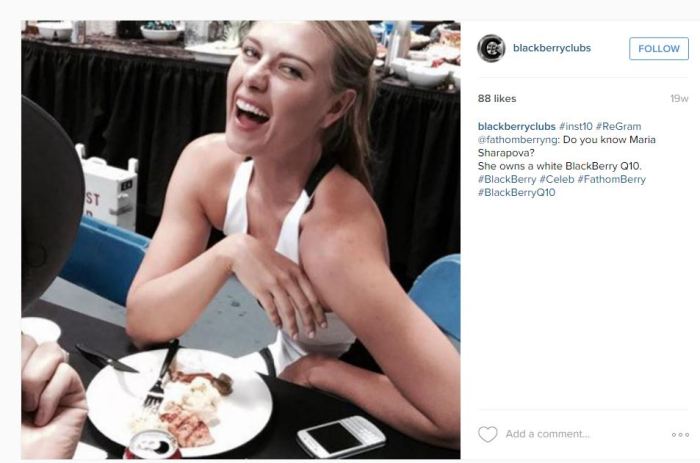 Credit: BlackBerryClubs on Instagram
Another women's Grand Slam winner, Flavia Pennetta, goes one better, telling a celebrity magazine in her native Italy that her BlackBerry was "her boyfriend". On her personal Web site, the recently-retired US Open champion declares that she "lives with her a BlackBerry glued to my right hand" (proof below):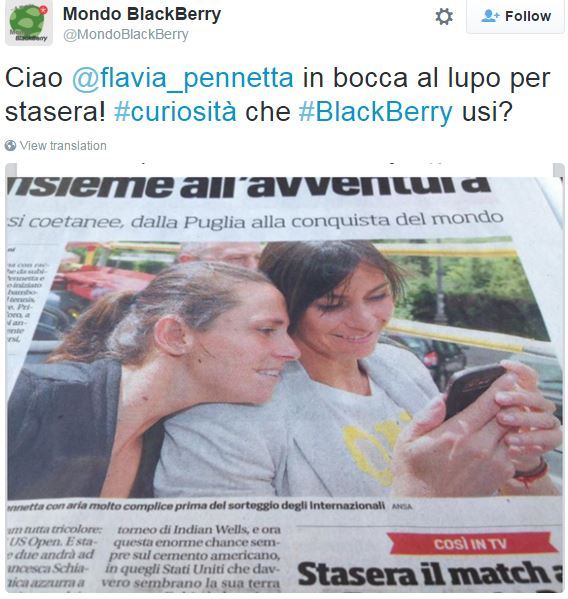 Credit: @MondoBlackBerry
BlackBerry sightings abound even more on the men's side. 14-time Grand Slam champ and world no. 5, Rafael Nadal, is reportedly a BlackBerry fan, most recently spotted at this year's Australian Open by tennis journalists using his BlackBerry. There's British men's no. 1 Andy Murray (and world no. 2), who has been a long-time user of BlackBerry. It's even been reported that another current Grand Slam champ, as well as his Grand Slam-winning coach, are both avid BlackBerry users.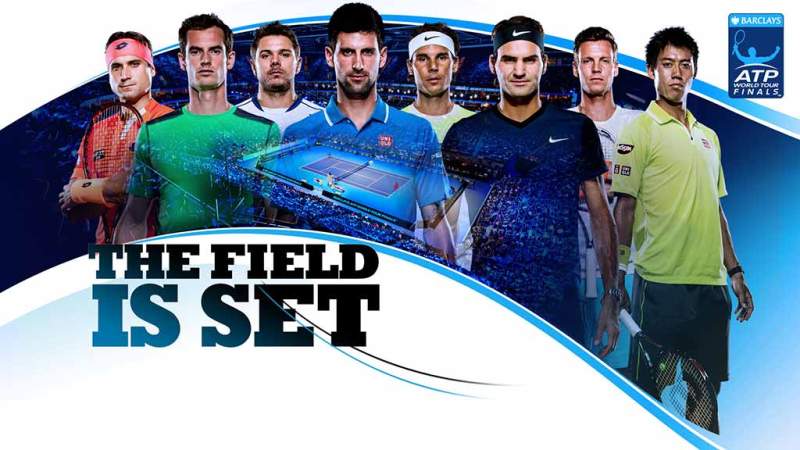 3 of the Grand Slam tennis champions here use BlackBerry devices.
One tier down, there are other top male players that are BlackBerry supporters. John Isner is the face of American men's tennis, the 6'10" world no. 11 slamming both aces and forehands past numerous opponents.
Canadian no. 1 Milos Raonic is also a BlackBerry user. Raonic, who has won 7 tournaments and been ranked as high as world no. 9, documents his travels from around the world with his Passport.
France has a deep bench of top pros. Fittingly, there's a large contingent of BlackBerry users, too, including Grand Slam doubles champ Michael Llodra, and singles stars Adrian Mannarino, Julien Benneteau, and Pauline Parmentier.
But getting back to Sharapova: the Russian-American star is hosting a tennis event, Maria Sharapova & Friends, this weekend in Los Angeles. Held on the campus of UCLA, 10,000 people are expected to come out and watch her, Andy Roddick, Kei Nishikori, Michael Chang and other past and present stars play each other and doubles with Hollywood celebrities.

A portion of the event's proceeds (click on the logo to right to learn more) will go toward the Maria Sharapova Foundation which raises money for underprivileged children around the world. BlackBerry is not only a proud supporter of the event, it will have a pop-up store that will show off and sell PRIV and BlackBerry 10 devices like Passport and Classic.
You can catch pictures of PRIV in the hands of tennis and Hollywood stars at the event by following social media channels such as @BlackBerry (on Twitter) and others tomorrow through Sunday, as well as the hashtag #MariaAndFriends.