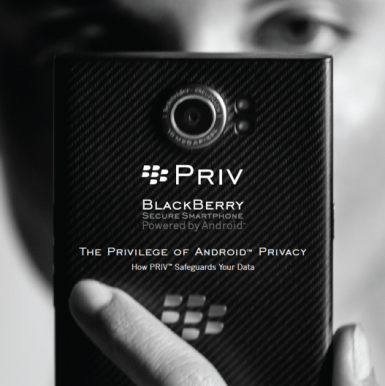 By now, you've probably seen the excitement surrounding the PRIV. Reviewers are voicing their appreciation for the device's features, but people are also recognizing the biggest value that PRIV brings to Android: Privacy and Security.
We've talked about how we secure Android, our patching strategy, and why our version of Android is best for security and privacy. We've highlighted some of the unique features such as DTEK, Picture Password and Password Keeper. And today, I'm happy to announce the release of two brand new resources that provide a brand new level of technical depth on PRIV privacy and security.
This new brochure explains everything that makes the PRIV an ideal privacy solution for consumers. Here, you'll find details on what makes PRIV secure and how your privacy is protected, from the secure manufacturing process to full-disk encryption all the way up to privacy-enhancing apps like DTEK and BBM. PRIV is for Privacy is more than just a slogan; it's the mindset and philosophy that governs our product decisions.
If you're looking for technical details on PRIV security, this is where you'll find them. This definitive 36-page guide covers all of the security features of the PRIV, from the layered defenses throughout the device stack to secure end-to-end device management to government and enterprise services like BBM Enterprise (formerly known as BBM Protected), WatchDox and Enterprise Identity. You'll also find information on the steps we've taken to harden the Android platform, from kernel modifications to ASLR to our trusted execution environment.
BlackBerry = Privacy and Security
We live in a world where vendors make outlandish security claims about their products and competitors with little to no truth or substance. At BlackBerry, we back up all of our claims with technical details and invite anyone to scrutinize them. We work with internal and external security researchers to understand the latest attacks and to protect all of our products and services. We work with independent security labs to certify our products according to the strictest international standards. But most of all we work with you, our loyal customers, to understand your privacy and security needs and make sure that our products are the very best that money can buy.