You know the feeling: You're comfortable on the couch, relaxing after work and watching your favorite show when suddenly … you see it! A favorite product in your favorite character's hand on your favorite show, and a thrill courses through your veins.
For BlackBerry fans, especially people who watch crime and government-themed shows, that feeling happened a lot in 2015. At least 199 times, at last count, BlackBerry devices were featured in movies and TV shows last year, popping up on each of the "big four" American TV networks, multiple cable channels and both Netflix's and Amazon's original programs.
Read on for a recap of some of the places – including 154 TV shows and 45 feature films – you may have seen BlackBerry devices in 2015 (or see an earlier roundup of our appearances last year). And this year's kicking off with a bang: the BlackBerry Classic is already making a big appearance in the hands of Oscar-winning actor, Paul Giamatti, in Showtime's new financial drama, Billions (below).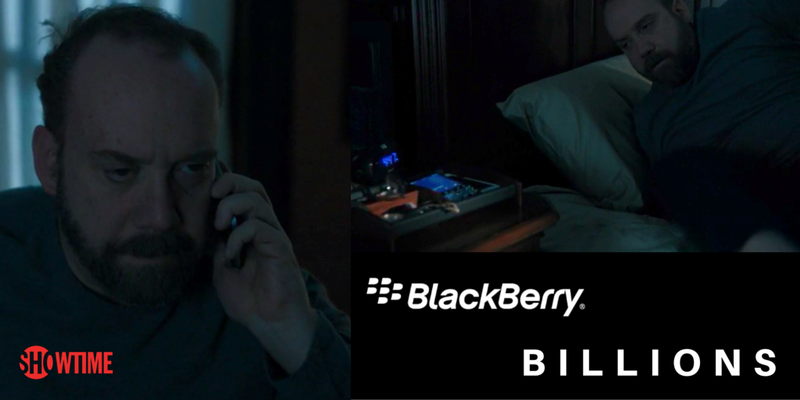 With all of these roles in major TV shows and movies, it's no wonder BlackBerry doesn't need to follow the crowd and buy ad time between shows!
BlackBerry on the Small Screen
It's no coincidence that shows with government, military, law enforcement, medical and financial themes were some of the most common places that Classics, Z10s, Q10s, Passports, and other BlackBerry devices appeared in 2015. These are some of the industries that are most concerned with secure communications, and Hollywood writers know that incorporating small touches, like having their characters use BlackBerry devices, makes their story lines more realistic.
For example, you'll the stars of FOX's hit Bones, forensic anthropologist Dr. Temperance "Bones" Brennan and FBI special agent Seeley Booth (played by Emily Deschanel and David Boreanaz), using their BlackBerry smartphones to take phone calls, send texts and organize communications in the Hub.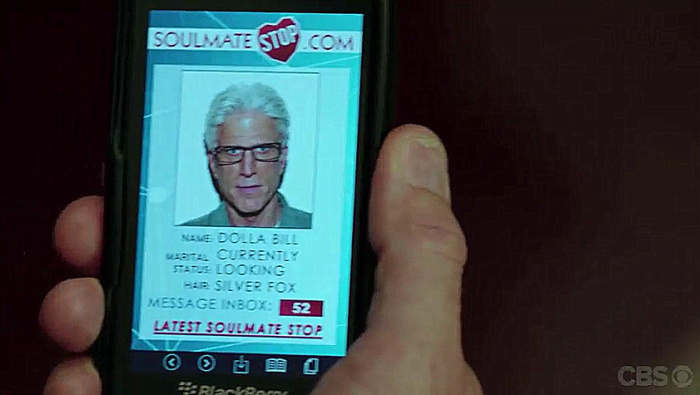 Don't forget about crime and law enforcement shows like CBS's Battle Creek (with Dean Winters), CBS's CSI: Cyber (with James Van Der Beek, Ted Danson (above) and Patricia Arquette), NBC's Law & Order: Special Victims Unit (with Mariska Hargitay and Christopher Meloni), FX's Justified (with Timothy Olyphant), TNT's Murder in the First (with Taye Diggs and Kathleen Robertson), and Fox's Rosewood (with Morris Chestnut). Characters in these shows also use BlackBerry smartphones to stay in touch and fight crime.
And characters in military-themed dramas Amazon's Patriot (with Michael Dorman), CBS's Scorpion (with Elyes Gabel and Eddie Kaye Thomas), and ABC's The Whispers (with Lily Rabe and Barry Sloane) also rely on their BlackBerry smartphones to deliver the secure communications they need to keep the nation safe.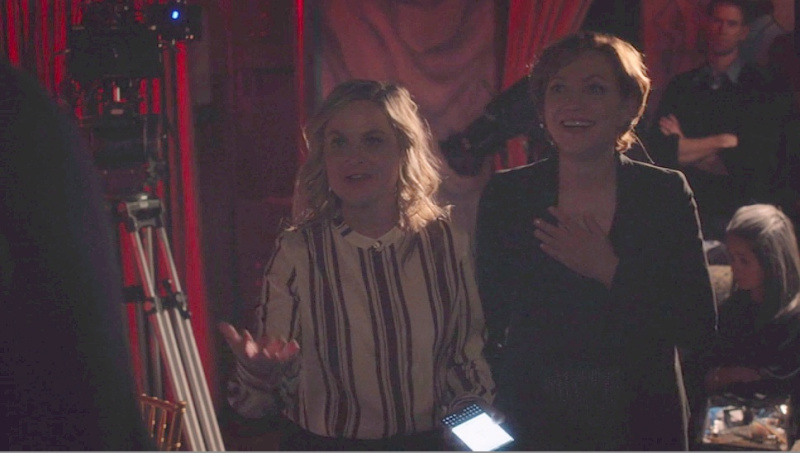 Comedy star Amy Poehler holding a Passport in Netflix's A Very Murray Christmas.
Other TV shows where BlackBerry devices were featured included:

BlackBerry on the Silver Screen
On TV, you're most likely to see BlackBerry smartphones on crime and government themed dramas, but the devices have more diverse lineup of movie performances.
While BlackBerry smartphones had many great roles on TV and in movies in 2015, their biggest starring role, by far, was in financial drama The Big Short (below) with Brad Pitt and Christian Bale. The film, which has been nominated for five Oscars, including best picture, best director and best supporting actor, tells the story of a group of financial managers and investors who foresaw the Wall Street crash of 2007-08 and positioned themselves to profit from it. In the movie, you'll see a number of key characters using BlackBerry smartphones to communicate and track the stock market, including actor Steve Carrell using a BlackBerry device.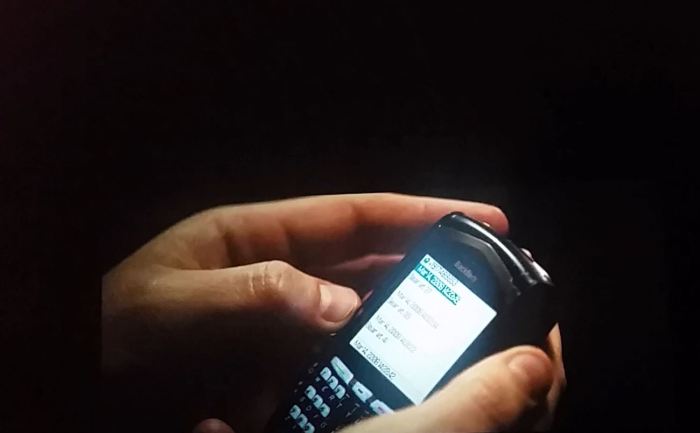 That doesn't mean BlackBerry's out of the military/crime movie business altogether; in Taken 3, Liam Neeson's character, Bryan Mills, is falsely accused of a murder and uses his BlackBerry to find the true killer and clear his name. Detective Franck Dotzler, played by Forest Whitaker, also uses a BlackBerry device, and the BlackBerry Playbook also makes a few appearances in the film. Also, in the crime drama Secret in Their Eyes, Nicole Kidman uses a BlackBerry smartphone.
Several major comedy movies gave BlackBerry smartphones starring roles in 2015. In Our Brand Is Crisis, star Sandra Bullock's character, political consultant Jane, makes the BlackBerry Q10 her device of choice as she manages a re-election campaign for a controversial South American president.
In romantic comedy Sleeping With Other People starring Jason Sudeikis and Alison Brie, Sudeikis' character, Jake, also uses a Q10. BlackBerry devices are also seen in comedy-documentary Live From New York! in a scene starring Amy Poehler and Jimmy Fallon, and in teen comedy The Duff with Bella Thorne and Mae Whitman.
Look out for BlackBerry smartphones, maybe even our new Android-powered PRIV, to make appearances in Hollywood in 2016, and don't be surprised to see a BlackBerry rocking the red carpet on February 28, as Chris Rock gets set to kick off the 2016 Academy Awards. We'll be pulling for The Big Short to take home the big prize!