Every year, at CES, QNX Software Systems showcases its immense range of solutions for infotainment systems, digital instrument clusters, telematics systems, advanced driving assistance systems (ADAS) and in-car acoustics.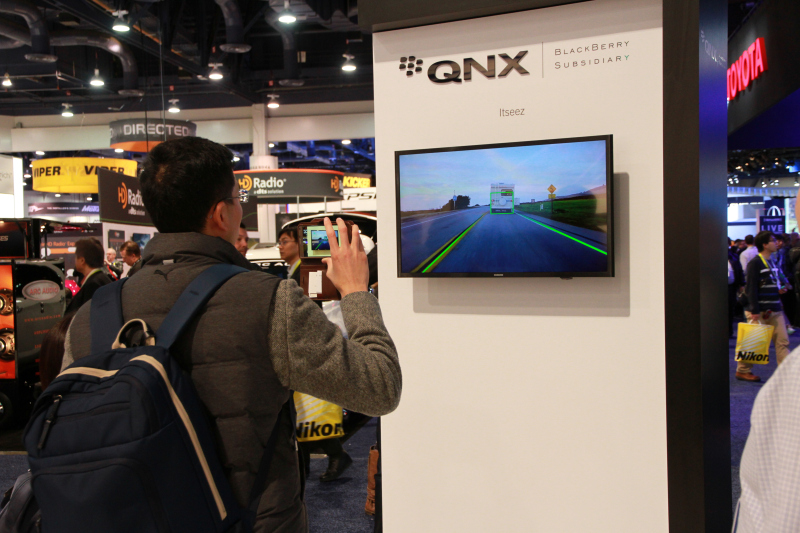 (Originally published on the QNX Auto blog.)
This year is no different. Well, actually… let me take that back. Because this year, we are also announcing two new and very important software platforms: one that can speed the development of automated driving systems, and one that can transform how acoustics applications are implemented in the car.
QNX Platform for ADAS
The automotive industry is at an inflection point, with autonomous and semiautonomous vehicles moving from theory to reality. The new QNX Platform for ADAS is designed to help drive this industry transformation. Based on our deep automotive experience and 30-year history in safety-critical systems, the platform can help automotive companies reduce the time and effort of building a full range of ADAS and automated driving applications:
from informational ADAS systems that provide a multi-camera, 360° surround view of the vehicle…
to sensor fusion systems that combine data from multiple sources such as cameras and radar…
to advanced high-performance systems that make control decisions in fully autonomous vehicles.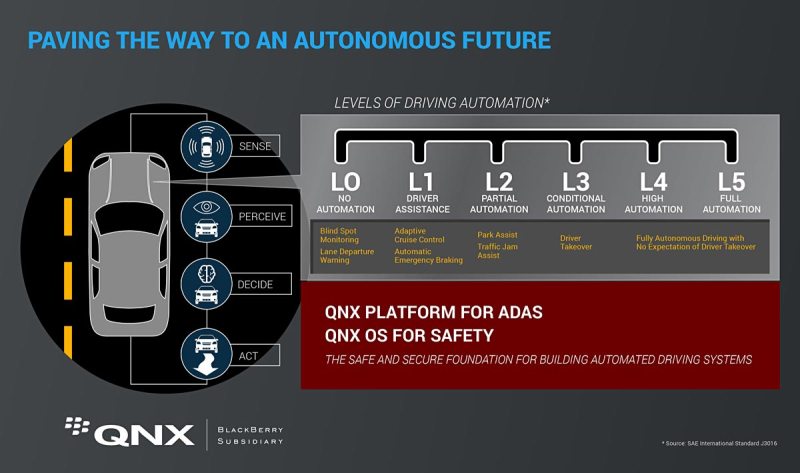 Highlights of the platform include:
The QNX OS for Safety, a highly reliable OS pre-certified at all of the automotive safety integrity levels needed for automated driving systems.
An OS architecture that can simplify the integration of new sensor technologies and purpose-built ADAS processors.
Frameworks and reference implementations to speed the development of multi-camera vision systems and V2X applications (vehicle-to-vehicle and vehicle-to-infrastructure communications).
Pre-integrated partner technologies, including systems-on-chip (SoCs), vision algorithms and V2X modules, to enable faster time-to-market for customers.
This week, at CES 2016, QNX will present several ADAS and V2X demonstrations, including:
Demos that show how QNX-based ADAS systems can perform realtime analysis of complex traffic scenarios to enhance driver awareness or enable various levels of automated driving.
QNX-based V2X technology that allows cars to "talk" to each other and to traffic infrastructure (e.g. traffic lights) to prevent collisions and improve traffic flow.
To learn more, check out the ADAS platform press release, as well as the press release that provides a full overview of our many CES demos — including, of course, the latest QNX technology concept vehicle!
QNX Acoustics Management Platform
It's a lesser-known fact, but QNX is a leader in automotive acoustics — its software for handsfree voice communications has shipped in over 40 million automotive systems worldwide. This week, QNX is demonstrating once again why it is a leader in this space, with a new, holistic approach to managing acoustics in the car, the QNX Acoustics Management Platform (AMP):
Enables automakers to enhance the audio and acoustic experience for drivers and passengers, while reducing system costs and complexity.
Replaces the traditional piecemeal approach to in-car acoustics with a unified model: automakers can now manage all aspects of in-car acoustics efficiently and holistically, for easier integration and tuning and for faster time-to-production.
Reduces hardware costs with a new, low-latency audio architecture that eliminates the need for dedicated digital signal processors or specialized external hardware.
Integrates a full suite of acoustics modules, including QNX Acoustics for Voice (for handsfree systems), QNX Acoustics for Engine Sound Enhancement and the brand new QNX In-Car Communication (ICC).
For anyone who has struggled to hold a conversation in a car at highway speeds, QNX ICC enhances the voice of the driver and relays it to loudspeakers in the back of the vehicle. Instead of shouting or having to turn around to be heard, the driver can talk normally while keeping his or her eyes on the road. QNX will demonstrate ICC this week at CES, in its latest technology concept car, based on a Toyota Highlander.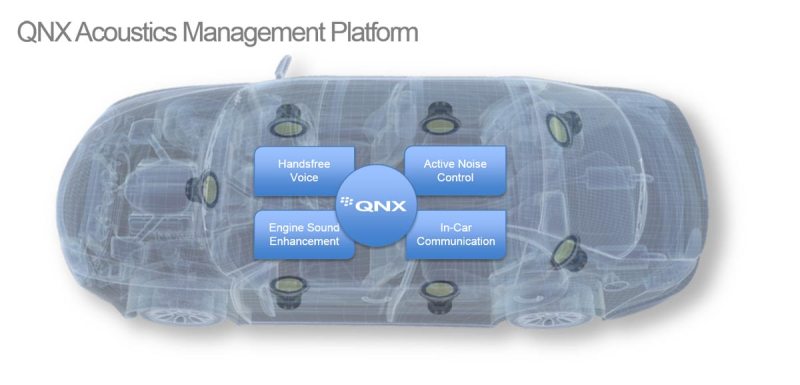 Read the press release to learn more about QNX AMP.