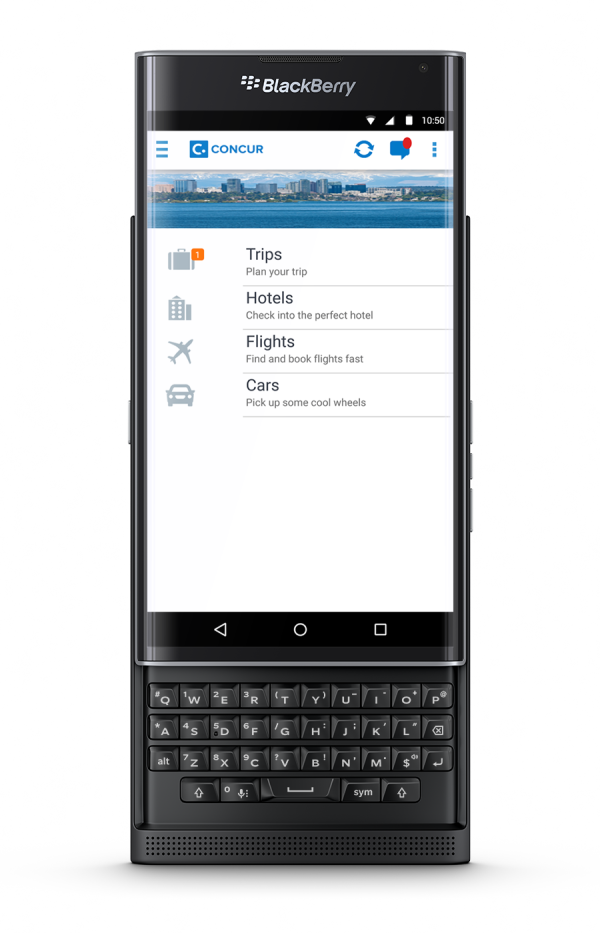 Sometimes, to close a crucial deal or finish off a key implementation project, your career takes you on the road. And all that business travel also means you have to track and submit your business expenses. Don't let managing your expenses get in the way of important business. Leverage PRIV and the Concur mobile travel and expense app for Android, available in Google Play, to manage your expenses anywhere, anytime. Together, Concur and the PRIV have you covered, keeping you productive and organized on the go.
If your company is one of the 30,000 worldwide that uses Concur, rest assured that the Android application is the perfect means to make sure you can make travel arrangements and record your expenses.
Rather than stuffing and sorting piles of crumpled receipts, Concur allows you to enter in details of charges, edit expenses and take snapshots of your receipts as you incur expenses. You can even use the app offline; for example you could manage your expenses during a flight without the hassle of attempting a receipt shuffle as your plane touches down. It's as simple as:
Record an expense entry
Use the PRIV's camera to take a photo of your receipt (if necessary)
Submit your expense report
Enable your manager to review and approve your expense report quickly
Track your expense report through reimbursement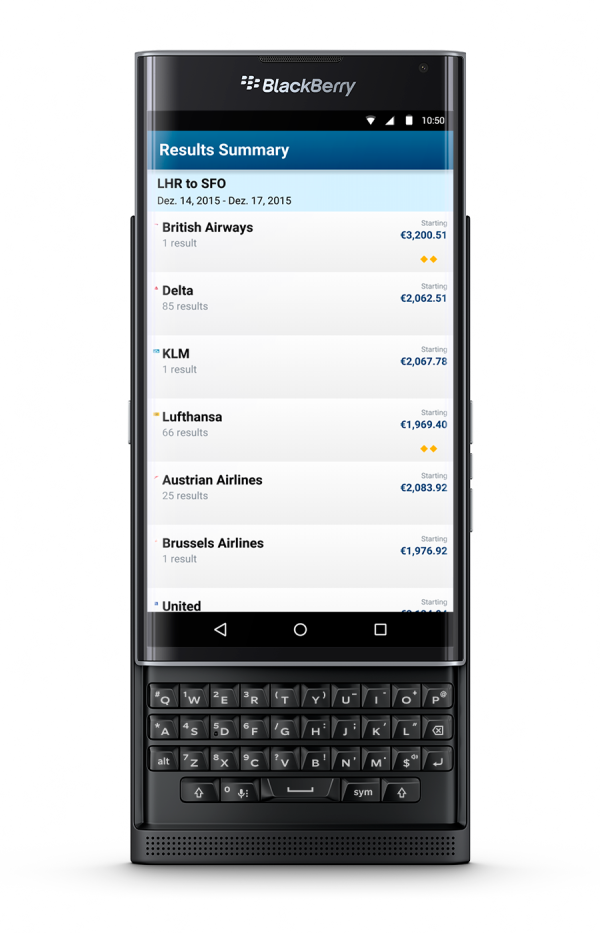 Of course before you can manage your money on the road, you have to get there in the first place. Concur manages your itinerary, too, thanks to complete integration with Concur's TripIt travel solution. With TripIt, employees can view lodging availability, consumer ratings, distance and price and even book accommodations, flights and rental cars. Users can also receive real-time flight alerts and find alternate flights if needed.
Concur offers a better way for employees to manage the financial aspect of traveling, and it provides employers with a better picture of the financial investment of travel expenses.
With so much financial data transferred to and from the mobile device, it's reassuring to know that Concur provides the best security available for corporate data through ISO 27001, SOC 1 / SSAE16 and PCI certifications and audits. Private data is further secured with the world-renowned security that BlackBerry has long committed to deliver to customers.
With Concur on the PRIV, your data isn't going anywhere you don't want it to, while you or your employees travel the globe, staying productive and organized on the go.
With nearly 2 million Android apps available in Google Play, it can take time to find the apps you want. Check out the following reviews of some of the top apps available for your PRIV:
FINANCE & SHOPPING
Amazon Shopping
Banking Apps
Suretap
MUSIC & ENTERTAINMENT
Apple Music
Gameloft
Instagram
Spotify
PRODUCTIVITY & BUSINESS
Microsoft Office
Thompson Reuters
Salesforce
Slack
TRAVEL & TRANSPORTATION
Foursquare
Uber