By Gavyn McLeod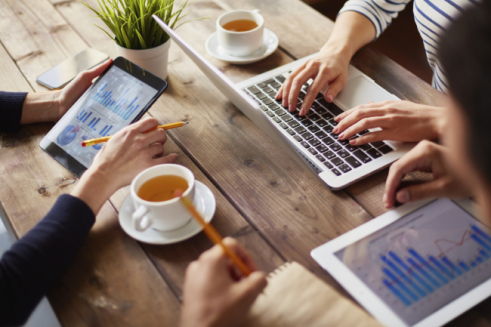 It's been an exciting past several months for Formerly known as WatchDox by BlackBerry, now known as BlackBerry Workspaces. After receiving top scores for security on the Gartner Critical Capabilities for EFSS, we've added several incredibly powerful new features. First, as a follow-up to November's update, we've further integrated BlackBerry Workspaces into the BlackBerry enterprise mobile security portfolio.
BlackBerry Workspaces is now available through the new Good Secure Content Suite (now known as BlackBerry Enterprise Mobility Suite – Content Edition), and the BlackBerry Workspaces mobile application is available for use in the formerly known as BlackBerry Work (formerly known as Good Work) container. Organizations who choose the Secure Content Suite can now tap into BlackBerry Workspaces' industry-leading DRM to gain complete control of their files – no matter where those files go. It isn't just Good integration that makes this release noteworthy, however.
We're also adding a number of advanced features that sets it apart from competing EFSS offerings. These include advanced email eDiscovery and SharePoint Protector integration.
The need to marry Secure File Sharing and eDiscovery is particularly important for regulated industries such as financial services. That's why BlackBerry Workspaces can be deployed alongside SMTP archiving and eDiscovery services, allowing users to continue sharing DRM-protected files via email, while enabling the compliant auditing of documents within their original context. This sets BlackBerry Workspaces apart from competing solutions, many of which don't offer native eDiscovery, and hence aren't suitable for use in regulated industries.
SharePoint Protector, meanwhile, ensures that documents downloaded from marked SharePoint libraries first go through BlackBerry Workspaces before the download completes. Workspaces automatically applies relevant policy-based controls to sensitive files without interfering with SharePoint's core functions. This ensures that SharePoint files are protected both against inside threats and against misuse through sharing.

Productivity and usability are cornerstones of the BlackBerry Workspaces solution, and of BlackBerry's entire product portfolio. With this release, we've sought new ways to help enterprises secure their documents and enable their employees. It's that tendency towards innovation that's made us a leader in the security space – and it's that tendency that will see us continue to enhance our product portfolio, making it more secure, more usable, and more powerful.
Here's a detailed breakdown of features in the January 2016 BlackBerry Workspaces release:
Support for BlackBerry Dynamics (formerly known as Good Dynamics) Secure Mobility Platform – Deploy and use the Workspaces mobile application within the BlackBerry Work container.
Workspaces added to the BlackBerry Enterprise Mobility Suite – Content Edition – BlackBerry Enterprise Mobility Suite and BlackBerry UEM (formerly known as BES12) EMM users now have direct access to Workspaces, the leader in secure EFSS solutions, as part of the BlackBerry Enterprise Mobility Suite – Content Edition.
Enhanced e-Discovery (Enterprise Plus) – Enhanced e-Discovery integration modules allow users to share DRM protected files via email. Compliance officers, meanwhile, can audit documents with their original email context through the eDiscovery search interface.
BlackBerry UEM integration – Workspaces now appears as part of the BlackBerry UEM console, simplifying on-premises Workspaces deployments and allowing single-screen management of your business's DRM.
BlackBerry Docs to Go integration – Docs To Go is now integrated into BlackBerry Workspaces mobile apps, offering expanded mobile file creation and editing capabilities.
SharePoint Protector (Enterprise Plus) – BlackBerry Workspaces extends the capabilities of your SharePoint repository, providing access via a "single pane of glass" and the added benefit of policy-based DRM protections that can be applied without affecting core SharePoint functionality.
Simplified BlackBerry Workspaces appliance server – Faster installations for smaller-scale on-premise deployments
Want to see for yourself what the new version of BlackBerry Workspaces can offer your enterprise? Request a free trial of BlackBerry Workspaces and experience why the solution was named a visionary in Enterprise File Share and Sync (EFSS) in Gartner's 2015 Magic Quadrant Report.