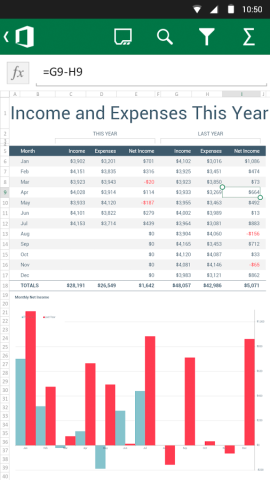 The way we access and interact with our business is evolving as mobile devices allow us to become less tethered to our cubicles, desks and offices. Of course, being mobile doesn't mean you are free from doing work, and being able to access files stored in the cloud gives you the freedom to be productive while you're on the go.
Microsoft Office Mobile, available in the Google Play store for the PRIV, BlackBerry's first Android-powered smartphone, offers users an efficient and powerful way to access and manage Word, Excel and PowerPoint documents from your PRIV. This suite of applications that Microsoft aptly calls "The Real Microsoft Apps" combine the familiar look, feel and quality of Office with a touch-friendly experience designed for Android.
Office offers unequaled file compatibility and layout fidelity across desktops, smartphones and tablets. Documents, spreadsheets and presentations will look exactly how you intended on your PRIV.
The familiar navigation, application ribbons, menu options and features are all in the touch-first apps to help you get started quickly and boost your productivity in the long run.
Save time and jumpstart your creativity by using one of the handy templates for your task list, report or presentation.
PRIV users can download and install the Word, Excel and PowerPoint apps through the Google Play Store for the ultimate work on-the-go experience. Each of these apps retains standard formatting and design of documents between devices, ensuring your files are intact wherever you view or send them. You can edit and approve reports while eating your cereal or finalize projects before you board your flight.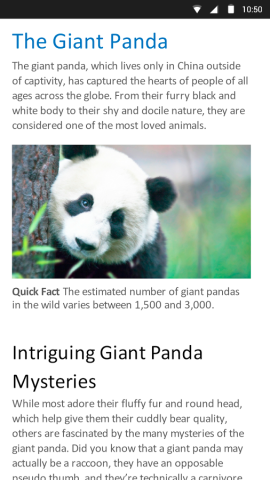 Both BlackBerry and Microsoft Office mean business, and the PRIV's standout features amplify how productive you're able to be, wherever you are.
The PRIV's slide out, physical QWERTY keyboard, offers the best in navigation and typing.
The data in your Office files is often quite sensitive and the PRIV, with BlackBerry's legendary security, is equipped to protect it.
Android for Work integration with BES12 ensures PRIV corporate users can feel confident about the secured separation between personal and work data. The BlackBerry infrastructure provides an encrypted network through which your files are sent and received.
If you're ready to gain the real power of productivity and security on the go, get the Real Microsoft Apps on the new BlackBerry PRIV. Learn where you can buy or order your PRIV, then visit the Google Play store to install the Microsoft Office Mobile apps.
With nearly 2 million Android apps available in Google Play, it can take time to find the apps you want. Check out the following reviews of some of the top apps available for your PRIV:
FINANCE & SHOPPING
Amazon Shopping
Banking Apps
Suretap
MUSIC & ENTERTAINMENT
Apple Music
Gameloft
Instagram
Spotify
PRODUCTIVITY & BUSINESS
Thompson Reuters
Salesforce
Slack
TRAVEL & TRANSPORTATION
Concur
Foursquare
Uber