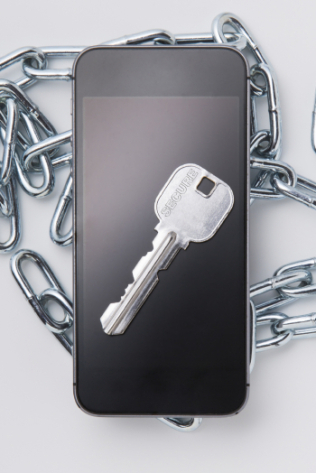 Consumer instant messaging (IM) use has grown exponentially in the last five years, as employees in enterprise organizations are increasingly looking for immediate answers to keep their work moving.
Email is not providing the real-time communications that enterprise employees have grown accustomed to using in their personal lives with consumer-grade IM solutions, like WhatsApp, Facebook Messenger, WeChat and iMessage, not to mention plain-old SMS text. The use of these consumer IM messaging applications for business poses serious threats in terms of security and privacy within all types of enterprise organizations. Consumer IM applications:
Are out of the control of an organization's IT department, leaving organizations and their employees open to spying by malicious parties.
Are vulnerable to data leakage that can result from lost or stolen phones.
Do not maintain regulatory obligations such as security certifications and approvals required by various industries (including financial services, healthcare and government).
Not only leave organizational information and data at risk, but – moreover – open up an organization's customer's private data and personal information to loss.
Enterprise-grade BBM Enterprise (formerly known as BBM Protected) solves these problems while still supporting employees' productivity needs. The latest version of BBM Enterprise, submitted today to Google Play, BlackBerry World and the App Store, adds new and essential features to what has long been the industry standard for secure messaging.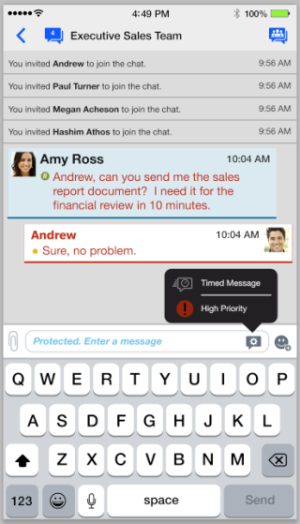 Team Chats – BBM Enterprise now allows organizational teams to take advantage of context-specific, secure BBM collaboration sessions. By assigning a subject to the Team Chat session, team members can keep track of what's important, stay productive and enhance what they can accomplish. This is a key capability for regulated industries like healthcare, enabling doctors and other providers to securely share information about patients to improve care, or in financial services, allowing wealth managers to communicate clients' financial data with support staff to enhance client service and satisfaction.
High Priority Messages – BBM Enterprise users can tag important BBM Enterprise Messages within a conversation as High Priority messages, ensuring they are not missed. High Priority messages are marked in red text to signify their importance, allowing users to identify that the message contains an action item that needs to be immediately acted upon. High Priority messages promote BBM Enterprise users to action upon critical communication situations, to generate more productive outcomes when it matters most.
Delivered and Read Notifications Available in Multi-Person Chats – BBM Enterprise users can now see exactly who has read or has received a BBM Enterprise message when communicating with multiple individuals. This enhancement to Multi-Person Chats helps improve secure communications by enabling enhanced engagement within, between and outside of organizational teams.
IT Administrator Policy: Restrict Copy and Paste – There are some communications that are for certain eyes only. Now IT administrators can protect the security of those messages by restricting company employees from using copy and paste functionalities within a BBM Chat through the BlackBerry Enterprise Identity by BlackBerry IT Admin Console. This added security layer prevents data leakage and ensures that an organization's information & data stays within a given organization or group of people.
These new enhancements for BBM Enterprise are an integral part of updates to BlackBerry's enterprise software portfolio under the BlackBerry Enterprise Mobility Suite (formerly known as Good Secure EMM Suites) portfolio. This also includes the integration of Good and WatchDox (now known as BlackBerry Workspaces) products into BlackBerry's multi-OS enterprise mobility management (EMM) solution, BlackBerry UEM (formerly known as BES12).
"BBM Enterprise is synergistic to the privacy and protection offered by the [BlackBerry Secure Mobility Suite] in providing the privacy and protection to data at rest or data in transit, with the end-to-end protection that BBM Enterprise offers for secured messaging," said Herman Li, Senior Vice President, BBM Software Development.
BBM Enterprise is available cross-platform to meet the diverse and evolving needs of any enterprise organization. Part of the BlackBerry Software Platform housed within the Communication and Collaboration Portfolio, BBM Enterprise delivers best-in-class security while ensuring personal and organizational privacy, and includes world-class service and support.
To learn more about: