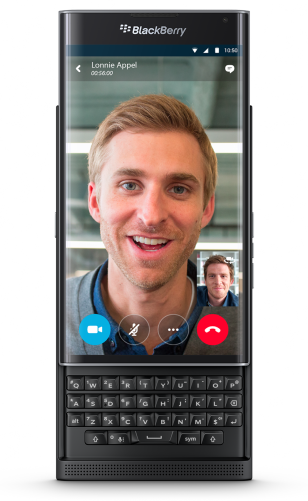 To be effective, business teams must have the unhindered ability to collaborate, and having the right communication tools is essential to making that happen. One such tool is Skype; most of us have used Skype to communicate with friends and family all over the world, and Skype for Business offers the same convenience when connecting employees spanning the globe. This consumer-based familiarity is an advantage when introducing Skype for Business into the workplace.
The Skype app, available from the Google Play store, on BlackBerry's Android-powered PRIV smartphone, supports more convenient productivity and collaboration. It allows users to easily view which connections are online and available for an email, instant message or even a call. There's no longer any need to cram around a boardroom table to discuss business when meetings of up to 250 people can take place from any location via Skype.
For example, you can:
Talk with your fingers – No matter where you are, your colleagues are always at your fingertips with free instant messaging.
Call your world from Skype – Talk to your heart's content with free voice and video calls.
Make low-cost calls to mobiles and landlines – Business contacts not on Skype? Easily connect with inexpensive calls and SMS to mobiles and landlines, whether they're on the other side of town or around the world.
Chat with anyone, anywhere – Don't let different technology platforms get in the way of key business meetings. Skype is available on smartphones, tablets, PCs, Macs and even TVs. Whatever device your colleagues use, Skype just works.
Video messaging – Record product demos and easily share them with prospects or colleagues with free and unlimited video messaging over Skype.
Because Skype for Business is integrated with your Microsoft Office applications, you can view your instant message chat history through Outlook and immediately put appointments on your calendar. For example, you can see when someone wants to meet for lunch and schedule it with them at the same time.
You can also share and view files or presentations while participating in a weekly team Skype chat or other meeting. With enterprise-grade security from Skype for Business, you can be confident that the files you're sharing will not be viewable by prying eyes.
Skype's robust communication and collaboration service is a natural fit for PRIV, the first-ever BlackBerry smartphone powered by Android. BlackBerry means business; the PRIV securely amplifies the Android experience with plenty of productive possibilities. You can share your ideas, comment on updates and schedule follow-ups using your choice of the iconic BlackBerry physical keyboard or the virtual keyboard.
BlackBerry has long been the choice for serious communicators; Skype for Business further opens your business to a world of serious communication and connection. Learn where you can buy or order your PRIV, then visit the Google Play store to install apps.
With nearly 2 million Android apps available in Google Play, it can take time to find the apps you want. Check out the following reviews of some of the top apps available for your PRIV:
COMMUNICATIONS
Voxer
FINANCE & SHOPPING
Amazon Shopping
Banking Apps
Suretap
MUSIC & ENTERTAINMENT
Apple Music
Gameloft
Instagram
Spotify
PRODUCTIVITY & BUSINESS
Microsoft Office
Thompson Reuters
Salesforce
Slack
TRAVEL & TRANSPORTATION
Concur
Foursquare
Uber