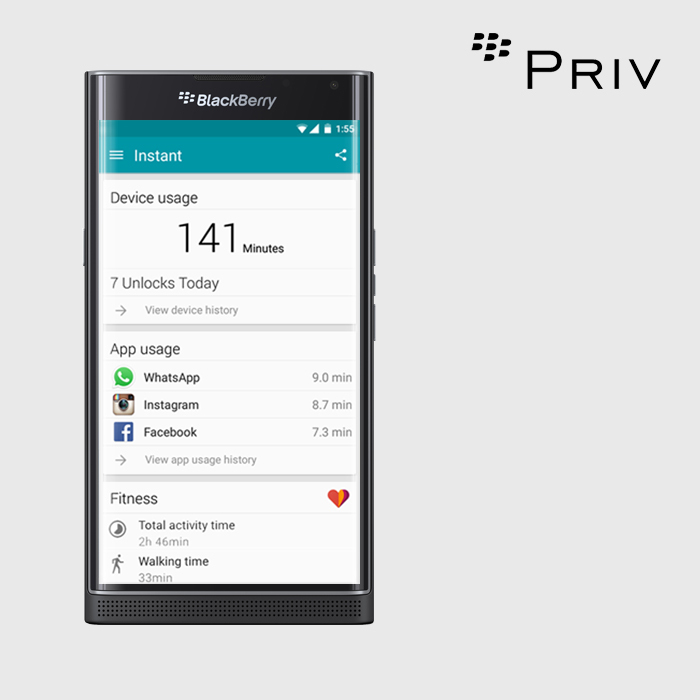 BlackBerry's Android-powered PRIV enables users to access almost 2 million apps on Google Play, including many of your favourite apps from the BlackBerry 10 ecosystem, including Instant from Emberify. Instant allows you to automatically track your time. You can keep track of useful metrics like phone and apps usage, as well time spent on fitness, on travel and in various places.
Instant tracks all this information for you automatically and displays it on an easy to read dashboard! Instant is great for boosting your productivity by tracking things like: how long you spend on your PRIV, the amount of time you spend at work or home, the amount of time spent on social media apps, and other things. You can also set a device usage limit so you can be reminded when you're going over your personal limit, if that exists.
If all these productivity features aren't enough to convince you, last year Instant won the Google Fit developer challenge. Instant integrates with Google Fit to give you all your fitness data at a glance – from how much time you spend walking, to how many steps you actually take. With all this information readily available, you can seamlessly track your own personal fitness analytics. If you use an Android Wear smartwatch with your PRIV, your data is there too!
You can find the Instant device usage tracker on BlackBerry World for your BlackBerry 10 device and for your PRIV through the Google Play store.
With nearly 2 million Android apps available in Google Play, it can take time to find the apps you want. Check out the following reviews of some of the top apps available for your PRIV:
COMMUNICATIONS
Skype
Voxer
BBM
FINANCE & SHOPPING
Amazon Shopping
Banking Apps
Suretap
MUSIC & ENTERTAINMENT
Apple Music
Gameloft
Instagram
Spotify
PRODUCTIVITY & BUSINESS
Microsoft Office
Thompson Reuters
Salesforce
Slack
Docs To Go>
TRAVEL & TRANSPORTATION
Concur
Foursquare
Uber