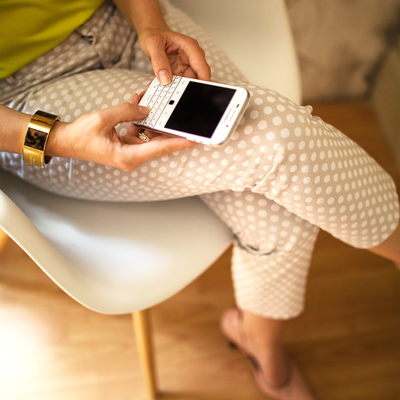 As easy and fun as it is for most of us to watch our favorite videos, making those videos is no walk in the park for the people who create them. Allow me to introduce you to Jay Hunt, CEO of a London independent media company, Violet Productions.
Jay admits that running a woman-owned video production company in a predominantly male industry is an extremely difficult task, but she isn't afraid to hang with the big boys to create the videos that her clients want to see. She juggles multiple roles at one time and likes to use technology that's professional, not flashy, and allows her to get her job done as easily as possible. When it comes to her working essentials, the BlackBerry Classic makes the final cut – along with her BlackBerry Playbook, a Starbucks grande latte, Nars lip pencils, Converse All Stars, Aromatherapy elements, and Baru marshmallow and chocolate with salted caramel snacks.
(Be sure to also check out our interviews with other professionals who count on the Blackberry Classic, including an ex-iPhone using tech enthusiast, a Mexican TV host, an author and radio star, a broadcast journalist, a Hollywood exec, a newspaper editor, a commercial photographer, a club DJ, a digital marketing agency CEO, a fine arts photographer, a serial tech entrepreneur, a financial TV guru, a Toronto Maple Leafs executive, a high-tech CTO and this retailer/app developer.)
Watts: What made you get the BlackBerry Classic?
Hunt: I'm a dedicated BlackBerry fan and have never used any other smartphone. I started with a Curve, then had a Bold, then I had a Z10 for the longest. I decided to switch to the Classic this year because the bigger screen size seemed perfect for viewing tons of pictures and videos.
Watts: What makes the BlackBerry Classic a joy to work with?
Hunt: The Classic is really easy to use and makes my life easier because it's reliable and has a great battery. The microphone quality is also a huge bonus. I often shoot in-depth interviews with contributors that need to be transcribed and sent off to clients. With the BlackBerry Classic I can open the rev.com app, record the interview, then upload the files to rev.com to transcribe the interview and send it out. This has helped me tremendously because I don't have to wait until after the shoot to do all of the editing on a computer. I can get everything done onsite.

Watts: What other types of work have you accomplished using the BlackBerry Classic?
Hunt: I take a lot of headshots of actors at castings or other inspirational photos with the camera. These photos are always used for projects later down the line so the camera quality really helps me save time because I can catch good photos on the go.
I also use the camera to shoot videos to brief the camera operator on what needs to be done at each location they will film at, in addition to capturing photos of my team working that get sent to social media or clients who want to see how their project is coming along.
Watts: Has your productivity increased since using the BlackBerry Classic?
Hunt: Yes, my BlackBerry Classic definitely makes my life A LOT easier. The smallest things add up to an easier and more productive workflow: viewing photos or video on the go, accessing files from my computer via Blend, never having to carry a charger around, using the video and camera for projects and amending scripts in the palm of my hands. The BlackBerry Classic lets me get more things done in one day than any other device.
Watts: What are your favorite features?
Hunt: BlackBerry Blend is really a lifesaver for me because no two days are the same in my line of work. I'm either filming, editing, traveling, at a casting, writing or meeting clients. With the BlackBerry Classic and BlackBerry Blend I can get all of my work done without ever having to take out my laptop because everything is already on my device. If I so happen to use my laptop, I can work on all the things I shot from my Classic without having to email or transfer the files. My mobile working abilities always impress non-BlackBerry users because I get a lot of things done without being tied to a desktop.
Watts: How has the BlackBerry Classic been useful in your industry?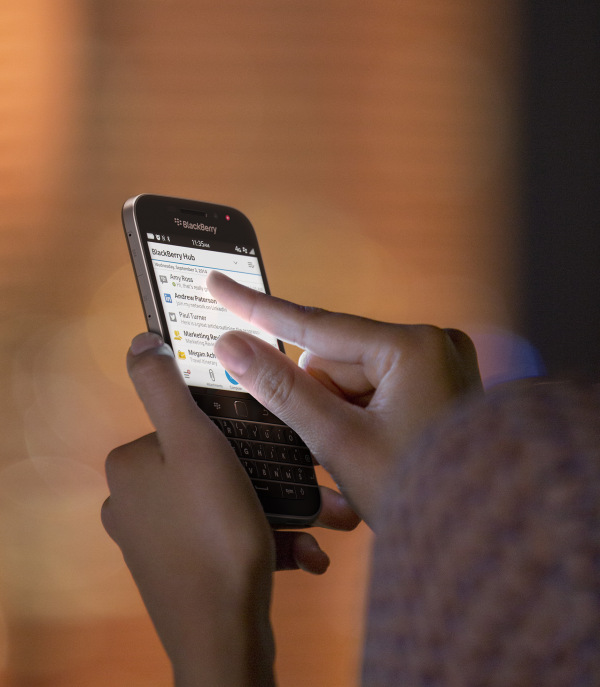 Hunt: I started up my own video production company in 2008 after working in TV as a producer and a presenter for the BBC in London. Working in video production made me aware of how quickly technology moves. We don't use tapes anymore, all footage is digital and on HD cards. Everything is shot on seriously impressive cameras, and I have to make sure I can access footage from my editors across all devices.
I have always made a choice to stay away from Apple because I don't like the way that Apple pushes users towards everything being on their terms and want you to operate in a totally Apple world. In my field I need to watch stuff quickly while on the move and don't have time to change media formats just so they can work with Apple products. That brand just isn't what works best for me and my company. With my BlackBerry Classic I can watch a variety of video formats that my editor and cameramen need my feedback on with no problem. BlackBerry technology easily accommodates whether I'm using the Classic or my Playbook.
Watts: How do you rate it?
Hunt: I give the BlackBerry Classic a very big thumbs up. In the world of filming, I'm surrounded by Apple users who are forever asking each other for a charger, and my Classic easily lasts a working day with no hassle. I also love the fact that I drop it frequently and it has impressive durability, no scratches or dents, while my Apple friends are always squinting at their smashed screens.
Pricing and Availability
Ready to make the switch to BlackBerry yourself? In the U.S., you can own an unlocked Classic for $326.70. You can also choose to shop with AT&T, which prices the Classic at $14.67 a month for 30 months; Verizon and T-Mobile both offer similar deals. In Canada, you can purchase a classic from carriers such as Bell Mobility, TELUS or Rogers.
U.S. and Canadian consumers may also buy an unlocked Classic directly from ShopBlackBerry.